Tropical Storm Nate Is Staying Far Away From Puerto Rico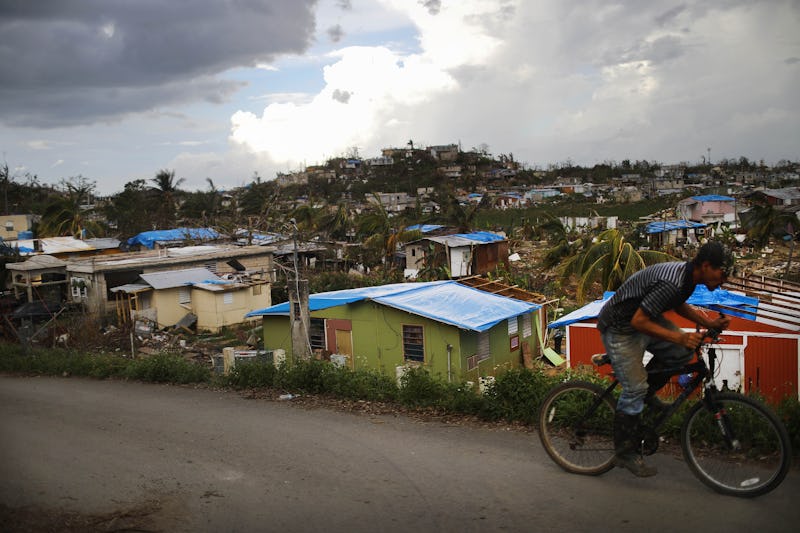 Mario Tama/Getty Images News/Getty Images
Only weeks after Hurricane Maria swept through the U.S. territory of Puerto Rico and left unimaginable damage to the island's buildings and infrastructure, there's already another storm projected to build its way toward hurricane status shortly. Thankfully, though, the newly named Tropical Storm Nate will not hit Puerto Rico. Although it could develop into a hurricane in the next couple of days and hit the U.S. Gulf Coast as a Category 1, 2, or 3 storm, it will stay well away from the already ravaged island of Puerto Rico.
Even as a tropical storm, Nate has already caused significant damage in Nicaragua, Costa Rica, and Honduras. It has already left 400,000 unable to return to their homes in Costa Rica, and at least 22 people have died because of the effects of the storm in those three countries. The storm has now moved away from the Central American coast, and it will now gain strength as it moves up toward Mexico and, from there, to the United States. It could bring up to 8 inches of rain to the Yucatan Peninsula of Mexico, and current predictions on its trajectory then bring it across the Gulf of Mexico and toward the coastlines of Louisiana, Mississippi, and Alabama.
This is definitely good news for Puerto Rico, where the relief efforts have been going quite slowly, hampered by communication issues between federal agencies and those working on the ground. Millions of people are still without medical necessities, a steady supply of clean water, phone service, and power, among other things. While President Trump has praised the relief efforts in Puerto Rico and claimed that everyone was doing an "amazing job," his sentiments and his way of communicating them came off as exceedingly strange and unsympathetic behavior in the face of such a serious ongoing crisis.
The island simply isn't currently prepared to handle another storm of any significant strength, so it's definitely a positive that Tropical Storm Nate will remain on the opposite side of the Gulf. While earlier predictions of Tropical Storm Nate's trajectory had indicated that it might take a turn toward the Florida panhandle, it now appears as though it will move more directly north. Mexico's Yucatan Peninsula is already preparing for a direct hit, as is the American Gulf Coast. Although it's still likely to stay away from the areas most directly affected by Hurricanes Harvey and Irma, it could still spell bad news for the low-lying areas in its path — particularly New Orleans.
New Orleans Mayor Mitch Landrieu declared a state of emergency on Thursday in preparation, the whole state of Alabama will be in a state of emergency as of Saturday, and Florida Gov. Rick Scott has made the same pronouncement for 29 counties in the state that could receive heavy rainfall. The storm surge could hit New Orleans the city as early as the beginning of the weekend, which could spell danger for the city's already damaged drainage system. Crews have been out fixing the broken pumps, though, and the mayor hasn't ordered any evacuations yet.
While it's still unclear how strong Nate will be when it reaches the Gulf Coast, the conditions are favorable for it to become a hurricane even though it will go over some land in Mexico. The warm stretch of water it will cross to get to the States means that it's likely for it to become a full-blown hurricane by the time it arrives, at which point it will continue moving north and then likely dissipate into simply a series of rainstorms. This wouldn't be the worst thing for some areas in its path that haven't had enough rain lately — but you just have to hope that it won't bring too much damage to the Gulf Coast before it moves northward.