America's Most Powerful Tech Leaders Are Urging Trump Not To End DACA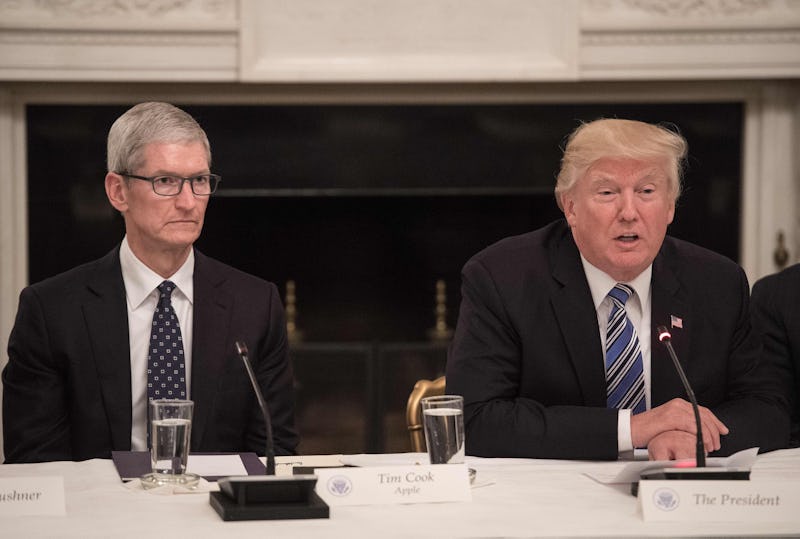 NICHOLAS KAMM/AFP/Getty Images
On Thursday night, some of the country's most powerful tech leaders sent an open letter to President Trump asking him to reconsider his reported plans to end the program for young undocumented immigrants, the Deferred Action for Childhood Arrivals. The tech and business executives wrote to Trump about their concerns regarding his continued hardline immigration stance that threatened "the future of young undocumented immigrants brought to America as children." According to Reuters, Trump could end DACA as early as Friday.
The letter was signed by numerous CEOs, including Amazon's Jeff Bezos, Apple's Tim Cook, eBay's David Wenig, and Twitter's Jack Dorsey. According to Politico, the letter initiative was organized by FWD.us, an immigration reform advocacy organization founded by Facebook CEO Mark Zuckerberg.
DACA was created by an executive order from President Obama in 2012 to enable young undocumented immigrants who were brought over as children to work and study in the United States legally.
"These are young people who study in our schools, they play in our neighborhoods, they're friends with our kids, they pledge allegiance to our flag," Obama said at the time, noting that DACA did not provide a pathway to citizenship and was just a temporary measure. "They are Americans in their heart, in their minds, in every single way but one: on paper."
It was one of Trump's campaign promises to end the DACA program, which has allowed young people to avoid deportation temporarily; however, the president has dragged his feet in eliminating the program. In June, the administration said it was still deciding how to handle DACA. "The future of the DACA program continues to be under review with the administration," a DHS spokesperson said in a statement. "The president has remarked on the need to handle the issue with compassion and with heart."
In the letter tech leaders wrote to Trump on Thursday, they cited the negative economic effects that discontinuing the DACA program could cause. "Our economy would lose $460.3 billion from the national GDP and $24.6 billion in Social Security and Medicare tax contributions," the letter stated. Furthermore, at least 72 percent of the top 25 Fortune 500 companies have employees with DACA status.
The letter is the latest example of how in the Trump era, business leaders have take an increasingly more outspoken stance on politics, particularly on the issues of climate change and transgender rights. In a recent example, many CEOs left Trump's advisory business councils following the president's controversial remarks on the violence in Charlottesville. The mass exodus of executives ultimately caused the president to dissolve his advisory councils.
Zuckerberg also posted a more personal note on his Facebook page expressing his concern for DACA recipients. "These young people represent the future of our country and our economy," the Facebook founder wrote. "They are our friends and family, students and young leaders in our communities." He also encouraged others to speak out against Trump's plans to end the program.