Trump Probably Won't Even Have To Go To Court Over DACA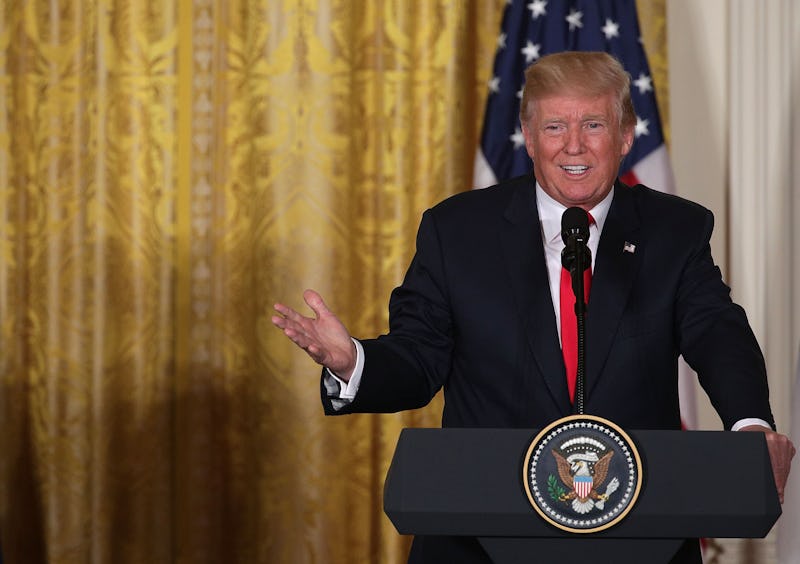 Alex Wong/Getty Images News/Getty Images
On Sunday, Politico confirmed recent reporting by announcing that Trump intends to end DACA, the Deferred Action on Childhood Arrivals immigration program. First launched by the Obama administration back in 2012, DACA has enabled undocumented immigrants who were brought into the United States as children to obtain work permits, and to be given temporary protection from the threat of deportation. According to the president, however, that's soon coming to an end, barring any last-minute changes. And if you're wondering whether Trump will even go to court over DACA, the short answer is that he probably won't have to.
The reason Trump made the announcement when he did wasn't just about the policy, after all. It was also about a looming deadline. Tuesday, Sept. 5 was the date given by Republican attorneys general in ten different states, telling Trump to decide by then to end the program, or to have them proceed with lawsuits against it. Conversely, many Democratic attorneys general lobbied Trump to let DACA continue.
In short, if Trump had decided not to end DACA, those ten attorneys general would be moving forward with legal proceedings, hauling the program into courts of law to try to dismantle it. With Trump announcing his plan to end the program, however, it's entirely possible that the court challenges will no longer be deemed necessary. Notably, in fact, one of the aforementioned Republican attorneys general backed off on their threat to sue last week, and backed the passage of the DREAM Act.
That's not to say that litigation couldn't be brought by the people who've used and relied on DACA, whether relating to the status of the two-year work permits provided by the program, or to deportation proceedings. This is a major and destabilizing policy change that's going to impact hundreds of thousands of people's lives, and as such, there will likely be robust attempts to fight for immigrants' rights through the courts in whatever ways possible.
But as far as Trump and his administration are concerned, their authority over ending DACA is practically beyond dispute. Given that DACA's provisions were never passed and signed into law ― the congressional GOP blocked the passage of the DREAM Act for years ― it doesn't take an act of Congress to undo it.
Rather, Trump can simply decide to end the program. It would be an almost radically sharp departure from precedent to argue that a president doesn't have the power to end a program launched by their predecessor, given that it isn't backed by law. As such, Tueday's decision likely means the question of DACA's continuance will not see a courtroom, although obviously, it's impossible to perfectly predict the future.