There's Apparently Some Talk About Trump Nominating Obama's Supreme Court Pick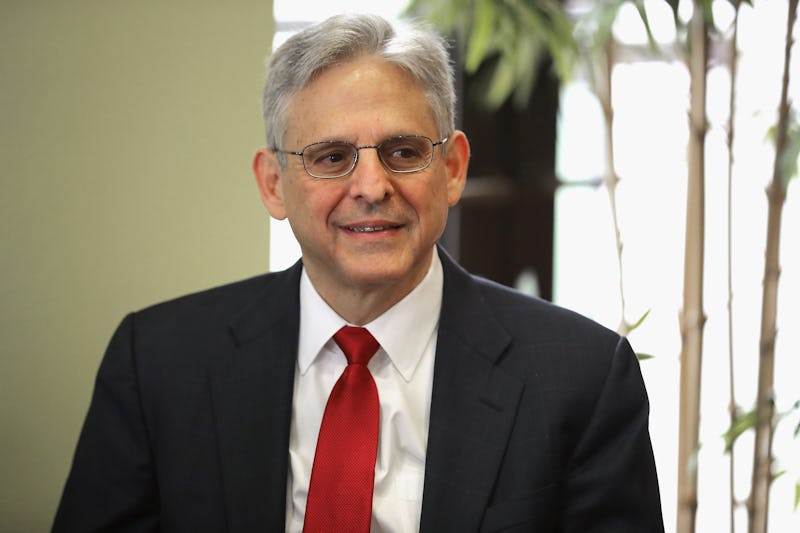 Chip Somodevilla/Getty Images News/Getty Images
Democrats are apparently hoping to persuade President Donald Trump to use his Supreme Court nominee to sow some bipartisanship back into the country. Senate Minority Leader Charles Schumer reportedly asked Trump to nominate the man Republicans once blocked former President Barack Obama from appointing to the Supreme Court, arguing it would help to "unite" the country, the Washington Post has reported. But would Trump nominate Merrick Garland?
Trump has reportedly spent much of his Fourth of July holiday interviewing potential candidates to replace outgoing Supreme Court Justice Anthony Kennedy, who announced plans to retire roughly a week ago. The president had vowed he would name his nominee Monday in hopes of having his pick confirmed before the midterm elections.
According to the Washington Post and the Hill, Schumer and Trump spoke briefly about the open SCOTUS seat over the phone on Tuesday. During the call, Schumer reportedly urged Trump to nominate Garland, framing a nomination of the federal judge as a chance to "unite" the country.
In March 2016, Obama had nominated Garland to fill Antonin Scalia's seat following the Supreme Court justice's death earlier that year. But Garland's nomination fell flat as Senate Majority Leader Mitch McConnell led obstructionist Republicans in Congress in shunning Obama's pick.
While the president hasn't mentioned Garland as a potential SCOTUS pick, he has promised to give Americans "a great" Supreme Court nominee. "I think you'll be very impressed," ABC News reported he said Tuesday while speaking at a Salute to Service dinner in West Virginia. "These are very talented people, brilliant people and I think you're going to really love it, like Justice [Neil] Gorsuch. We hit a home run there, and we're going to hit a home run here."
But Schumer, and the rest of the Democratic Party, know how vital Kennedy's place on the bench will be to future Supreme Court rulings. "Whoever fills Justice Kennedy's seat will join an evenly divided court with the ability to affect the laws of the United States and the rights of its citizens for generations," Schumer wrote in an op-ed for the New York Times earlier this week. He called Kennedy's open seat "the most important vacancy on the Supreme Court in our lifetimes."
"Enormously important issues hang in the balance: the right of workers to organize, the pernicious influence of dark money in politics, the right of Americans to marry who they love, the right to vote," he wrote. Schumer went on to criticize the president for considering only those judges that had been vetted by organizations intent on seeing Roe v. Wade overturned.
"Perhaps the most consequential issues at stake in this Supreme Court vacancy are affordable health care and a woman's freedom to make the most sensitive medical decisions about her body," Schumer wrote. "The views of President Trump's next court nominee on these issues could well determine whether the Senate approves or rejects them."
And according to both the Daily Beast and the Washington Post, Schumer also made sure to stress the need for a Supreme Court nominee willing to uphold Roe v. Wade and affordable health care directly to Trump in the pair's phone call on Tuesday. Both news outlets reported that Schumer warned the president it would damage Trump's legacy and be "cataclysmic" for the country if he nominated a judge openly hostile to affordable health care and women's abortion rights.
So far, however, Garland does not appear to be on Trump's shortlist of potential candidates. According to NBC News, Trump had narrowed his list down to appeals court judges Amy Coney Barrett, Brett Kavanaugh, and Raymond Kethledge as of Thursday.