There Are SO Many More Food Traditions For 'Ugly Delicious' To Investigate In Season 2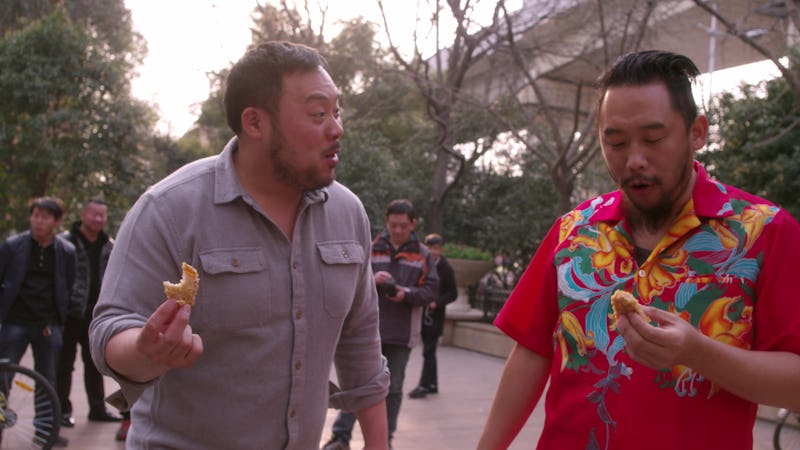 Netflix
Netflix's latest food series trades in the beautiful white tablecloths of Chef's Table (series director: Abagail Fuller) for the food you might be used to getting from home kitchens and hole-in-the-wall dives. Hosted by restauranteur and chef David Chang, the series Ugly Delicious (director, 1 episode: Laura Gabbart) is all about the culture that shapes different iterations of user-friendly dishes like fried chicken, dumplings, and tacos. And with thousands of amazing dishes out there and the Internet sparking even more exploration among cultures, there's plenty of material left for Ugly Delicious Season 2. All eight episodes in the first season of the show will drop on Feb. 23, but Netflix hasn't announced whether they'll be sending Chang back out on another worldwide journey to taste more amazing foods in 2019.
But even though the series has yet to be renewed by the streaming service, while talking about the first season of the show, celebrity chef Chang seems to already be looking forward — something that seems reflective of how he sees the culinary landscape right now. In an interview with BlackBook, Chang mused about food culture, saying "the future of food is to make it more inclusive." And in another conversation with Refinery29, Chang pointed out the increasing democratization of the food scene. "I think you're seeing great food happening in just about every town in America... people care more about food, good food. Eating well is easier than ever before," he said, suggesting that there's plenty more dishes to try and places to visit if the series were to return.
And Chang's approach to talking to subjects has evolved after producing the first season as well. Chang explained to Robb Report that, when it comes to food, his "initial reaction is to almost be like a bulldozer just to see what happens, because that's just how I am as a person." But after talking to strict traditionalists in locations that range from New Orleans to Kyoto, he came to a new understanding that "they can't just do it overnight like I would like to, or they would like to." He continued, "The show has caused me to rethink everything, even the opinions that I thought that I had fully developed."
He cited cultural appropriation in food as an example of an issue he's softened on over time — and through meeting people all over the world, he realizes that all dishes take inspiration from one another. He told The Huffington Post that when it comes to taking inspiration from other cultures, "all I ask is that [the chef] pay tribute and understand it and [that the food is] an homage to where it came from."
So already, Chang is sharing how things have changed in just the year since he started working on this project with documentarian Morgan Neville. Neville was recently at the Sundance Film Festival with his next feature documentary project, Won't You Be My Neighbor, a look at the life of Fred Rogers, star of Mr. Rogers' Neighborhood. There, Neville told Deadline that working with Netflix has helped usher "the golden age of documentary," and he'll be re-teaming with the site for a project about Orson Welles, so it sounds like his relationship with them remains strong. However, with another doc already lined up, it's possible that Neville will need additional time before he can film with Chang again — so there may be a long hiatus between seasons if the show returns.
But should Neville and Chang decide that they want to go back for a second season of Ugly Delicious (associate producer: Emma Baiada), the foodie world holds much more inspiration. But for now, fans will have to hope that just eight episodes can satisfy their craving.