Hope For 'Kimmy Schmidt' Season 4 Is Alive, Damn It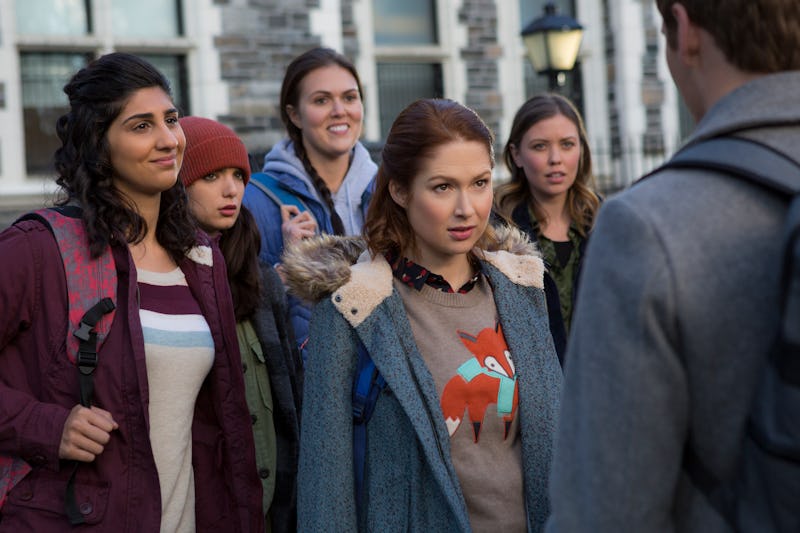 Eric Liebowitz / Netflix
Season 3 of the Ellie Kemper comedy series Unbreakable Kimmy Schmidt is dropping on Netflix on May 19. The New York City adventures of Kimmy and her friends Titus, Lillian, and Jacqueline will continue, probably with more cameos, referential humor, and personal growth than the first two. But will Unbreakable Kimmy Schmidt return for Season 4? And if fans are indeed lucky enough to get 10 more gloriously addictive episodes, when will they hit the streaming service?
UPDATE #2: Netflix announced that Part 1 of Season 4 starts May 30.
UPDATE: Netflix has renewed Unbreakable Kimmy Schmidt for Season 4, according to Deadline.
EARLIER: Honestly, between its co-showrunners Tina Fey and Robert Carlock (best known for their collaboration on 30 Rock, as well as Saturday Night Live and Friends, respectively); its stellar main cast; and its stable of super famous guest stars — it's quite the lovable show. (Speaking of guest stars, Jon Hamm is back this year! Forget Don Draper — Hamm was clearly born to play the preternaturally charming yet evil cult leader, the Reverend Richard Wayne Gary Wayne.)
With its comedy pedigree, it seems likely that the Netflix overlords will be interested in giving us more of Kimmy Schmidt's personal brand of surprisingly dark but ultimately cheery sunshine. However, there has been no official word thus far on whether or not Unbreakable Kimmy Schmidt Season 4 is happening, and as such, there's no official premiere date either.
Things are unfortunately pretty up in the air right now — you see, according to Variety, the second season was already included when Netflix first decided to purchase the show back in 2015. Then, the third season was actually ordered well before the second season even aired — Season 3 was given the green light in January 2016, while Season 2 premiered a few months later in April 2016. Following that logic, you'd think the public would already know the show's status — but then again, Netflix has never exactly run on a traditional schedule. (Heck, Arrested Development's fifth season was just confirmed, almost four whole years after Season 4 first aired).
As for when Kimmy Season 4 will premiere, there are a lot of factors at play. Still, it's worth noting that new episodes have traditionally been released a little over a year apart, with each new season premiering in the spring. So if a new season were to materialize it, fans could probably expect it around April or May of 2018. Last year's hiatus was a little longer than usual, due to Ellie Kemper's pregnancy. (Fun fact: Deadline reported that Tina Fey used some of the extra time to work on the Mean Girls musical she's created with her husband, composer Jeff Richmond).
All that said, even though it's not exactly a good sign that Kimmy Schmidt hasn't gotten its official Season 4 pickup yet, it doesn't mean you should give up — there's hope yet!
Check out the "Netflix" stream in the Bustle App for more Netflix news, plus recommendations on what to watch next.