What To Expect From 'Kimmy Schmidt' Season 3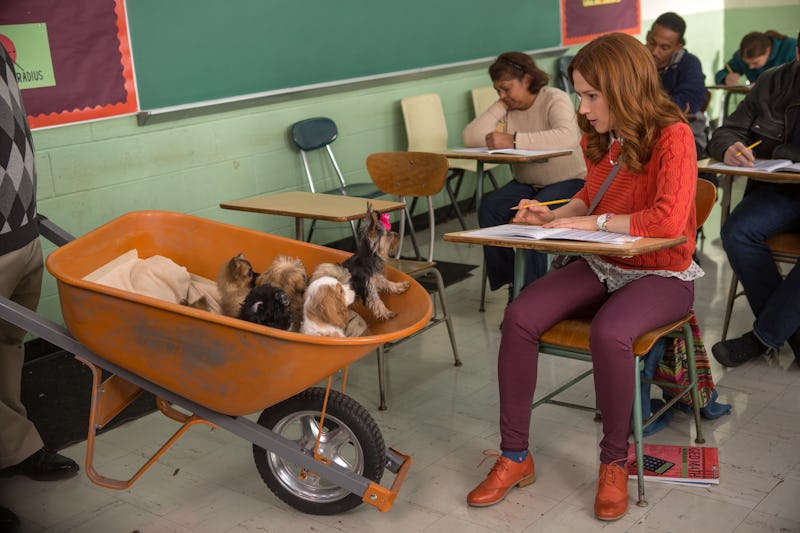 After feeling like I was trapped in a bunker with only one season of Netflix's delightful comedy Unbreakable Kimmy Schmidt for more than a year, Season 2 is finally here, with the former mole woman herself returning in all-new adventures in New York City. Thankfully, our TV lord and savior Netflix already renewed Unbreakable Kimmy Schmidt for Season 3. So, now that that's out of the way, there's a more burning question: When is Unbreakable Kimmy Schmidt Season 3 going to premiere on Netflix? UPDATE: In a trailer for Season 3, Netflix confirmed a premiere date of May 19, 2017.
Earlier: Unfortunately, there's no premiere date for Season 3 just yet, but I'd guess it'll be sometime in the spring of 2017. Season 1 of Unbreakable Kimmy Schmidt premiered in March 2015, while Season 2 is hitting the streaming service in April 2016. If the show continues on that pattern, Season 3 will likely arrive in April or May of next year. Plus, if you look at the release dates of other Netflix originals like House of Cards , Orange is the New Black , and Daredevil , the seasons tend to premiere roughly a year apart — although there is some leeway in that time frame. So, we may have some idea of when we'll be able to binge Season 3 of Unbreakable Kimmy Schmidt, but what can we expect from the show's third outing?
In an interview with The Hollywood Reporter, showrunner Robert Carlock offered hints about Kimmy's Season 2 arc and teased Season 3 of Unbreakable Kimmy Schmidt :
Season 2 ends with some kind of big cliffhangers. We do have, going into Season 3, some big motors and some stuff to deal with. Some having to do with Kimmy's past, Titus' present and Jacqueline's future, and Lillian as well has an interesting new opportunity presented to her in the final episode. All of which will be really fun to pick up in Season 3.
Cliffhangers!? We were forced to wait more than a year for Season 2 and now it's going to end with multiple cliffhangers? At least we know Carlock has already thought ahead to how Season 3 will deal with these cliffhangers. Now, let's unpack Carlock's character-specific comments. The showrunner mentions in the THR interview that we'll be meeting some of Kimmy's family in Season 2, so perhaps her cliffhanger has to do with that, rather than her past in the bunker. Unbreakable Kimmy Schmidt has already dealt with her time as a mole woman in many ways — and it will likely always be a part of her character — so it doesn't have the kind of mystery that could warrant a cliffhanger. Of course, there may be some new element to Kimmy's past that could make for a fun cliffhanger.
As for "Titus' present," that could have something to do with the character's romantic relationship Carlock mentions to THR, which would make sense after Season 1 ended with Titus' wife showing up on the scene. Could we have another romantic cliffhanger for Titus on our hands, or will it have something to do with another aspect of his life? Another romantic cliffhanger might be too much of a retread of Season 1, so I'm personally hoping it has something to do with Titus' acting career. Maybe "Peeno Noir" has taken off, or he's been cast in The Lion King on Broadway!
Then there's Jacqueline and Lillian. If Season 2 follows Jacqueline's attempt to "lose the jerk, but keep the perks" — her new catchphrase from the Season 2 trailer — perhaps Season 3 will see the former trophy wife attempt to be more independent. Meanwhile, Carlock's tease to THR about Lillian is much more enigmatic. There are just so many opportunities that Kimmy's quirky landlord could be offered! Hopefully it isn't anything that will take Lillian away from her stoop where she offers Kimmy and Titus important life advice.
So, we may need some more information about these cliffhangers before we can really know what to expect from Season 3, but that hasn't stopped my theorizing fan mind from working. Still, you can bet that once I get my eyeballs on these cliffhangers I will have some thoughts about Season 3 of Unbreakable Kimmy Schmidt.
Images: Eric Liebowitz/Netflix; Giphy (2)