Vanessa Is Frustrated With 'The Bachelor'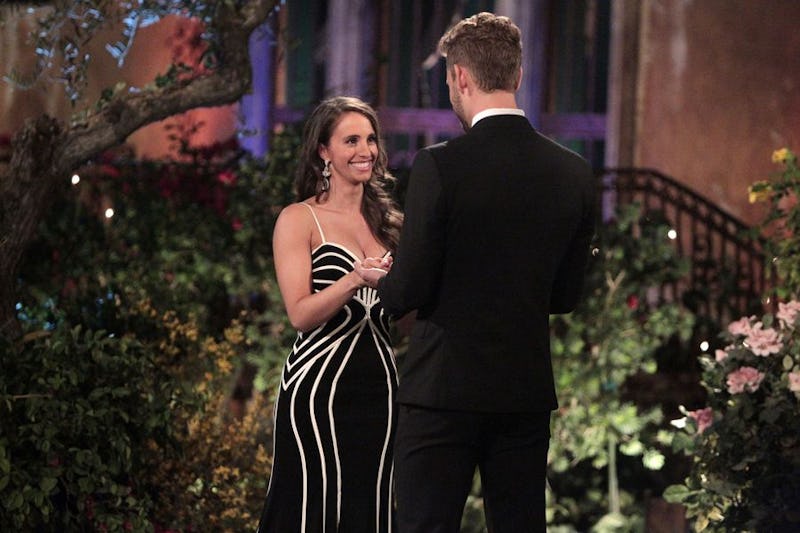 Rick Rowell/ABC
We're only three episodes in, but somehow, Nick Viall has already found himself in some pretty hot water on The Bachelor. It's pretty obvious that Corinne is there to win, Nick's getting swept away by her and her plots to monopolize his time, and the other women definitely aren't happy about it — especially not Vanessa, who just had a seriously awesome one-on-one date with Nick. So will Vanessa leave The Bachelor in next week's episode? She definitely doesn't seem happy, and the cliffhanger ending made it seem like she's serious about not wanting to waste her time.
During the pool party (which happened in place of the usual cocktail party), Corinne and Nick spent what seemed like a lot of time getting physical in a moon bounce. And although she definitely wasn't the first woman to point out that it bothered her — that honor belongs to Raven — it wasn't long before Vanessa took Nick aside to talk to him about the situation. Obviously, Nick's on the show to get to know a lot of women, but it makes sense why seeing this kind of behavior is upsetting to the other contestants, especially after how awesome his first one-on-one date with Vanessa was that same week.
Vanessa's conversation with Nick seemed pretty serious, and it's clear that she wants to be with someone who knows what he wants and is also serious about finding someone to spend the rest of his life with. And after the date that they had, it's surprising to see that he was so quick to forgo possible more time with her at the party in favor of getting physical with another woman... even though that's how The Bachelor works every single season.
So far, Vanessa is my favorite contestant, and she's the one I think Nick should choose in the end — based on the very limited information I have after watching three episodes, of course. I hope she sticks around, but if she wants to leave, I won't blame her. The Bachelor life isn't easy!