'Vanity Fair' Might Never Get A Second Series, But It Kind Of Makes Sense Why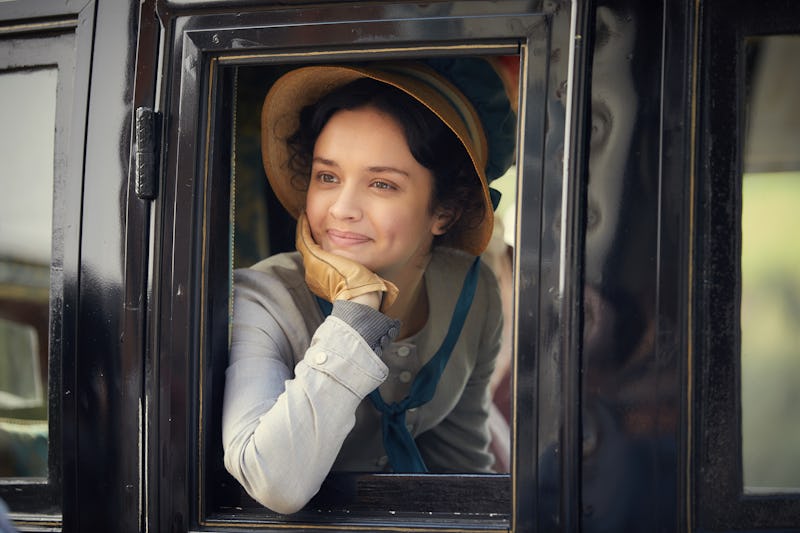 ITV
The fresh ITV and Amazon period drama Vanity Fair made it's fancy debut on our screens back in September, and for many the show has become a staple part of their Sunday night TV lineup. The brand new series is in fact based on the original 1848 novel of the same name, written by William Makepeace Thackeray. As the series approaches it's latter half, viewers might be wondering, will Vanity Fair return for season 2?
As it stands, there has been no official announcement from either ITV or Amazon in regards to a second outing of the television adaptation, I have however reached out to ITV for comment on the matter and am currently awaiting a response. However, as it is based on the novel, it would require writers developing their own future interpretations of how the characters end up, which is no mean feat.
The current series of the seven-part drama tells the story of Becky Sharp, Amelia Sedley, and their accompanying family and friends. Sharp, played by Cooke, seeks to climb the ladder of English society and break out of poverty, all of which occurs during and after the Napoleonic Wars. The official ITV synopsis also reveals "Her story of 'villainy, crime, merriment, lovemaking, jilting, laughing, cheating, fighting and dancing,' takes her all the way to the court of King George IV, via the Battle of Waterloo, breaking hearts and losing fortunes as she goes."
When speaking of the new series, Polly Hill Head of drama at ITV commented "Vanity Fair feels like the perfect classic to adapt for ITV, and Gwyneth Hughes' stunning scripts bring the novel to life in a way that will really connect with a modern audience."
The cast of the new series includes Olivia Cooke, who is best known for her role in Steven Spielberg's Ready Player One and the hit U.S. TV series Bates Motel. Coleman portrays Becky Sharp, whilst Doc Martin star Martin Clunes plays Sir Pitt Crawley, and Claudia Jessie stars as Amelia Sedley. Michael Palin, who portrays author of the original novel William Makepeace Thackeray, acts as a narrator in each episode. The cast of Vanity Fair also includes Johnny Flynn as Captain William Dobbi, Tom Bateman as Rawdon Crawley, Claire Skinner as Louisa Sedley, Simon Russell Beale as John Sedley, Suranne Jones as Miss Pinkerton and Robert Pugh as John Osborne.
The first season of Vanity Fair has been met with positive reviews from critics and currently holds an impressive 94 percent approval rating on Rotten Tomatoes, a review-aggregation website for film and television. The site's critical consensus reads:
"Olivia Cooke's brilliant portrayal of the feisty and scheming Becky Sharp in Vanity Fair makes this adaptation of Thackeray's classic novel more relatable for a 21st century audience".
One review from the Guardian comments on the show's appeal to modern audiences, and notes that the show's lead and "sumptuous sets" are worth tuning in for all on their own. And it would appear that viewers are equally enjoying the contemporary on the classic novel.
ITV's Vanity Fair certainly stands out from it's period drama contemporaries with it's modern vibe and original take on a classic story. As the series reaches it's final few episodes, I am really hoping for the announcement of season 2.