The Truth About Those Victoria Beckham Spice Girls Rumours Is *So* Girl Power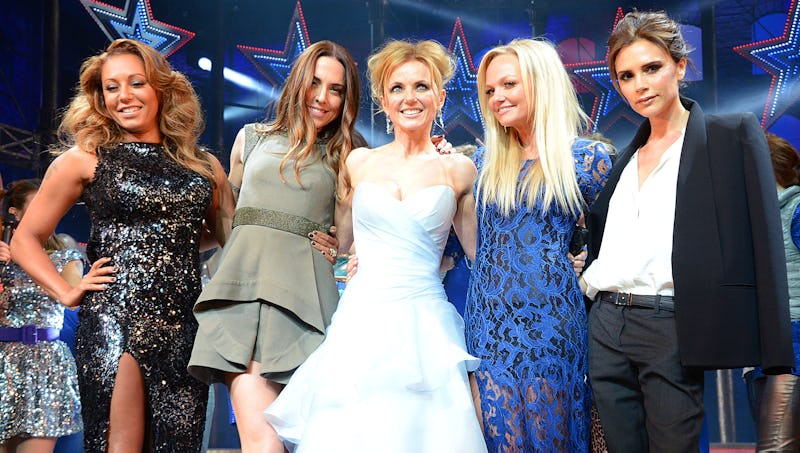 Richard Young/Shutterstock
Not to be dramatic, but the Spice Girls are probably the greatest thing that's ever happened to this planet, and a reunion couldn't come any sooner. Sure, they had that short-lived comeback, when the world was treated to The Return Of The Spice Girls back in 2007, but there's still more Spice to sap. Talk of another reunion, 11 years later, has been going around for a while now. Rumour has it, all of the ladies are up for it except for one. So, will Victoria Beckham perform in The Spice Girl Reunion Tour or not?
Well, The Sun reported back in August that while a Spice Girls reunion is definitely underway, Beckham will not be joining them. I know, I'm gutted too. I contacted her rep to see if this is definitely 100 percent the case, however, they are yet to get back to me. But I suppose no news is good news, right? The remaining members certainly seem to think so.
An insider told The Sun, that the girls were optimistic that Beckham would be re-joining them, even though, as the source said, she's "always insisted she'd never tour". But the others have been persistent, believing that "Simon [Fuller, their manager] would get her on board." So, I'm guessing that means we should all just watch this space.
The Spice Girls are reportedly set to play 13 dates across the UK in 2019, with the final three shows taking place at Wembley Stadium. As a source revealed to the paper, it's likely to make each of the Spices £12 million richer, but that's just a posh lunch for Becks. Plus, there's been threats that the tour won't even take place. The reunion tour was originally supposed to kick off on Sept. 27, 2018, but there was talk of scrapping the whole thing in June, The Sun reported.
According to the rumour mill, the reunion dream was almost taken away, following a reported "string of increasingly heated exchanges between her and Melanie C, Mel B, Geri Horner and Emma Bunton," according to The Sun. However, Mel B flat out denied there was any drama when she appeared on NBC's Today Programme on June 27. "We are going to be doing performances together, for sure," she told host Hoda Kotb.
The pot was stirred further still when Geri Horner (AKA Ginger Spice) appeared on Sky One's A League Of Their Own, which aired on Thursday on Sky One and NowTV, the Daily Mail reports. Fellow panelist Jamie Redknapp definitely didn't hold back when he reportedly asked her to rank the other Spice Girls from favourite to least favourite. But Horner didn't bow into it, sensibly saying: "You think I could say that and then not get killed?" then adding: 'They're all different, in different ways." She then went onto list those "different ways", starting with Emma (Baby Spice), who she said was like her "little sister."
Horner continued: "I would say Mel B is amazing... And then you've got Mel C, who's got a fantastic work ethic. And then Victoria, she's like... you can send her in. They've all got those qualities." But host James Corden was keen for Horner to throw some inter-Spice shade, teasing: "Well, thanks for ranking them one, two, three and four!"
To be fair, none of the Spice Girls have actually confirmed any rumours regarding a rift over the reunion. Therefore, I'm going to be optimistic. Their 2019 comeback is definitely happening, and I reckon there's still a chance all five will be headlining. Fingers crossed.