If You Think 'Red Band Society' Was Canceled Too Soon, You'll Love This New Netflix Show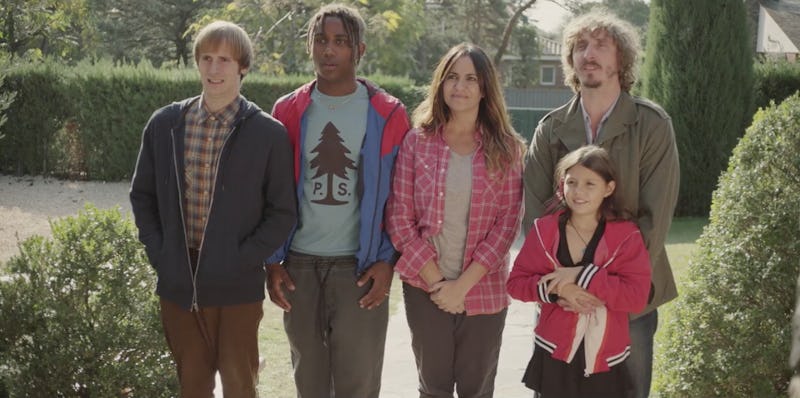 Netflix
Netflix has been expanding its international offerings of late, with shows like the Swedish Bonus Family, India's Sacred Games, and the German import Babylon Berlin. And now the streaming network can boast the Catalan show Welcome to the Family, or Benvinguts a la família, whose first season premieres on Friday, July 27. It's a heartwarming show about a family whose lives are turned upside down. But will Welcome to the Family return for Season 2?
A bit of background, first. Catalonia declared independence from their parent country, Spain, in October 2017, per the New York Times. However, the Spanish Prime Minister, Mariano Rajoy, reacted by dissolving the Catalan parliament. The area is still in a state of flux, and per The Economist, nothing definitive has been resolved. So why did the region declare independence in the first place? According to Time, Catalonia is the richest part of Spain and has a distinct cultural identity. They began pushing for independence after the worldwide financial crash in 2008, per Time. After this, Catalonia decided that they were being hurt monetarily by the rest of the nation. What's more, the region, located in Northeast Spain, boasts the city of Barcelona and has its own language, Catalan.
So while it's unclear from the trailer whether Welcome to the Family will touch on all of this political unrest in Catalonia, it looks to be a refreshing departure from conventional, family drama fare. Case in point, Netflix's synopsis: "When an evicted single mom's estranged father dies, she and his second wife cover up his death after learning they've been written out of his will."
"As a child, I dreamt one day I'd have my own family," the show's protagonist, Àngela (Melani Olivares), says in the trailer. "A perfect family, like on television. But things don't always turn out as expected." The 13-episode season also stars Ivan Massagué as Nando, Yolanda Ramos as Victòria, and Nao Albet as Fran, among others.
Welcome to the Family originally aired in January 2018 on the Catalan network TV3, according to Variety, and is just now coming to the States. The series was created by Pau Freixas and Iván Mercadé, both of whom also spearheaded the 2011 Catalan program Polseres vermelles, or The Red Band Society. If that name sounds familiar to you, that's because it was remade into a less-successful American show on Fox.
However, the show's non-English-speaking origins shouldn't intimidate audiences. Fortunately, Netflix includes a wide array of language options: Not only can viewers watch Welcome to the Family in its original Catalan, but they can choose voiceover options like English, European Spanish, French, and German, along with subtitles in Catalan, English, Spanish, and Chinese. So if reading subtitles aren't your thing, you can watch the show with an English dub.
As to whether Welcome to the Family will return for a second season, there's a good chance fans will be seeing more in their Netflix queues — but not for awhile. When it originally aired on TV3 in Catalonia, the network drew the best ratings in years, according to the same Variety report. And per to the Catalan newspaper, ARA, the showrunners have already begun working on Season 2, which may be available on TV3 early next year. However, as of April, when ARA published the article, TV3 hadn't officially confirmed anything. For that reason, fans should take this news with a grain of salt. That being said, Freixas also told the paper that he and Mercadé think the perfect duration for the show would be three seasons.
For that reason, North American fans may not be able to watch Welcome to the Family Season 2 until next summer, since it took about six months for Season 1 to arrive on Netflix. But in the meantime, audiences can still burn through Season 1 and come to love this dysfunctional, unconventional, death-defying Catalan brood.