Winter Storm Quinn's Expected To Hit NYC Hard — Here's What To Expect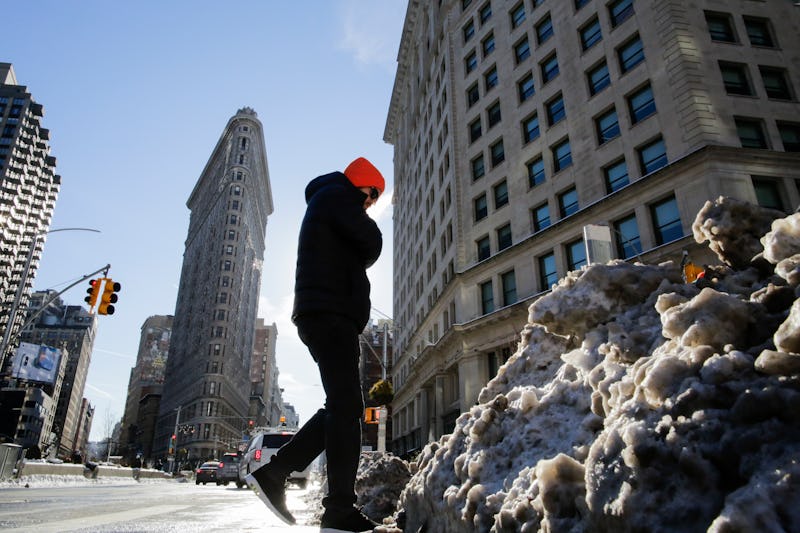 Eduardo Munoz Alvarez/Getty Images News/Getty Images
Another winter storm is rapidly headed to the Northeast. After Winter Storm Riley battered the area last week, Winter Storm Quinn is set to affect much of the I-95 corridor, causing heavy snow and strong winds, among other weather conditions. Those in the area are probably wondering which specific localities stand to be affected, including whether or not Winter Storm Quinn will hit New York City. Unfortunately for the Big Apple, Quinn stands to pack quite a punch, potentially blanketing the city in heavy snowfall.
According to Weather.com's forecast, the chance of snow in New York City over the next 36 hours is 100 percent. The outlet reports that residents should expect anywhere from five to eight inches of snow, along with strong winds with occasional gusts of over 40 miles per hour. The National Weather Service has predicted that the city could stand to accumulate even more snow than predicted by Weather.com, with its estimates ranging from nine to 12 inches. The storm will likely commence with rain on Tuesday evening, which will then turn into snow overnight. It is expected to snow in the city all day Wednesday.
New York City is already taking precautions to prepare for heavy snowfall and has informed residents that transit could be profoundly affected. "The MTA [Metropolitan Transportation Authority) is taking this storm very, very seriously," Chairman Joe Lhota told reporters during a conference call on Tuesday afternoon, as reported by New York City's Patch. "We're ramping up all of our operations and we will be prepared," he added.
New York City's official Twitter account also noted that the Department of Sanitation is prepared to tackle significant amount of snow. The city tweeted on Monday Night that "Nearly 700 [salt spreaders] are loaded and ready to roll; 1,500 plows will be dispatched once 2 inches of snow has accumulated."
While heavy snow is expected in New York City, thus far public schools will remain open. In a tweet on Tuesday night, Mayor Bill de Blasio noted, "After receiving the latest forecast, we will keep @NYCSchools open tomorrow Wednesday, March 7. We will continue to monitor forecasts throughout the night."
In addition to New York City, other parts of the state are also expected to see significant snowfall, with the eastern part of the state expected to get hit even harder than NYC. On Tuesday, New York Governor Andrew Cuomo announced that he is activating a toll free hotline for New Yorkers to use if they need assistance during the storm: 866-697-2434. He also warned that New Yorkers should be prepared for the storm to significantly impact travel and transit, especially because the city is still in the process of recovering from last week's Winter Storm Riley. As Cuomo put it:
We are talking about significant snow for tomorrow [Wednesday]. We expect that travel will be problematic. We expect that there will be delays at airports, etcetera. We're deploying personnel and equipment across the state now to affected areas - this is going to be more in the eastern part of the state. So, we'll have the personnel and equipment there, but it's going to be a wet and heavy snow and there's going to be a lot of it. And it's going to fall quickly. So, that's going to be the challenge. And as I mentioned earlier, compounded by the fact that we haven't yet repaired all the damage from the prior storm.
Overall, it is clear that Winter Storm Quinn could stand to profoundly affect both New York City and much of the rest of the state. While the city appears to be making every effort to prepare for the storm, facing two powerful nor'Easters back-to-back will likely certainly be challenging.