This Wild New Netflix Show Is Basically The K-Pop Version Of '30 Rock'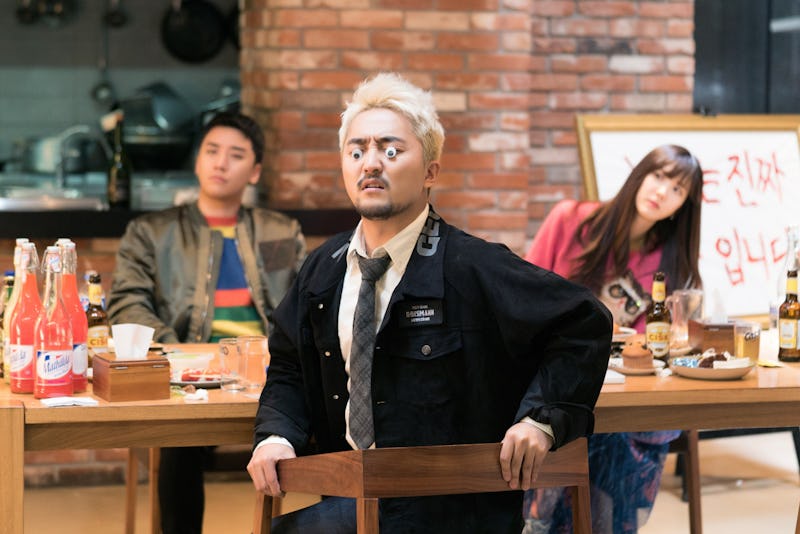 Netflix
If you've been paying attention to pop music for the past decade, you've likely noticed that K-pop is more than a passing trend. Patrons of the genre have grown from a niche audience to one of the most rabid, passionate fanbases in the entire world, which is exactly what Netflix is counting on. It's not yet been announced if its new mockumentary, YG Future Strategy Office is returning for Season 2, but considering it's a comedy series specifically dedicated to a global phenomenon, it's highly likely K-pop fans will rally behind it, especially considering some of their faves make up the cast.
The premise of YG Future Strategy Office is that YG, the real-life South Korean entertainment company responsible for some of the biggest names in Korean entertainment, has a "Future Strategy Office" where it sends troublemakers. This "office" is run by real-life K-pop star Seungri of the legendary group BIGBANG, and features cameos from some of his fellow YG stars. If you've ever listened to a K-pop group and wondered "What would it be like if this band I'm listening to appeared on a show that was a hybrid of 30 Rock and The Office?" then YG Future Strategy Office is the show you've been waiting for, and you can expect some hilarious cameos from some of YG's biggest acts. Among those making appearance are...
BlackPink
The biggest name in K-pop girl-groups right now, BlackPink are the rising stars of the YG entertainment empire, and stop by the show to deliver their thoughts on Seungri's enterprise. Their initial response to Seungri is critical at best, and it's not looking likely that their opinion of him will change as the show goes on.
iKon
Members of YG Entertainment's current marquee boy band, iKon, make cameos in the YG Future Strategy Office trailer. With Jinhwan, Yunhyeong, Bobby, B.I, Donghyuk, Ju-ne, and Chanwoo all at the show's disposal, it's likely that either members will pop up intermittently throughout the show, or that the entire group will come on for one memorable cameo.
Seungri
Seungri is obviously the star of the series, but those who aren't devout followers of K-pop may not understand how important YG Future Strategy Office is for his career. After years of K-pop supremacy, BIGBANG went on hiatus in March so that each of its members can complete their two-year service in the South Korean military — a legal requirement for every man in the country. After releasing his 2018 solo album The Great Seungri and filming Season 1 of YG Future Strategy Office, Seungri plans to enlist in early 2019, according to Soompi. This means that YG Future Strategy Office may be his last major creative endeavor before his service.
Seungri may have been one of many as a part of BIGBANG, but YG Future Strategy Office is his chance to shine as a comedic performer, and will contribute to what could be Seungri's final years as a pop star before going on a state-mandated hiatus. If legions of K-pop fans tune into YG Future Strategy Office, it may indicate that there's interest in another season, but the show may not return with Seungri if it comes back — or if it does, it will be an uncharacteristically long wait.