William From 'Queer Eye' Has The Perfect Defense For Calling Frasier Crane His Style Icon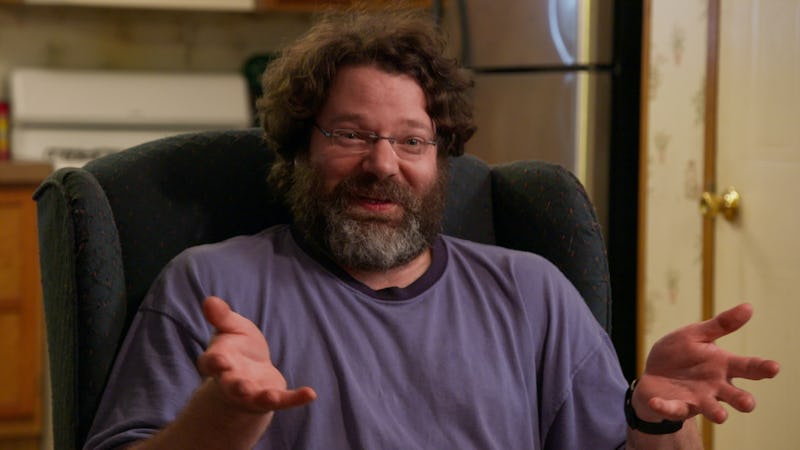 Netflix
There were a lot of memorable moments over the course of the most recent set of Fab Five transformations, but only one that made style expert Tan France sink into a crowded closet with a look of genuine horror on his face. When Queer Eye's William said his style icon was Frasier Crane, Tan was rattled. But in an interview with Bustle, Season 2 hero William defends his unlikely sitcom inspiration.
"First of all, I love the show! Frasier is hilarious," William Mahnken laughs over the phone in late June. He says he recognizes his own build in the show's titular psychiatrist (played by Kelsey Grammer). "We're both kind of… slightly stocky," William explains. "The clothes that he wears — not necessarily the style or color or anything — but the clothes that he wears fit him and make him look a lot more fit than he actually is. So that's what I was trying to convey before [Tan] sank into the closet. I never got to finish that because you know, Karamo ran in."
Viewers hilariously latched on to the Frasier comment, and social media was full of pop culture fans who sided with William. But as buzzy as it was, William's episode was also moving, as the Fab Five helped him prepare to propose to his longtime girlfriend, Shannan.
In the process, William bonded with Bobby, Antoni, Tan, Karamo and Jonathan. He says he truly felt a kinship with the Fab Five when the episode was filmed more than a year ago, especially because Queer Eye hadn't yet debuted and made them household names. "Because we filmed it before they were famous, it wasn't like I was hanging out with celebrities. It was like I was hanging out with five guys who interacted with me like they had known me for years," William says. "It's what made it so comfortable to hang around with them. It became like we were best friends by the end of the week."
He credits their warmth with why he was so quick to trust them with something as personal as his feelings for Shannan. "I was so comfortable around them that it made it easy to open up about myself," William continues. "I spoke a lot more about myself than I probably normally would to people. And they used that opportunity to help me, and guide me, and give me the confidence I needed."
As the other Queer Eye guys helped William find a ring, make over the house, shear the beard, and find a new wardrobe, culture expert Karamo orchestrated the perfect proposal plan for the film buff and aspiring actor. It went off without a hitch. A local amphitheater screened an adorable short film starring William that equated Shannan's name with the meaning of love, and a teary Shannan accepted his proposal.
Just one day after Queer Eye Season 2 hit Netflix, William and Shannan were married. The wedding date was June 16, which William says was exactly one year since the memorable proposal. And that happy relationship isn't the only thing that endures from his Queer Eye episode.
Though William admits he's abandoned the "French tuck" style tip ("The French tuck look didn't feel comfortable, so I gave up on that"), he's purchased clothes similar to the ones Tan selected for him, and he's continued to stick with the rest of the Fab Five's advice. The dressing Antoni showed him how to make is a regular around their household, he speaks fondly of the fun he had with Jonathan (particularly "that Blanche voice that he did" while cutting his hair), and he even says he still speaks to Karamo on a regular basis. "And then of course the house — wow," he says. "Bobby Berk is just so amazing with what he did."
William's takeaway line from the proposal film — "I Shannan you" — has resonated with viewers in a big way, and William says it's caused strangers to share their own stories of love with him. "I didn't expect it to take off the way it did. That first night, after the show aired, it was just thousands of tweets with 'I Shannan you' on it," he says. "It was really inspiring, and so people actually started telling me stories of 'I Shannan you' and the people that they 'Shannan' in their lives, so I keep pushing for that. I love hearing those stories and I love how we've inspired people."
As his short film suggested, William wants to continue to break into acting and filmmaking. "I'm also writing a screenplay. I just finished the second draft of it," he says. "It's a great story. Hopefully we'll get it in movie form someday. I love the film industry... Not just acting, but the whole process."
Now that they're newlyweds and the hubbub of filming Queer Eye is behind them, William says he and Shannan are just relaxing, enjoying each other's company, and raising their kids — though they didn't appear onscreen, he has four kids and she has two. "For us, it's about family," he says. William's transformation was equal parts stunning and heartwarming, and given the immediate reaction to his episode, fans will likely be gushing over "I Shannan you" (and defending Frasier Crane's style) for a long time to come.