Frigid Winds Are Seriously Throwing Off 2018 Olympic Skiers & Snowboarders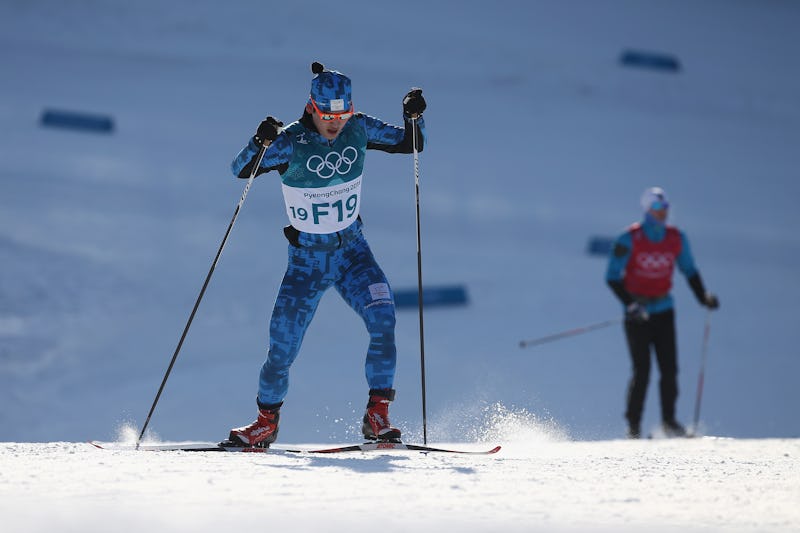 Sean M. Haffey/Getty Images Sport/Getty Images
Skiing fans may not be thrilled to find out but the freezing wind is affecting 2018 Olympic skiing athletes and their prospects for playing well in the harsh weather. And that's not all. The cold weather conditions are also rendering skis useless as athletes are reportedly dumping their skis after every run.
On Sunday, the women's giant slalom was postponed for the second time due to the powerful winds. The Olympic organization moved the event to Wednesday, Feb. 14, and one of America's athletes, Mikaela Shiffrin, expressed that she wasn't thrilled about the delay. On Sunday, Shiffrin told NBC Olympics,
It's a bummer that we're not able to race today. But with the training block I've had, I'm prepared and feeling good. I'll use this time to continue to train and refocus on Wednesday's slalom race. We have a great gym and space to eat and take plenty of naps, so I'll use this time to recharge.
The 2018 Winter Olympics are rapidly gaining a reputation for being frigid cold. In fact, according to AccuWeather, the winter games in PyeongChang, South Korea, are going to be the coldest since the winter Olympic games took place in Lillehammer, Norway, in 1994. PyeongChang owes its cold status to its geography.
After all, PyeongChang is the coldest region on earth for its latitude. Its distance from the earth's equator gives it the notorious cold climate it is known for. The region is also 2,296 feet above sea level. If you're a fan of meters, that's 700 meters, which is also how PyeongChang got its "Happy 700" nickname.
Given the cold weather, it's no surprise that the icy region is bruising skiers and snowboarders' morale. Technically, air temperature can either give an athlete an advantage over their rivals or simply ruin their chance at winning. The most ideal weather for skiing is below 30 degrees, according to AccuWeather. The same goes for snowboarding. But winds have gone up to 45 mph, leaving players rattled and worried for their own safety.
While women's giant slalom has been postponed, the Olympic organization has already faced strong criticism for allowing women snowboarders to compete in brutally cold winds. On Monday, female athletes criticized the International Ski Federation (FIS) for allowing the women's slopestyle snowboarding to take place. Anna Gasser, snowboarder from Austria, told NPR, "We tried to speak to officials but the Olympics put us under pressure to do it today." There's even a set of videos compiled by NBC showing female snowboarders tumbling through the harsh winds.
After being derided for allowing women to play in extreme conditions, FIS released a statement and said, "FIS always aims for the athletes to be able to stage their best performances, which some athletes have expressed was not the case today. But the nature of outdoor sports also requires adapting to the elements." AFP shared the organization's response on Monday.
Player morale isn't the only thing getting bruised with the vicious winds in South Korea. It's the equipment that's taking a hit, too. While speaking with Reuters, different technicians and skiing professionals told the news agency how the freezing cold in South Korea was leading to structural damage, especially to the bases of the skis. Craig Randell, a crew technician, told Reuters, "One of the coaches said they are throwing the skis out after today." Randell also said, "You can't do anything about it but with the cold temperatures, the snow adheres to the ski base and twists it. They are turning their skis to garbage real fast."
A competing skier from Austria, Marcel Hirscher, told Reuters that the snow damages the bottom of the skis and "burns" them. "Every run is a different pair of skis, but it's not because of hard conditions but the cold conditions." He then added, "Snow crystals get really sharp when temperatures go to -20 degrees and the base burns. It's the same as lighting fire and burning your base because the snow crystals get such sharp edges."
Hopefully, PyeongChang's weather doesn't take too heavy of a toll on people's morale and skiing equipment as there are a few days still left for the Olympic mania.