"Wine Water" Is About To Hit Shelves — Here's What It Tastes Like
by Callie Tansill-Suddath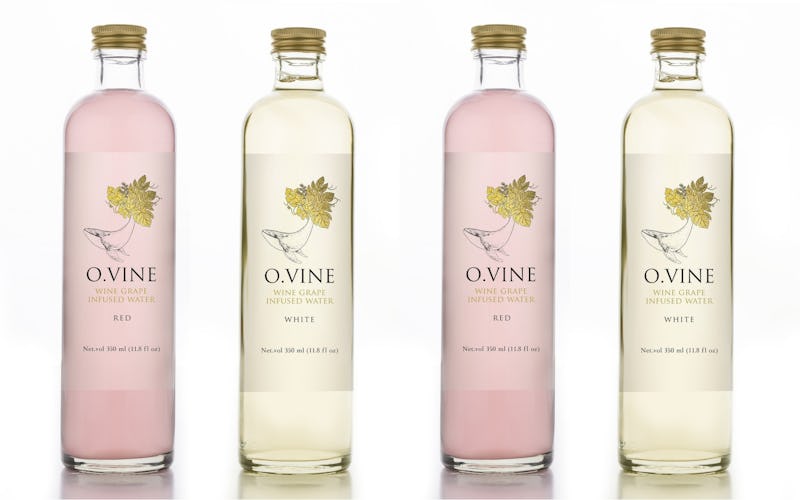 O. Vine/Remixed by Bustle
With summer upon us, the opportunities for drinking in the sunshine are aplenty. But, the season of outdoor happy hours and boozy brunches in the sun is not all fun and games. The combination of heat, humidity, and direct sunlight with alcohol can actually be a recipe for disaster. So how do you balance your brunching plans with the need for hydration? With Wine Water, of course! You might be wondering if what I'm describing is just a spritzer, but no. Wine Water from O.Vine is a light and refreshing, non-alcoholic alternative to the real thing, arriving just in time for the season.
Startup Wine Water Ltd. will introduce its newest creation, O. Vine, later this month at the famous New York Fancy Food Show. The beverage has the look of a light wine, but is in fact wholly different. Available in red (made with grapes from cabernet, merlot, syrah and petit verdot plants) and white (made with grapes from riesling and gewürztraminer plants) varieties, O. Vine combines the natural essence of grapes with pure spring water to create a drink that can be enjoyed by everyone. Each bottle holds 350 ml, and depicts a beautiful, delicate illustration of a whale. They say not to judge a book by its cover, but go ahead and judge O.Vine by its beautiful bottle.
The idea for the beverage stems from CEO and founder of Wine Water Ltd Anat Levi's devoted love of wine. "Drinking wine is a pure pleasure," she said in a statement, "but not all consumers are able to indulge due to its alcohol content. For example, it is recommended that pregnant women avoid alcohol entirely. O.Vine imparts the wine sensation and awakens the memory of drinking wine. The beverage delivers the health benefits of antioxidants — without the alcohol. Moreover, by upcycling the excess wine ingredients, the product is environmentally friendly." Delicious, family-friendly, and environmentally-conscious? What's not to like?!
If you're into the whole concept of mixing two of earth's oldest beverages into one, but don't actually want to sacrifice the *alcohol* don't worry, there are plenty of options for you, too.
California-based Union Wine Company's introduced the Strawberry Wine Cooler to its line of Underwood canned wines. With notes of strawberry, cranberry and lime palpable throughout , the refreshing cooler is the perfect summer sippable for those who don't want go too hard, but also don't want to forego the booze altogether. Not to mention, it is cute as heck, and guaranteed to be a hit with those who have a soft spot for pink wine, and rosé devotees alike. Even the can is cute, bearing a likeness to a blouse or sundress with its millennial pink and white floral pattern. I know I would wear it.
Barefoot Wine also launched a line of spritzers just in time for summer. Available in five varieties, the cans make it easier than ever to get your drink on during a picnic. Crisp White, Moscato, Rosé, and Summer Red are joined by the new Red Sangria to complete the lineup. Those looking for a crisper option will want to stick with the Summer Red and Crisp White, which, according to their website, "deliver a blast of bold berry flavor," and "bubbl[e] with zesty lemon-lime fizz," respectively. Drinkers longing for something sweet should opt for the red sangria, which has notes of berry and citrus throughout. Craving something with a little of both? The Moscato is infused with notes of peach and tangerine.
As for me? I'm definitely feeling the O.Vine vibe. Anything that gives a new life to boring old water is a winner in my book (or refrigerator, rather).