Meteorologists Predict Winter Storm Quinn Will Hit These Major Cities The Hardest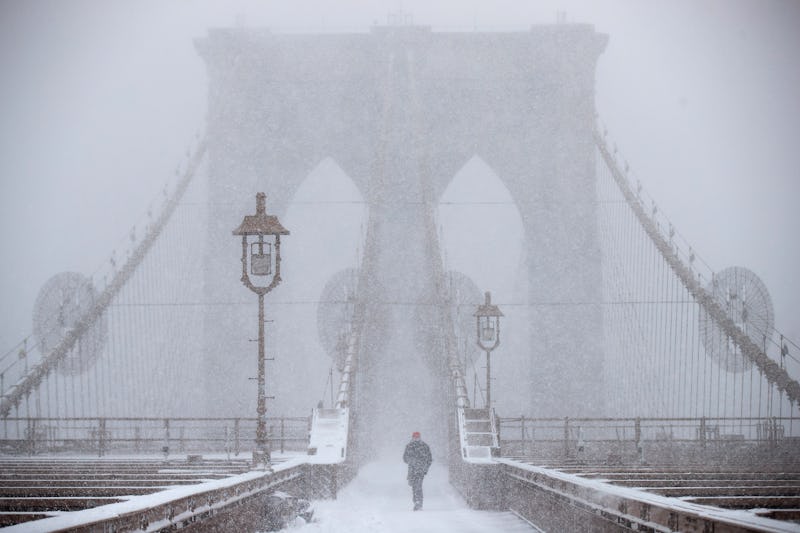 Drew Angerer/Getty Images News/Getty Images
Just days after Winter Storm Riley swept through the Northeast, another nor'easter is preparing to produce heavy snow and strong winds in the region. The National Weather Service issued a winter storm warning for most of the Northeast earlier this week, and Winter Storm Quinn predictions suggest that Quinn will hit major cities like New York, Boston, and Philadelphia especially hard.
The NWS predicted Tuesday that New York City would be one of the most heavily impacted areas, with expected snowfall ranging from six to eight inches. It indicated that Boston will receive two to three inches of snow per hour on Wednesday, as well as strong winds that are expected to peak later in the day. The latest forecast for Philadelphia, meanwhile, indicates that the city could receive anywhere from six to 12 inches of snow.
Although Quinn will definitely bring strong winds and flooding to the region, The Weather Channel suggested that they will not be as severe as those produced by Riley. Winds are expected to reach an average of 40 miles per hour in the Northeast with a maximum of 60 miles per hour on Cape Cod, whereas Riley produced wind speeds of 70 miles per hour in multiple states and more than 90 miles per hour in several Massachusetts cities.
According to The Weather Channel, Riley may have made some costal regions more vulnerable to flooding, but Quinn only poses a low to moderate flooding risk along the Northeast coastline. However, Quinn will likely produce more snow in areas that weren't as affected by Riley, particularly near major cities in the region. This means that cities like Philadelphia and New York — which didn't get too much snow from Riley — will likely be hit much harder by Quinn.
Although Quinn is arriving in the Northeast on Riley's heels, it was actually discovered and named first, which explains why it precedes Riley alphabetically. The Weather Channel reported that Quinn formed as a deep trough in the Gulf of Alaska, after which it created a cold front in the Pacific Northwest and eventually crossed the Northern Plains and the Midwest to reach the Northeast.
Like Riley, Quinn is a nor'easter, which is a type of storm characterized by a strong area of low pressure along the East Coast. Given that this is the second nor'easter to strike the region in less than a week, forecasters are concerned about how strong winds and snow will impact the I-95 corridor — the main East Coast highway.
"The interior Northeast is about to experience one of most difficult evening commutes in memory," NBC News meteorologist Bill Karins said. "The fear is drivers will get stranded on the roads when snow falls at two to three inches an hour. Plows will not be able to keep up."
According to CNN, Quinn could also cause power outages while simultaneously impeding the restoration of power to households who were impacted by Riley. Local power companies told CNN that more than 100,000 customers still did not have power as of Tuesday. Other risks Quinn could produce include reduced visibility, fallen trees, and power lines contending with higher-than-average wind speeds, according to NWS Boston. CNN meteorologist Dave Hennen predicted that snowfall will peak on Wednesday evening and continue on Thursday, impacting New England the most.
As of Wednesday, almost 2,000 flights had already been canceled due to Quinn, CNN reported. According to CNBC, train service in the region has also been affected, with Amtrak canceling some trains on Wednesday and regional trains in Philadelphia operating on a weekend schedule. School districts in Pennsylvania and Connecticut are also expected to close schools for the day as a result of the storm.