If You Live In One Of These States, You Should Brace Yourself For Winter Storm Quinn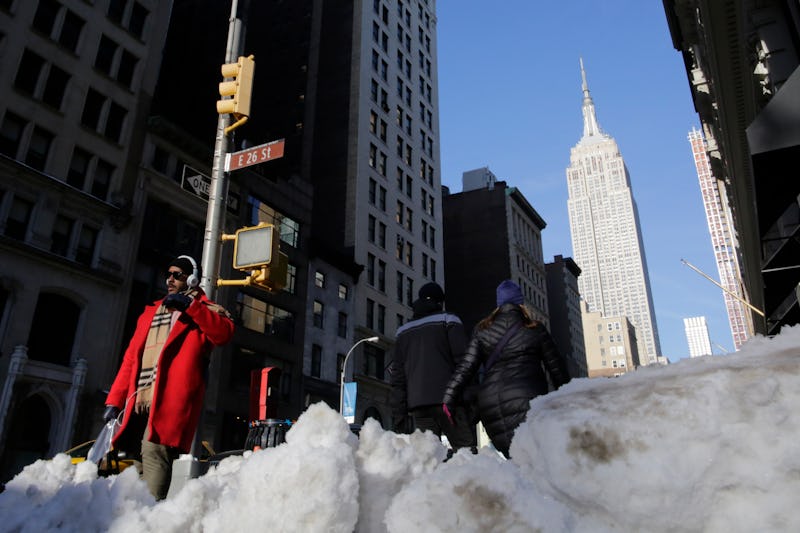 Eduardo Munoz Alvarez/Getty Images News/Getty Images
A few weeks back Punxsutawney Phil — America's favorite rodent meteorologist — revealed winter is not quite ready to depart. Level of expertise aside, the groundhog was definitely on to something. Forecasters are predicting a second winter storm on the way, less than a week after Winter Storm Riley created havoc along the East Coast with rain, snow, and historically strong winds. With this storm, named Winter Storm Quinn, the East Coast once again faces the highest risk — but what what states will Winter Storm Quinn affect the hardest?
Winter Storm Quinn is another nor'easter: a type of storm characterized by a concentrated area of low pressure along the east coast of the U.S. The system began in the Western continental United States, bringing heavy snow to mountainous regions last week before hitting the upper midwest and northern plains earlier this week, according to the Weather Channel.
Though the exact path of the storm is difficult to determine, much of the Northeast is bracing to be slammed by heavy snow. The National Weather Service has issued winter weather alerts for areas as far north as Bangor, Maine, and as far south as Elkins, West Virginia. Luckily, the National Weather Service assures residents Winter Storm Quinn is unlikely to cause quite the extent of damage seen after last week's Riley, when more than two million people were left without power.
The strongest gusts of winds anticipated by Winter Storm Quinn are likely to only reach a ~tame~ forty miles per hour, and are expected to affect just inland of the Northeast coastline from the Jersey Shore to New England. This could reportedly causing blowing snow and perhaps some airline delays, but is not expected to be nearly as damaging as the winds seen last week with Winter Storm Riley. To add some perspective, Washington, DC — the southernmost major city that is part of the northeast corridor — saw gusts approaching seventy miles per hour last week. In fact, it was so intense, the federal government closed on Friday.
On the other hand, what Quinn lacks in potential for damaging winds, it replaces in potential for heavy snow. In Philadelphia, residents could see a wide range of totals depending on whether they live in the suburbs or the city. Totals could vary anywhere from less than six inches downtown, to over a foot in the northern suburbs. NYC will likely only see a few inches, but parts of Northern New Jersey could see over a foot, and in notoriously snowy Boston, more than a foot of snow could coat the city's Western suburbs. These variations can be attributed to "...a more inland penetration of above-freezing air [that would] would lessen snowfall totals near the coast," The Weather Channel explains.
The risk of flooding also cannot be entirely ruled out. Minor to moderate coastal flooding is possible in cities that lie along the coastline of the Northeastern corridor on Wednesday and Thursday. The potential for structural damage may be heightened as a result of the mess caused by Riley last week. Cities like Scituate, Massachusetts, a seaside suburb of Boston, saw the worst effects of Mother Nature last week (though many of the town's residents are practically immune to being shaken by a storm at this point.)
Overall, the effects of Winter Storm Quinn are likely to discourage you from going out later this week, but probably will not even compare to the disruption caused by the similar nor'easter last week.
On another note, if you were clever enough to pick up on the fact this storm's name begins with a letter that alphabetically precedes that of the storm last week, the Weather Channel can explain that, as well. Winter Storm Quinn was actually named on February 28, when it was first discovered to be to hitting the Sierra Nevada mountains. Winter Storm Riley did not receive its name until the first of the month.