Women Newly Elected To Congress Have Big Plans For Revamping The "Boys' Club" Culture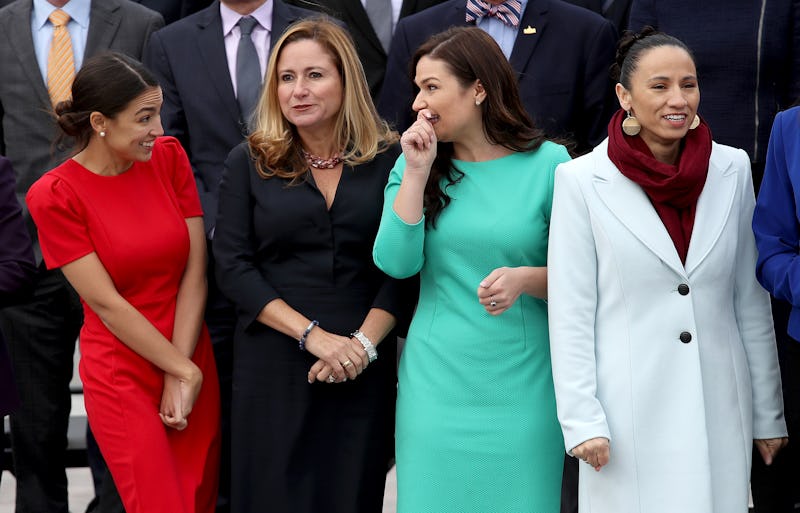 Win McNamee/Getty Images News/Getty Images
A record number of women are heading to Congress in January, but they will face some challenges that their male counterparts do not — and may never have had to think about. From congressional schedules to a support group just for moms, women elected to Congress in 2018 have plans to change not just the building, but also the culture of the nation's capitol, according to Politico.
"I think there are a lot of people who are talking about … how we can make it easier for new moms and single moms," Rep. Pramila Jayapal told Politico about the upcoming changes. "These women are looking at what they need as new moms or moms of middle school kids, what kinds of rules would accommodate that…. [We] recognize that women are a new and growing force in this Congress."
While the greatest ever number of women are heading to Washington next year, these issues aren't exactly new. While women senators had their own bathroom of the Senate floor since 1993, for example, according to The Washington Post's reporting from the time, the first women's restroom off the House floor wasn't installed until 2011. That restroom just got its first changing tables over the summer, per Politico, and nursing stations are currently being installed around the building.
Notably, the first woman was elected to Congress in 1917. (Her name was Jeanette Rankin, and she was a suffragist Republican from Montana.) But over 100 years later, the legislative branch still appears to be under-equipped to accommodate the women who work there.
Culturally, according to the Politico report, newly elected women are concerned about things like how their new job will accommodate working mothers. "I've thought about it a lot. … How are we going to make it work?" Democratic congresswoman-elect Katie Porter told the outlet, referencing the challenge of finding and affording childcare. "It's an additional, significant … cost for me. But I think part of it is: If we don't have voices like mine, trying to figure out how to do it — to juggle and serve — then we won't have anyone else speaking up to try to improve the system."
But beyond child care, those interviewed by the outlet also expressed concern about how they would make time to see and speak with their children, and said they are hopeful that they might be able to arrange the congressional schedule in a way that allows them to go home three days a week. One congresswoman, Rep. Debbie Wasserman Schultz, told Politico that she plans to start an informal caucus for representatives who are also mothers, which would function as a support group.
And the need to support mothers may mean the need to support mothers who have children of all ages. Earlier this year, Sen. Tammy Duckworth became the first sitting senator to ever give birth. Including her, only 10 women across U.S. history have ever given birth while serving in Congress, per a Politico Magazine report from earlier this year. But while it comes with challenges, their position as working mothers, some of them argue, could actually make them better representatives for their constituents.
"The reality for my constituents is most of them are two-parent, working-family households. And many of them are single-parent working households," Rep. Linda Sánchez, who gave birth to a son while serving in Congress in 2009, told the outlet.
Congress has long been dominated by white men, but the 2018 midterms made clear that that's changing. But newly-elected women can't change a culture overnight — that's a step by step process that, according to reports, is going to require renovations not just to the Capitol building, but to the greater congressional culture, too.