The Number Of Women Elected To State Legislatures In The Midterms Will Blow You Away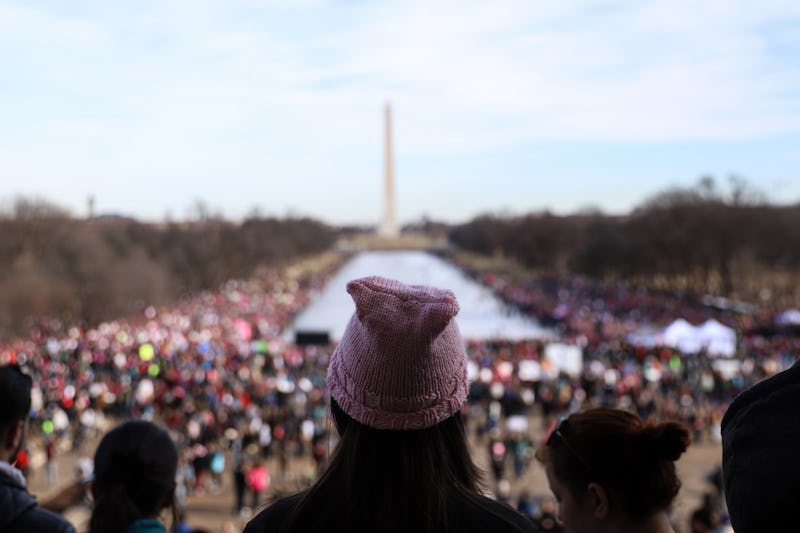 Alex Wroblewski/Getty Images News/Getty Images
Women made history in many different ways during the 2018 midterm elections — and not just at the federal level. A record number of women were elected to state legislatures, and they will go on to occupy at least 27 percent of existing seats across the country in 2019.
Before this year's midterms, data from the Center for American Women and Politics at Rutgers University indicated that 1,875 of the country's 7,383 state legislators in the United States were women. In 2019, that figure will increase to at least 2,019 and as many as 2,200 women, per The Hill. WMC Action News 5 reported that the Associated Press has yet to call 216 state legislative elections; 185 of those have at least one female candidate running who could possibly win.
The CAWP found that at least 1,743 women won state legislative seats in the 2018 midterms — a figure that will likely increase as the AP finalizes additional election results. In 2019, these newly-elected state legislators will join the 276 women whose seats were not up for election this year.
According to Debbie Walsh, the CAWP's director, this jump in the number of women serving in state office marks "the largest increase in women's representation" that state legislatures have seen "after more than a decade of relative stagnation."
"The only question that remains is whether 2018 was a one-off or a new norm," Walsh told The Hill.
The increase in the number of women serving in elected office — both at the federal and state levels — is almost entirely partisan. Democrats will see a net increase in women occupying state legislative seats across the country, while the number of Republican women serving in state office will decline. More specifically, at least 1,363 Democratic women will serve in state legislatures next year, as opposed to 637 Republican women. An additional 19 women are either Independents or nonpartisan.
A similar discrepancy is reflected at the federal level. Public affairs site Quorum noted that during this year's midterms, Democrats added 25 women to their ranks in Congress, while Republicans lost 10 women. A record number of women ran for office across the country, The Washington Post reported, the majority of them Democrats.
Across all individual state legislative chambers, Colorado's state House and Nevada's state Assembly both have the highest percentages of women serving as state legislators. In fact, according to The Hill, these two chambers may see parity between women and men if women win all of the Colorado and Nevada races that have yet to be called. Before this year's midterms, Arizona and Vermont occupied the top two spots, per the CAWP.
Women and people of color shattered numerous records during the midterms, with many states electing Muslim, Native American, and LGBTQ candidates for the first time. However, these records extend far beyond the federal level to state chambers that will discuss legislation pertaining to reproductive health care access, women's rights, and more, and the record number of women who have been elected to state legislatures will likely have a significant impact in 2019.