This Report Shows Women In STEM Experience WAY More Discrimination Than Women In Other Fields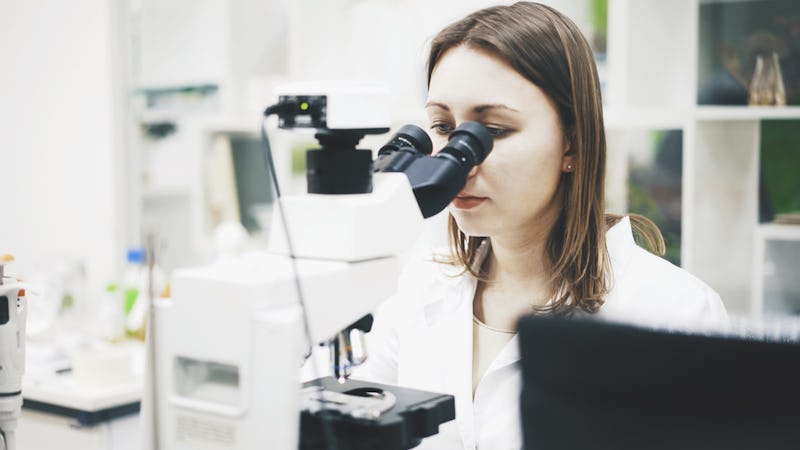 Shutterstock
The world of STEM (science, technology, engineering, and math) has become much more diverse in recent years. Organizations like Black Girls Code and the National Society of Black Engineers have created a pipeline for more women and people of color to participate in high-paying STEM careers. Despite the increased number of women earning degrees and working in the STEM industry, though, a new study has found that women in STEM experience more discrimination at work than women in non-STEM fields.
The report, which was published by the Pew Research Center on Jan. 9, used a national representative survey to understand the issues women face in the STEM workforce. The researchers found disparities in the treatment women receive while on the job.
While women working in STEM reported being discriminated more than those not working in a STEM field (50 percent vs. 41 percent), they were equally likely to experience sexual harassment at work, according to the report. More than one-third of women working in STEM consider workplace sexual harassment at least a small problem where they work, but only 28 percent of men feel the same way. Far more women in STEM who work in mostly male workplaces felt this discrimination, at 78 percent.
Both groups of women also equally believed that women weren't "usually treated fairly" in regards to receiving promotions at work. One in five women in STEM said their gender has made it harder to succeed at work while only 7 percent of men said the same of their gender. It's important to note that this survey was conducted from July 11 to Aug. 10, 2017, before the Me Too movement brought a national conversation about workplace gender dynamics into everyday discussions. These findings are especially timely as women are being encouraged to speak out against harassment in the workplace.
"At a time when the STEM community has been renewing its commitment to diversity, this study reveals that men and women in STEM continue to experience the workplace quite differently," Cary Funk, director of science research at Pew Research Center and lead author of the report, said in a press release. "Half of women working in STEM say they have encountered some form of gender discrimination at work. Women employed in STEM settings where men outnumber women are among those most likely to say they see workplace inequities."
Funk and her research team also found that the representation of women in the STEM field is siloed. The percentage of women in various STEM jobs has gone up in health and life-sciences since 1990. But women who had jobs in computer science actually fell from 32 percent in 1990 to 25 percent in 2016, despite overall computer occupations growing by 338 percent. The survey respondents revealed that 95 percent of dental hygienist were women and 96 percent of speech pathologists were women, compared to the only 7 percent and 8 percent of sales engineers and mechanical engineers, respectively, who were women.
While STEM jobs are known to generally pay more than non-STEM jobs, making more money doesn't substitute for being harassed at work. No woman should have to endure harassment and or discrimination at the hands of coworkers. As Oprah Winfrey expressed at the 2018 Golden Globes, sexual harassment doesn't just affect the entertainment industry. It's an issue "that transcends any culture, geography, race, religion, politics, or workplace."
The findings of this report are troubling yet they give everyone an opportunity to do better. Workplaces can revamp their hiring, recruitment, and promotion policies and institutions of higher learning can be more intentional about creating a pipeline for careers in which women are underrepresented. Women in STEM fields also have the power to change workplace culture; they can create workplace resource groups in which they can learn from other women's experience and share tips. Seeking out a mentor can also help women working in STEM navigate the workplace and grow in their career.