This Powerful Open Letter Is A Reminder That Outing Sexual Predators Is A Privilege, Too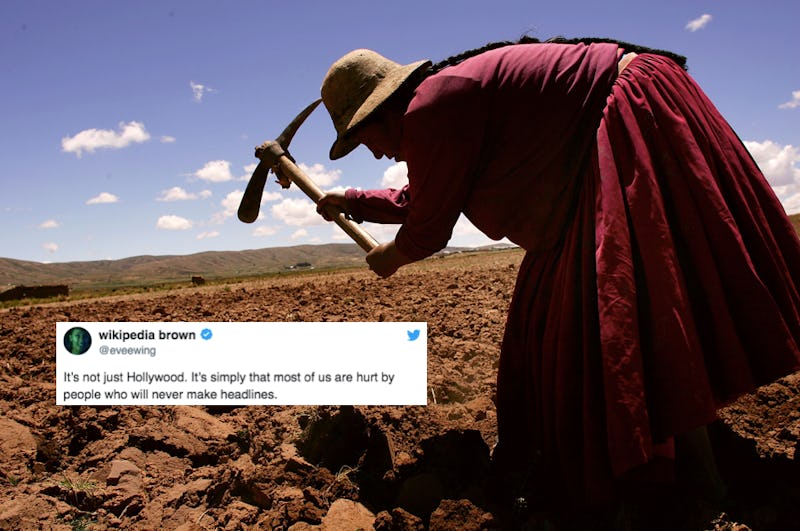 Spencer Platt/Getty Images News/Getty Images
Although Hollywood is only a short, two-hour car ride from one of California's largest agricultural sites, the actors that grace the big screen and the farmworkers who feed the nation rarely get mentioned in the same sentence. But on Nov. 10, 700,000 female farmworkers with the Alianza Nacional de Campesinas stood in solidarity with Hollywood actors against sexual assault. In a poignant open letter published in Time, farmworkers praised the bravery of the survivors of sexual assault who have come forward over the past month. The letter also explained how the power dynamics that silenced survivors in Hollywood for years are similar to the power dynamics that are currently silencing the farmworkers who are survivors of sexual assault and harassment.
Like many across the nation, the farmworkers were saddened by the news that so many people had been sexually harassed or assaulted while working in Hollywood, but they weren't surprised. They wrote,
We wish that we could say we're shocked to learn that this is such a pervasive problem in your industry. Sadly, we're not surprised because it's a reality we know far too well. Countless farmworker women across our country suffer in silence because of the widespread sexual harassment and assault that they face at work.
Sexual assault is a crime that 66 percent of the time goes unreported, and it's a crime of which women are disproportionately survivors. According to RAINN (Rape, Abuse & Incest National Network), ninety percent of all adult rape victims are women. Those who commit sexual assault are often the ones in a position of power. As we look at the actors who have spoken out against now countless men in Hollywood, we may perceive their money and fame as signals of power. These actors' social status does give them more power than many, but these women have bosses that determine whether they will receive work. And as the countless stories of assault out of Hollywood have shown, these bosses allegedly abused their position of authority — which kept survivors silent for many years.
The visibility of being a public figure gives Lupita Nyong'o, Asia Argento, Ashley Judd, and many others more of an ability to call out their abusers by name than other women without similar resources, but female farmworkers rarely, if ever, have this kind of visibility. In their letter, the farmworkers acknowledged the additional obstacles they face when it comes to getting justice for their instances of sexual assault:
"We do not work under bright stage lights or on the big screen. We work in the shadows of society in isolated fields and packinghouses that are out of sight and out of mind for most people in this country."
While all women, regardless of social status, are at risk for getting sexually assaulted, women who are marginalized are at even more vulnerable. Abusers prey on people they believe they can get away with victimizing. And while Hollywood has inspired many women with smaller platforms than actors to openly discuss sexual assault, especially with the #metoo hashtag, coming out as a survivor of sexual assault is still too risky for some women, including farmworkers or other laborers. "Complaining about anything — even sexual harassment — seems unthinkable because too much is at risk, including the ability to feed our families and preserve our reputations," the letter reads.
The majority of farmworkers in this country are Latinx, according to Farmworker Justice, a nonprofit that seeks to empower migrant and seasonal farmworkers. With Latinx folks facing lower wages as a consequence of systemic racism, Latinx women are marginalized economically and socially. Potentially losing a source of income by outing a boss as an abuser isn't an option for many, and it won't be an option for a long time until everyone — not just survivors — take sexual assault seriously. The time to stop punishing survivors and start punishing abusers was long ago.
As you go about your daily life, think about the women who do not have the same platform as the actors we see on TV. Sexual assault is happening in just about every industry, even the ones we don't see on a daily basis. Think about how you can uplift women who are marginalized. There are probably students, service workers, or domestic workers that you interact with on a daily basis who need your support. As the farmworkers eloquently stated: "Please know that you're not alone. We believe and stand with you."