Woody Allen Said He Donated To Hillary Clinton's Campaign — And She Sent It Right Back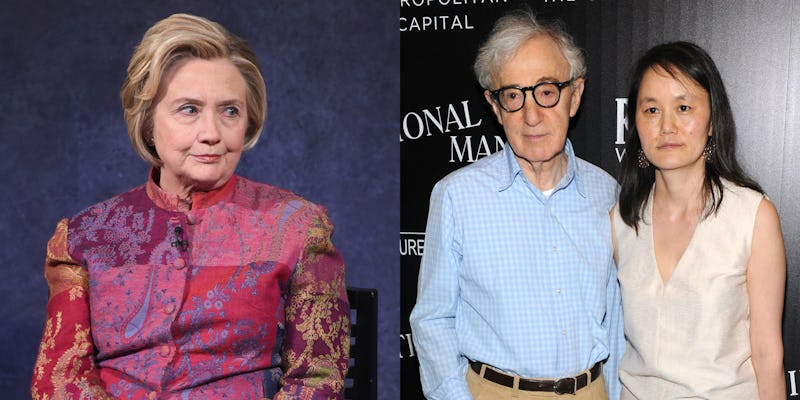 Craig Barritt/Getty Images Entertainment/Getty Images / Jamie McCarthy/Getty Images Entertainment/Getty Images
In a first, Woody Allen's wife, Soon-Yi Previn, spoke to the media and gave an interview to New York magazine. The resulting profile, posted Sunday on the Vulture website, explores the two's relationship and the various allegations from their complicated past. But there's also one little tidbit from the present day that might interest those who follow Democratic politics and #MeToo. In the piece, Allen says Hillary Clinton's campaign returned the couple's donation.
Previn is the main subject of the piece, but Allen makes appearances as he was present during some of the time journalist Daphne Merkin spent interviewing her. One such time was at the couple's home on the Upper East Side over a dinner of lasagna and salad. Allen chimed in on the conversation, Merkin writes:
"People think that I was Soon-Yi's father, that I raped and married my underaged, retarded daughter." (As if to underscore his point, he mentions that his and Soon-Yi's contribution to Hillary Clinton's last campaign was unceremoniously returned.)
Bustle reached out to both Allen's rep and Clinton's lawyer for comment.
Allen would not be the only prominent Hollywood man accused of sexual misconduct whose contributions Clinton has returned — even if in this instance it happened much more quietly. Clinton promised to return campaign donations from Harvey Weinstein after news of his alleged sexual misconduct, which he also denied, was reported (or to donate the same amount of money to charity if that were not possible). In that instance, Clinton was criticized for not speaking out and condemning Weinstein's behavior quicker, and then for not saying enough — at first she left out the part about returning the donations.
Much of the Vulture article focuses on Previn's relationship with Allen, which she and Allen say did not begin until she was 21. But there is also plenty on Previn's relationship with Mia Farrow, who adopted her as a child. Previn met Allen when she was about 10 and he was dating Mia, and the circumstances of their meeting — and their age difference — have raised criticism in the 26 years since news of their affair became public.
The journalist who wrote the profile, Merkin, is reported to have been friends with Allen for the past several decades, and the article is presented as a sort of defense of Allen in the age of #MeToo. "I was never interested in writing a Mommie Dearest, getting even with Mia — none of that," Previn told Merkin. "But what's happened to Woody is so upsetting, so unjust. [Mia] has taken advantage of the #MeToo movement and paraded Dylan as a victim. And a whole new generation is hearing about it when they shouldn't."
Dylan Farrow, who was also adopted by Mia Farrow, claimed that Allen molested her in the early 1990s and has remained vocal about her allegations for years. Allen denies them. After #MeToo began, actors started to pledge not to do movies with the critically acclaimed director. Some who had gave their pay to charities.
Dylan posted on Twitter in response to the Vulture article and also responded to New York magazine with a comment. "This only serves to revictimize me," Dylan told the magazine. "Thanks to my mother, I grew up in a wonderful home."
In her Twitter post she was even more critical of the article, saying it included "bizarre fabrications" and homing in on the author's connection to Allen. "The idea of letting a friend of an alleged predator write a one-sided piece attacking the credibility of his victim is disgusting," Dylan wrote on Twitter.
Dylan was also supported on Twitter in a statement by some of her siblings. Her brother Ronan Farrow, Allen's biological son (a relationship that the magazine piece questioned) also penned his own statement in support of his mother and sister. He's grown in prominence for writing #MeToo articles, particularly the one in the New Yorker that led to Clinton promising to return the Weinstein donations.
In his criticisms of the piece he noted that he was "shocked" that the magazine had failed to "print [his] sister's responses." "Survivors of abuse deserve better," Ronan said.
Allen's political contributions have made the news at least once before, in 2014. The Kentucky GOP demanded that Democratic Senate candidate Alison Lundergan Grimes return a check for $500 from Allen "if she really cares about standing up for Kentucky women." The Republican in the race, Senate Majority Leader Mitch McConnell, ended up being reelected. He went on to inadvertently start his own women's rights hashtag: #ShePersisted.