Woosh Beauty Is The Makeup of The Future, But You Can Get It Now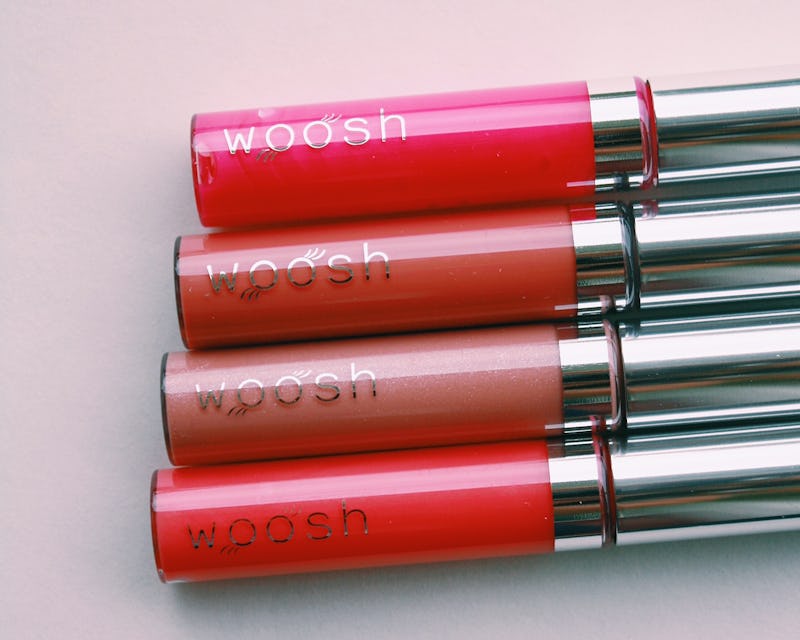 Kali Borovic
When it comes to finding the perfect makeup, it's all about products, wearability, and innovation. Well, this indie brand has all three — and even more. Woosh Beauty is revolutionizing the beauty industry, one product at a time. Every single product that the brand offers is meant to make your life easier. And it truly isn't a gimmick.
Woosh Beauty was founded by two best friends, Bobbie Thomas and Andrea DeVos Abraham, who both had a love of beauty and making women's life easier. The outcome is an incredible line of products takes the makeup you love and makes it even better, if you can believe it.
From rolling eyeliners and spinning lip glosses to do-it-all palettes, Woosh Beauty has everything you never knew you needed in your makeup bag.
"More than half of your beauty routine is spent not applying your makeup," Thomas tells Bustle. "You spend more time digging through a bag or drawer, opening and closing compacts, and searching for a brush or other applicator. That is time wasted."
"Andrea and I wanted to create beauty products so that women no longer have to make the choice between looking and feeling great and living their lives," Thomas continues. "We like to say it's all the wow, with none of the work."
At first glance, some of the products do look gimmicky. The double ended brushes, mascara shields, and wheel-shaped liners seem like they're solely created to catch your eye. But unlike other seemingly innovative products, Woosh Beauty products are just as good as they seem.
Not only is your application time cut in half, but the products really do work. Once you use them, you'll instantly ask yourself why someone didn't come up with these ideas sooner.
Take the brush bag, for example. Not only does it easily store all of your brushes, but the bag doubles as a towel to dry them off after you've washed them. Their other tools are just as multipurpose, too. The brand offers a mascara shield that will keep you form having to constantly wipe the black off your eyes and peel-off stencils to get the perfect cat-eye without the mess.
"Honestly, we didn't set out to create just another beauty brand," DeVos Abraham said. "There are already so many out there killing it, and for it to feel meaningful to us we had to offer products that filled a void rather than added to the noise."
The products are so good that other brands have drawn inspiration from Woosh's innovative designs. You know MAC's Rollerwheel Liquid Liner? Woosh Beauty did it first.
Woosh's Eyeliner Wheel is meant to be used with their black cushion liner. The wheel is larger than the MAC version, which the company says makes it easier to glide on.
Other products from Woosh Beauty are just as quirky. Sometimes it's the simplest things that make a product standout.
For instance, instead of just making lip gloss, the brand made one with a wand that spins for fun and effortless application.
Added to that innovation is an affordable price point. The line ranges from $16 for single products to $79 for sets. Even the Fold Out Face Palette, which has a wide range of face powder, is a steal for just $59.
"By making [the brand] accessible from a price point, an ability standpoint, and a time-saving angle, we set out to democratize makeup," DeVos Abraham says. "We don't want anyone to throw out their money or their time, and then still feel intimidated or left out when it comes to beauty."
With products and prices like these, Woosh Beauty it one to watch. Now what will you do with all that extra time?