This Is What Would Happen To The Mueller Investigation In Case Of A Government Shutdown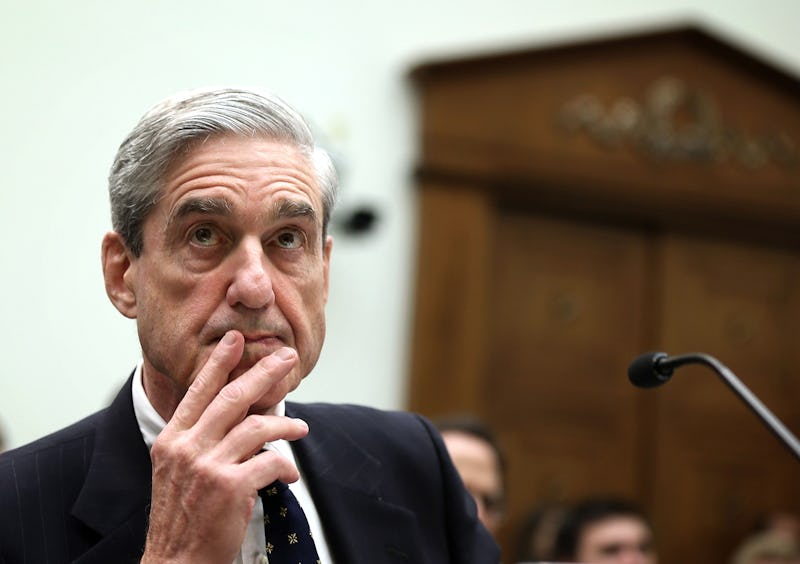 Alex Wong/Getty Images News/Getty Images
As important congressional budget deadlines approach and President Donald Trump says he'll demand $5 billion in funding for the border wall, the threat of a government shutdown grows. If you care about the Russia probe, you're probably wondering whether a government shutdown would affect Robert Mueller's investigation. The Special Counsel's Office (SCO) has put out a statement that may calm some fears.
"All employees with the Special Counsel's Office are considered exempt and will continue their operations in the case of a lapse in appropriations," the statement read, according to Axios.
The Department of Justice confirmed that to Axios, telling the outlet, "SCO is funded from a permanent indefinite appropriation and would be unaffected in the event of a shutdown. The appropriation bills before Congress do not touch the SCO."
The president is threatening to help incite a shutdown if Congress refuses to allocate $5 billion for the border wall, telling Politico on Tuesday that he'd "totally be willing" to do so. Republicans still control both chambers of Congress — the newly-elected officials don't get seated until Jan. 3 — but it's their 1-vote majority in the Senate that poses a complication for the appropriations process. A budget bill needs 60 votes to pass in the Senate, which means that Trump will have to garner some Democratic support to keep the government running.
Sen. Chuck Schumer has indicated that he may negotiate $1.6 billion for border security in return for other demands, but Trump's comments indicate that he may have little patience for compromise. A shutdown could be imminent, then, leading to concerns about its potential effect on the Mueller investigation — Politico noted on Tuesday that these questions have been the source of "chatter that is picking up on the Hill."
Perhaps the SCO statement will alleviate some worries. Assurances that the office gets its money from a "permanent indefinite appropriation" put it among a select group of organizations and services that would continue to operate in the event of a shutdown. Some get this privilege because they are considered essential, while others have independent funding sources. Air travel will also continue as normal, as will postal deliveries, active military operations, social security check mailings, and more, per NPR.
Concerns about the Mueller investigation are particularly acute since the probe is seemingly coming to a close. In October, Bloomberg reported that Mueller would likely release "findings on core aspects" of his investigation shortly after the midterms. Former FBI Director James Comey has also argued that the SCO seems to be nearing a conclusion because it's been targeting higher-level officials ("the way you normally do investigations is you work from the bottom up," he said). Of course, it's impossible to know for certain when the probe will end since it's being conducted in secret, and others have argued that there's a long way to go.
But — barring any sort of intervention from Trump — it seems that Mueller and his team will be able to continue working as normal until they're finished, even in the event of a shutdown. That should bring a sigh of relief to those who want to see this probe get wrapped up as quickly as possible.