R. Kelly's Alleged "Cult" Might Not Actually Be Illegal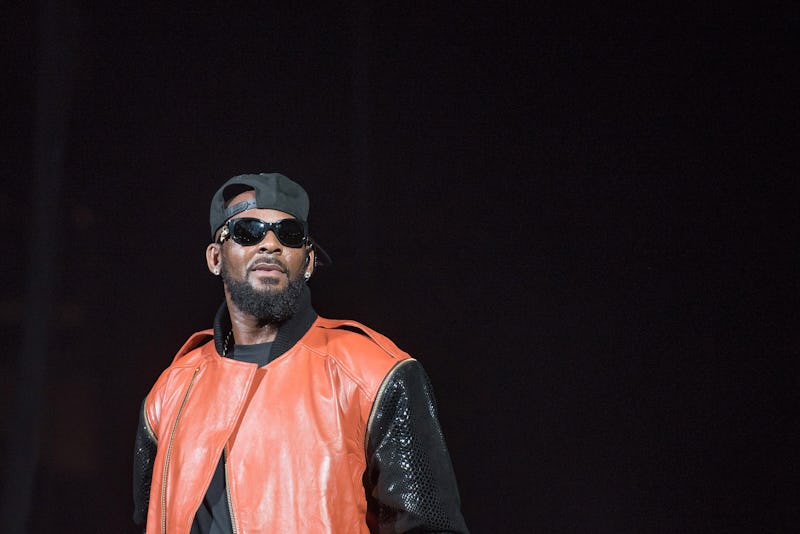 Mike Pont/Getty Images Entertainment/Getty Images
On Monday, a reported by BuzzFeed News revealed allegations that R. Kelly could be housing multiple women in what was described by individuals who claims to be their parents as a "cult." Bustle has reached out to Kelly's lawyer, rep, and to RCA Records for comment on the report, but did not receive an immediate response, though the lawyer did release the following to BuzzFeed: "We can only wonder why folks would persist in defaming a great artist who loves his fans, works 24/7, and takes care of all of the people in his life... I suppose that is the price of fame. Like all of us, Mr. Kelly deserves a personal life. Please respect that." The article maintains that the "Ignition (Remix)" singer is allegedly keeping six women in homes in "Chicago and the Atlanta suburbs" and that he allegedly "controls every aspect of their lives: dictating what they eat, how they dress, when they bathe, when they sleep, and how they engage in sexual encounters that he records." From there, it gets more unsettling, but, if it's real, is R. Kelly's alleged "cult" actually illegal? The answer, it would appear, is a little murky.
Update: On Monday, Kelly's lawyer released a statement to Bustle that read, "Mr. Robert Kelly is both alarmed and disturbed at the recent revelations attributed to him. Mr. Kelly unequivocally denies such allegations and will work diligently and forcibly to pursue his accusers and clear his name."
Earlier: There are claims in the piece of what could be abusive behavior, with the singer's former personal assistant, Mack, claiming, "You have to ask for food. You have to ask to go use the bathroom." However, even the original article suggests that, as upsetting as these alleged actions are, this "cult" wouldn't be considered illegal, and there are various reasons for that. One obvious issue here is age; reportedly, the women living with Kelly all appear to be 18 or older. According to USLegal.com, a missing person is defined as "a person 18 years old or older whose disappearance is possibly not voluntary, or a child whose whereabouts are unknown to the child's legal custodian." As such, there's very little law enforcement can do to intervene if these women have voluntarily chosen to stay with Kelly.
And things get even more complicated when it comes to the laws regarding cults. According to law information site hg.com, there is no "clearly defined legal definition for the term 'cult.'" And, according to the United States Courts government website, it gets even more complicated, since the First Amendment makes it difficult to define any religious group as illegal in the U.S. As such, the only way a so-called cult can get into trouble with the law is if the supposed cult infringed on someone's rights. Sometimes, law enforcement can categorize a supposed cult as a criminal organization, but that requires the group in question to commit a crime.
In Kelly's case, it's difficult to pinpoint any aspect of what he is alleged to be doing as being explicitly illegal, since, if BuzzFeed's report is true, then the women mentioned seem to be consenting to his treatment. And any allegations about "brainwashing" would likely be unsuccessful in court; hg.com states that brainwashing is too subjective to be regulated.
But perhaps there is one aspect of the alleged activity that could be classed as illegal if true. BuzzFeed's report also includes claims that Kitti Jones, one of the former members of Kelly's inner circle, was allegedly held against a tree and slapped by Kelly for being "too friendly" with a worker at a Subway sandwich shop. However, the article doesn't clarify whether this alleged incident took place in Chicago or Atlanta, which would matter, since battery laws vary from state to state. According to Illinois law, slapping a person constitutes battery in the state. However, Georgia law requires a more extreme example of violence for a battery charge, requiring "substantial physical harm or visible bodily harm to another," which may not include a slap.
Ultimately, it could be up to the women who are now speaking out about the alleged cult to explore what their legal options are. But given how little of what has been claimed can be considered illegal, it seems unlikely that R. Kelly would face repercussions for what is, at least in the eyes of the law, mostly a gray area.