If Trump Were Impeached, There Won't Be Another Election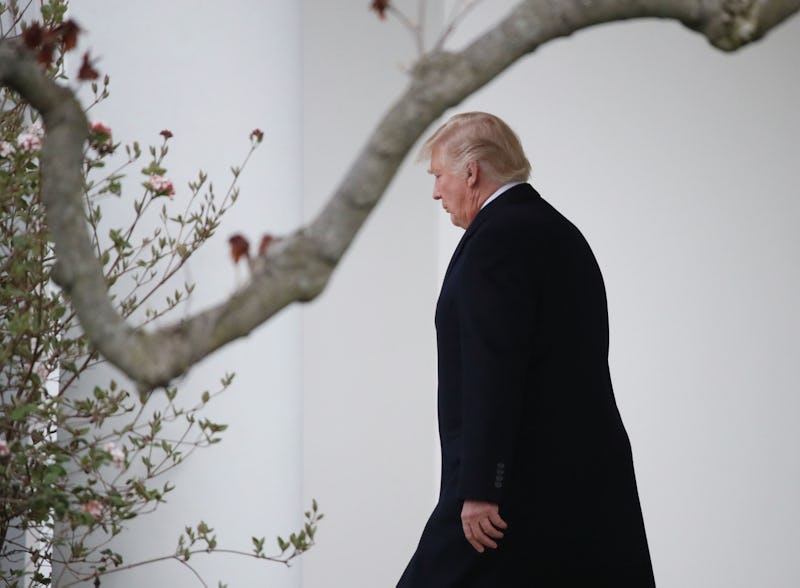 Mark Wilson/Getty Images News/Getty Images
The timing and circumstances behind Donald Trump's dismissal of FBI Director James Comey has spurred concerns that the president meant to obstruct the FBI's investigation into his campaign; this has, in turn, resulted in talk of impeachment among critics and some Democratic lawmakers. But while the threat of impeachment is, for now, merely talk, it's prompted questions about what the process of removing a president from office entails and whether there would be another election should Trump actually be impeached.
If — and that's a really big if at the moment — Trump was impeached, no special election would be held. Rather, Vice President Mike Pence would become president as dictated by the order of succession outlined in the U.S. Constitution and the Presidential Succession Act of 1947. If, for some reason (death, resignation, inability, or removal from office), Pence was unable to serve as president, then the job would go to Speaker of the House Paul Ryan.
But don't start planning your impeachment party just yet — for the moment, the chances of President Trump being impeached remains unlikely. Nothing has developed any further, even in the wake of Trump's recent comments regarding his decision to fire Comey as head of the FBI, which have certainly raised eyebrows and drummed up talk of impeachment.
Earlier this week, in an interview with NBC News' Lester Holt, Trump walked back on White House claims that his decision to fire Comey stemmed from recommendations from Department of Justice officials. "When I decided to just do it," Trump said, "I said to myself ... 'You know, this Russia thing with Trump and Russia is a made up story ... an excuse by the Democrats for having lost an election that they should have won."
Further complicating matters is a statement from Deputy White House Press Secretary Sarah Huckabee Sanders. Sanders claimed the Trump administration sought to bring the FBI's investigation into alleged ties between the Trump campaign and Russia's efforts to influence the 2016 election to an end with Comey's dismissal. "The point is we want this to come to its conclusion, we want this to come to conclusion with integrity, and we think that we've actually, by removing Director Comey, taken steps to make that happen," Sanders said Thursday, in a statement that directly contradicted a claim she'd made earlier in the week.
Since then, Reps. Al Green, Hakeem Jeffries, and Jared Huffman have been among the handful of Democratic lawmakers who've openly discussed the prospect of initiating impeachment proceedings against Trump, should the president's decision to fire Comey turns out as an attempt at obstructing justice. However, with Republicans holding the majority of seats in Congress, it would likely take a mountain of undeniable evidence to get the ball rolling on impeachment proceedings against Trump.