Dua Lipa, Olly Alexander & More Just Served Some Totally MAJOR Lewks At The BRITs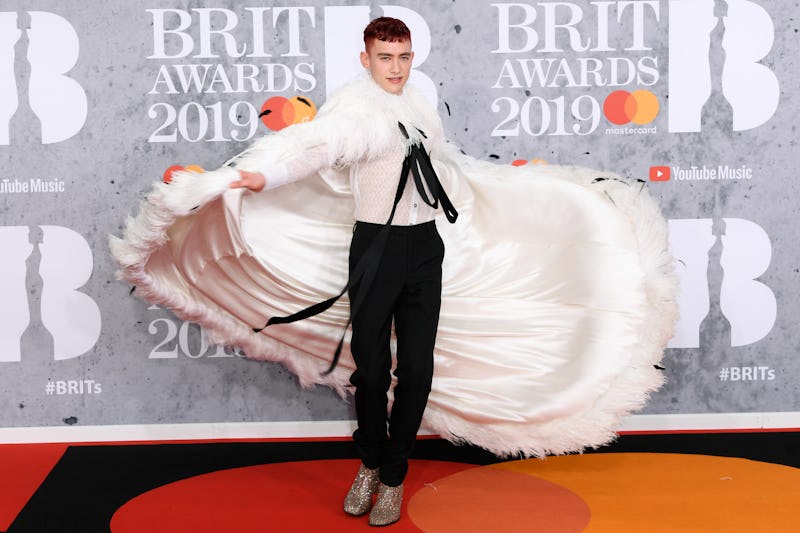 David Fisher/Shutterstock
The BRIT Awards may be all about celebrating the best of British music, but can we just take some time to appreciate the major lewks that were served on the BRITs red carpet this year? From gorgeously flowing dresses, beautifully lace bodices, to an actual cape (yes, Olly Alexander has completely stolen the show already), I am totally feeling underdressed as I watch all these celebs grace the carpet in my comfy jumper and trackies.
That's not to say that these outfits aren't giving me constant flashes of inspo though. This years nominees have absolutely slayed it in terms of being iconically experimental, even down to the more simplistic styles like Jess Glynne's silky silver gown or Sam Smith's delightfully handsome pale blue tux.
But I can't move forward without at least going into some detail about that cape. Olly Alexander did what anyone would do in his position and swished that beauty around like there was no tomorrow. And is it just me, or does it look slightly Cruella de Vil inspired? Maybe it's just the black feathers, or maybe it's just me but either way it's absolutely stunning. Especially coupled with those glittering gold shoes.
Another artist who totally knows how to work the red carpet was H.E.R., who twirled her crop top and high waist combo with a level of confidence that I wish I could embody on a daily basis. That and the ability to rock sunglasses on a dark February evening, which totally completed that outfit IMO.
I for one cannot wait to see her perform alongside Jess Glynne tonight. I mean, I can't think of a more iconic pairing than those two.
Jeff Spicer/Getty Images Entertainment/Getty Images
Jeff Spicer/Getty Images Entertainment/Getty Images
While Alexander and H.E.R.'s outfits were certainly eye-catching, they had nothing on designer Daniel Lismore, who donned a futuristic headpiece and a multi-layered robe that looks like it something out of The Fifth Element. I still can't figure out how on earth he got that headpiece on, but Lismore's eccentric style was a total highlight for me.
Jeff Spicer/Getty Images Entertainment/Getty Images
Jeff Spicer/Getty Images Entertainment/Getty Images
If I had to choose a fave though, it would have to be a tie between the goddesses that are Little Mix, Anne Marie's gorgeously frilly overcoat, Dua Lipa's entire ensemble (ofc), Florence Welch's perfectly vintage lace gown. While I probably cannot afford any of these outfits, I'm totally going to try and replicate each of them ASAP.
On the more unconventional side, I can't not mention the appearance from my baes the Gorillaz. While I'd have loved a photocall of Damon Albarn (who wouldn't), seeing the band in their 2D glory has totally made the night for me.
While the major lewks of the red carpet may be over for this year, the excitement certainly doesn't end there. Remember, we've still got the performances to look forward to! I can't even begin to imagine how Dua Lipa is going to top the outfit she wore last year, let alone what song she'll have me bopping my life away to.
God, I love the BRITs.