If You Don't Get Why People Are So Obsessed With The Rock, Here's Why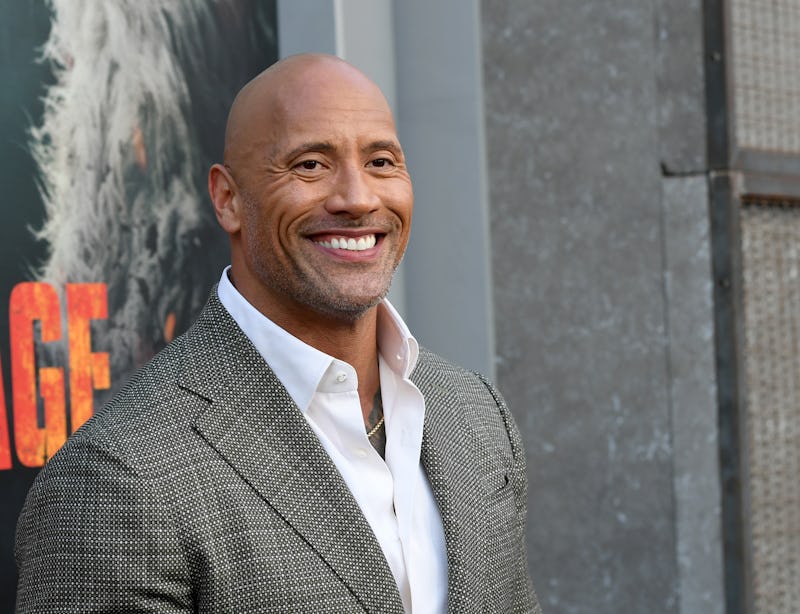 Kevin Winter/Getty Images Entertainment/Getty Images
Over the last decade or so, Dwayne "The Rock" Johnson has gone from a former wrestler doing the occasional acting role to Hollywood's most profitable superstar. His latest movie, Jumanji: Welcome to the Jungle, is a billion dollar hit, and it's no surprise; there's no question that everybody loves The Rock. Johnson is the only true movie star of the modern era, with a combination of Tom Hanks-like charisma, the box office numbers of the Marvel Cinematic Universe, and a social media presence to rival that of Taylor Swift. He's the new standard for a Hollywood star, and if you didn't realize it before, Jumanji's success — and likely Rampage's in April — makes it crystal-clear now: when it comes to The Rock, people just can't get enough.
When Johnson first transitioned from wrestler to actor back in the early '00s, he was already on the verge of mega-fame. Take the fact that, despite never watching WWE, I still knew the phrase "Do you smell what The Rock is cooking?" — he was just that popular. And after starring in a few successful kid-friendly comedies like Disney's The Game Plan (2007) and Tooth Fairy (2010), plus a couple of Fast & Furious installments, the actor became even more beloved. With his charming smile and "man who could kill you with his pinky but also has a heart of gold" persona, he captured my heart and never let it go. And I'm not the only one. "He can do funny, he can do serious, he can do I-have-a-broken-arm-but-I'll-flex-my-arm-out-of-the-cast," explains longtime fan Jenn, 26. "He really has it all!"
What makes The Rock so well-liked boils down to his main goal as an entertainer, as expressed during a recent interview with Rolling Stone: "Never send an audience home unhappy." The Rock is not particularly interested in showing dramatic range, chasing a golden statue, or working on his "craft." In fact, he seems to have no interest in delving into more depressing storylines, so much so that, as he revealed to Rolling Stone, he fought to change the ending to his new movie Rampage because he felt the original conclusion was too sad. "I'm gonna take care of you, the audience. You pay your heard-earned money — I don't need to bring my dark sh*t to you. Maybe a little — but if it's in there, we're gonna overcome it, and we're gonna overcome it together," Johnson said.
In a recent Instagram post, he revealed that as a producer, he truly listens to his audience. "Whenever we test my films, I always want the fans to feel empower [sic] to help me make the movie better, because in the end, whether it's a Jumanji, a Rampage, or Skyscraper, the most important thing is sending the people home happy," the actor wrote, detailing how fan feedback had inspired Skyscraper reshoots. The Rock doesn't just love his fans — he listens to them.
It's a clear desire to entertain coupled with a lack of self aggrandizement that makes Johnson so special. There is nothing more distasteful than a star who dismisses the work that made him or her famous, and The Rock actively fights against cultivating that impression. One fan, Amy, 32, calls Johnson's career choices "beautifully unpretentious," telling Bustle, "He knows what he does well [and] he sticks to it." The Rock embraces all aspects of his career with a bright smile and a chuckle, a grateful attitude that tells audiences that he isn't so full of himself that he thinks he's better than the projects they like him for. USA Today reports that in Jumanji, for example, he wasn't afraid to trade on his WWE fame by pitching the idea that his character's trademark would be the smolder, a sexy riff on his famous arched eyebrow from his wrestling days.
It all goes into what's perhaps the most critical element of The Rock's superstardom: his unique relationship with his fans. On the actor's social media, he maintains a presence that is not only self-promotional, but also relatable and open. His Instagram is not just a place for carefully curated images — it's a place for workout selfies and motivational speeches, for behind-the-scenes movie promotions and the occasional personal family photo.
Just take this short video The Rock shared in March to celebrate International Women's Day. The post establishes his brand — he's wearing Under Armour (the company he teamed up with to make his own workout line) with the logo clearly visible — but it's also a glimpse into his private family life, thanks to a cameo from his young daughter, Jasmine.. And it shows Johnson's support for the women — he starts the video asking Jasmine to say "Girl Power" — who make up a decent chunk of his fanbase. As of April 10, the video has been viewed 26,100,974 times.
Johnson's Instagram is also a place to highlight his accessibility. His feed is littered with posts of the star meeting with fans, recounting how they waited outside of his gym or on the outskirts of a movie set for hours just to meet him. "Every night when I wrap, there's more new fans," Johnson captioned an October 2016 post from the set of Jumanji. "I appreciate you waiting so long tonight and I have so much luv and gratitude for all of you. Takin' pics with ya is one of the best and easiest parts of my job. Always happy to do it."
Another post from January 2018 details how a woman accidentally walked into a shot on the set of his HBO series Ballers, and she felt so bad that Johnson personally made sure to say hi to her afterwards. Countless more images show Johnson interacting with fans, some even stopping traffic to say hello, like the one below. "Yeah but sometimes traffic is just gonna have to wait to make fans happy," the actor wrote in the caption.
Johnson isn't the only celebrity to use social media to both establish a brand and get close to fans, of course, but he is one of the best at it, particularly when it comes to male actors. He has 103 million followers on Instagram, 12.8 million followers on Twitter, and another 57 million on Facebook. (To put that in perspective, Johnson's Fast & Furious co-star Vin Diesel has only 193,000 followers on Twitter and 48 million on Instagram (he beats The Rock on Facebook, with 97.57 million followers). The Rock also has a YouTube channel with a little over 2.85 million subscribers that was bolstered by a public friendship with YouTube star Lilly Singh. It's no wonder The Hollywood Reporter named him the most popular actor on social media platforms for five months in 2017, and their metrics have consistently to place him in the Top 10 social media actors in 2018.
With his social media presence, The Rock has established himself as both relatable and inspirational, something Jenn believes is key to his success. "I think his charm and understanding that people want someone to relate to, but also aspire to be, has helped amplify him and get him to where he is now," she says, adding that Johnson is endearing because of how honest he's been with fans "about his past struggles, his current struggles, and the minutae of his life." One recent example: in an interview with The Express, The Rock spoke honestly about his depression, which first occurred after he reached the end of his football career in 1995. "I reached a point where I didn't want to do a thing or go anywhere. I was crying constantly," he said.
It's not easy for any celebrity to publicly speak about their own mental health, especially for a man who has long traded on the strong man stereotype. By being open about his struggles with depression, Johnson manages to be both the ideal "manly man" (big muscles, personal gym) and to subvert that stereotype. "Stay strong and make sure you're talking to good people about it," he told a fan on Twitter who thanked him for his candor about depression. "Us men have a tendency to hold it in. No shame in getting help and wanting to be better." At a time when toxic masculinity is being examined more and more, Johnson talking about his emotions without dismissing them is an important form of activism.
Which brings me to one of the main reasons for Johnson's modern popularity: his political neutrality. The Rock is a proud American; even his personal traveling gym features an American flag. But throughout the 2016 election, he remained silent. According to his Rolling Stone interview, Johnson supported Obama (he even had a recurring bit doing an impression of the president on Saturday Night Live, "The Rock Obama"). That said, he didn't vote in the 2016 election, a position that, when revealed, drew some criticism from the Left. And yet, he has remained relatively untouched by either political side.
Publicly, most liberal fans haven't called him out for failing to speak up and use his celebrity platform during the election, and Republicans have not accused him of being unpatriotic (a critique that would be disingenuous at best seeing as how Johnson put on a massive USO event for Spike TV called Rock the Troops). He's been declared "The Celebrity We Need" by conservative outlet The National Review, while also receiving stamps of approval from liberal figures like Ellen DeGeneres.
Johnson's universal appeal is one of the reasons that Kate, 33, loves the Rock. "To be able to be someone who is able to unite all humans, regardless of background, in their fandom — what a skill," she says. When Johnson has spoken out about politics, it has always been to call for unity. "The most important thing we can do right now is be 100% committed to becoming a better country," he wrote on Instagram after the 2016 election. "I don't know what it's like to be born into wealth, nor do I know what it's like to be a career politician. I do know what it's like to put in the hard work every day with my own two hands and earn my success from the sweat of my brow."
The actor's message of hope and persistence coupled with the new era of celebrity presidencies soon had fans calling for a future political run. Explains Jenn, "He talks the talk and walks the walk, which is why I think people entertain the idea of him in 2020." Since the election, Johnson himself has embraced the idea, telling GQ in 2017, "I think it's a real possibility."
If The Rock did run and find support, it wouldn't be a surprise. As said, his appeal transcends political barriers, and as one of Hollywood's only multi-racial super stars (he has Samoan and black ancestry), the actor also transcends ethnic lines. As such, he has a uniquely large fanbase, and there's little doubt that many of them would come out in support of the potential candidate.
But if The Rock doesn't run for office, he can rest on the merits of his movie career. Jumanji: Welcome to the Jungle is the biggest domestic hit of Johnson's 20-year career, and it squashes any doubt that he could be a huge box office draw as a leading man. A sequel to Jumanji was confirmed in February, and San Andreas 2 is also in the works. By now, the message is loud and clear: Dwayne "The Rock" Johnson is the movie star of the 21 century, and that's something that won't change no matter how his movies do at the box office, or what his political future holds.