You Can Listen To The 'Michael Bublé Sings & Swings' Songs, Which Include Established Hits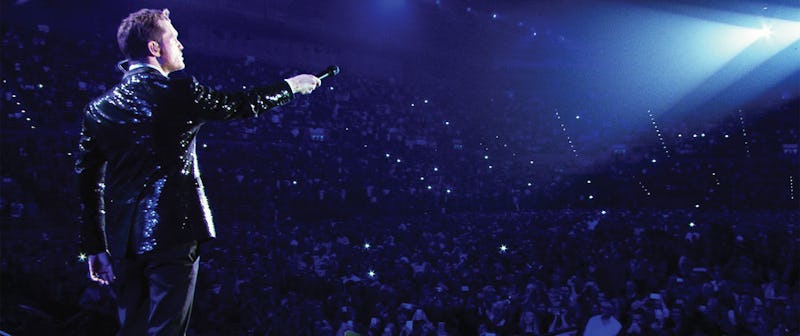 Warner Bros Records
With live musicals, talent competitions, and shows like Empire and Crazy Ex-Girlfriend that promise multiple hit tracks per episode, TV soundtracks are becoming more popular than ever. With Christmas around the corner, Can you download the songs from Michael Bublé's 2016 NBC special? There are no announced plans for NBC to release a live recording of Tuesday's Michael Bublé Sings & Swings concert, however, fans should have no problem locating the tunes.
According to NBC's official description of the concert, "in Michael Bublé Sings and Swings, Bublé sings fan favorite pop hits as well as jazz standards that he has perfected over his career." The press release teases that some of the songs on the set list include "Nobody But Me," "Always On My Mind," "Home," "God Only Knows," and "Feeling Good."
"Nobody But Me" is the title of Bublé's latest album. A few of the songs from Tuesday's concert are already on it. Other tracks you'll hear Tuesday can be found on the albums "Call Me Irresponsible," and "It's Time." Between those three records and his many Christmas compilations, you should be able to find all of the songs featured on Michael Bublé Sings & Swings on iTunes, Amazon, Spotify, Google Play, or wherever you buy/stream your music.
I'm actually getting the feeling that this Michael Bublé Christmas special isn't actually all that festive. Backed by his own band and the London Philharmonic Orchestra in Manchester, England, this might be more about jazz than the holiday season. It was taped for a live audience in October, before the holiday season officially began. The press release promises "Bublé at his absolute best and [...] sure to delight audiences of all ages." I'm certainly not against that, and it does make the songs easier to find.
All in all, music is a great reason to gather with your family at this time of year, and Michael Bublé Sings & Swings should prove to be an enjoyable evening.