You Can Now Apply For A Job At McDonald's Via Snapchat Now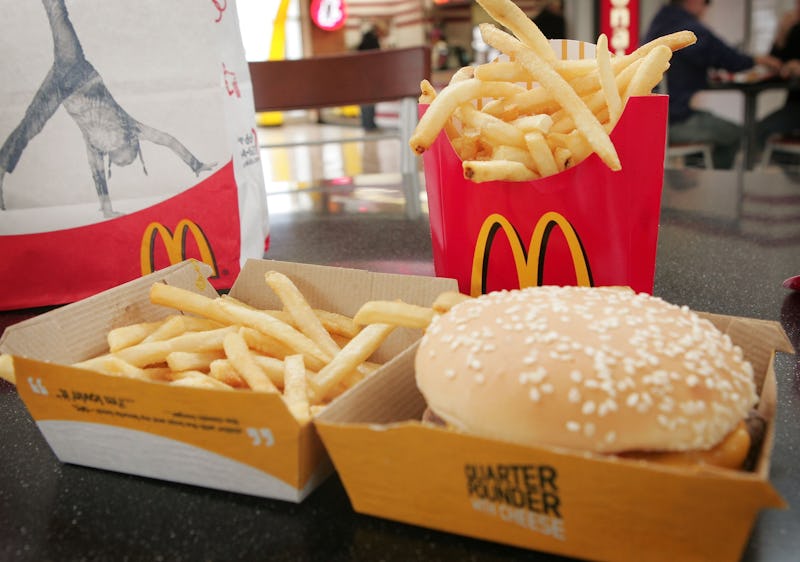 Scott Olson/Getty Images News/Getty Images
Who says your rampant social media use is a waste of time? Definitely not fast food employers, because you can now apply for a job at McDonald's with a Snapchat filter. There's just one catch (as there is with so many things): You have to be in a particular location to do so. In this case, you have to live in Australia. (Sorry, literally everyone else.) But on the plus side, this brings a whole new meaning to "snappy service," am I right? (I know. I'm sorry. I couldn't help it.)
In an interview with News.com.au earlier this week, McDonald's Australia Chief Operating Officer Shaun Ruming announced a new hiring initiative aimed at the 3.2 million Australian young people currently engaged with Snapchat. (Ruming, for what it's worth, learned about the social media platform from his 14-year-old daughter). McDonald's, or Macca's, as it's colloquially known in Australia, is the largest youth employer in the country; 65 percent of their 106,000 employees are under 18.
Here's how it works: Applicants apply the special Mickey D's Snapchat filter, which places a McDonald's hat and name tag on your person, record a 10-second video in which they say their name and talk a bit about themselves (no word yet on what to do if your name is more than, like, two syllables), and send the video to Macca's Snapchat account. Though looking good in a digital McDonald's hat won't be replacing a thorough, face-to-face interview, Ruming said hiring managers will be taking the Snaps into account. "We're looking for that positivity, bubbly personality, someone we think would be good in a customer service role," he told News.com.au.
By which they probably also mean someone who won't be sneaking fistfulls of fries... which means I would likely not make an ideal employee.
No word yet on whether Macca's has experienced a boost in applications since the filter went live on April 7; however, the chain is hardly in a hiring rut following last year's widespread brand campaign, in which Megan Bittner, a 21-year-old, explained that she'd left college to work as a Macca's manager. Bittner's point was that young people shouldn't be worried by the "stigma" of staking a career in fast food — and she's right. Indeed, an essay by Kate Norquay published in the Huffington Post in 2015 tackled what so many people get wrong about working in fast food, underlining the complex skills required for jobs that people often assume are "unskilled."
And hey, if there's any way to reach the kids these days, it's through Snapchat filters. We're living in the 21st century, dudes.