You Can Order Live Christmas Trees On Amazon Prime This Year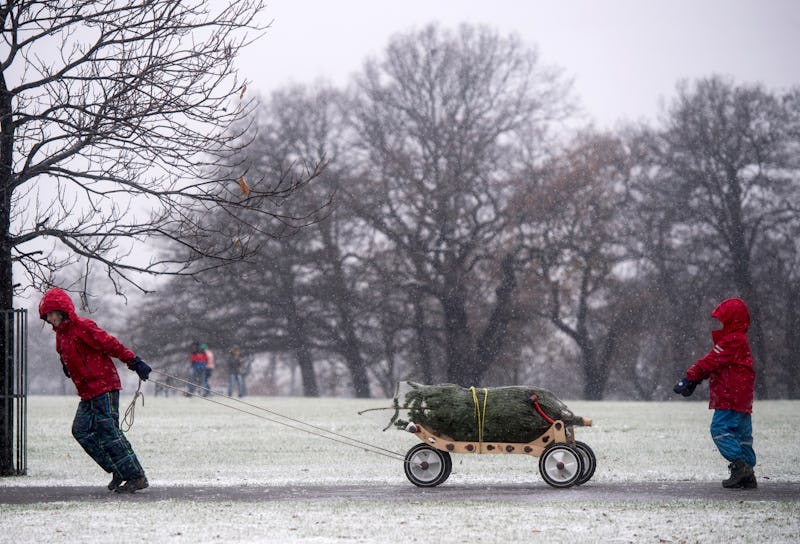 Chris J Ratcliffe/Getty Images News/Getty Images
Santa Claus may not be real but Amazon Prime definitely is, and the internet retailer's recent announcement will definitely have you feeling festive. Starting this year, Amazon will be selling real, full-sized Christmas trees for people who don't want to brave the cold. Yes, you could get a whole entire Christmas tree delivered to your door from the internet. Truly a Christmas miracle.
According to the Associated Press, Amazon is going to be selling three different types of Christmas trees: Douglas firs, Fraser firs, or Norfolk Island pines. They'll be live, fresh, and about seven feet tall. All the qualities one would want in a Christmas tree. Just how fresh will these trees be? Amazon says that the trees will be shipped within at least ten days of being cut down. In other words, extremely fresh.
I'm sure you're wondering how, exactly, said whole entire tree will be arriving to your home. Well, just like pretty much any other Amazon package: in a box. The trees, after being freshly cut down, will be packaged in a (presumably 7ish-foot) box sans water. Amazon says the trees will be fine during the shipping process even without being packaged with water.
If nothing else, there is truly no joy like that of seeing a huge package on your doorstep. Perhaps it'd be buying just for that experience.
Of course, you'll be paying a little extra for the convenience. A seven-foot Fraser fir will cost $115. By comparison, the average seven-foot Fraser fir went for an average of $69 in 2016, according to CBS News. You could definitely find more affordable tree options if you went to a Christmas tree lot and picked one out yourself. However, Amazon is tapping into its consumers who are all about the ease of shopping.
This isn't the first time Amazon has sold live Christmas trees. Last year, you could buy a smaller, three-foot live tree online. There were also full-size live trees available from third-party sellers on the site. This season, however, is the first that Amazon itself will be selling full-size, live trees. "Given the popularity among customers, we increased the assortment," the company said.
Amazon.com will also sell items like wreaths and garlands for you to go full out with your Christmas decor. For $50 you can get a fresh wreath, and for $25 you can get what the Associated Press referred to as a "red-leafed plant with a decorative candy cane speared into the soil." So, you can get something like a poinsettia for twenty-five bucks.
Prime members, fear not, there is something special for you. It's mostly just that some of the trees will be Amazon Prime eligible. So...maybe not that special. But "special" in the way that you'll be able to order a real, live, seven-foot Christmas tree online. Then, a mere two days later, that real, live, seven-foot tree will arrive in a box at your doorstep. You could get a whole tree without ever having to really step foot outside. If you don't think that's miraculous, then bah humbug to you.
If you're a freak for Christmas and the already-initiated Christmas creep of the season has you amped, you'll be happy to know that the trees will go on sale sometime in November. Pre-order will be available so you'll be able to be one of the first to put up your Amazon-ordered tree.
Are traditional Christmas tree retailers shaking in their jingle bell-ed boots? Not quite. Per estimates from the National Christmas Tree Association, of the 27 million live Christmas trees bought last year, just one to two percent of the 27 million real Christmas trees were bought online. Plus, those purchases were primarily from the growers' own sites. "It's so small, it's almost undetectable," Tim O'Connor, executive director of the National Christmas Tree Association, told the AP.
Of course, Amazon has a habit of changing consumers...well, habits. So, time will tell whether we'll all soon be gathering 'round the Amazon tree while also cozying up to the Netflix fireplace and asking Alexa to play Christmas music.