This Is The #1 Source Of Relationship Stress For Long-Term Couples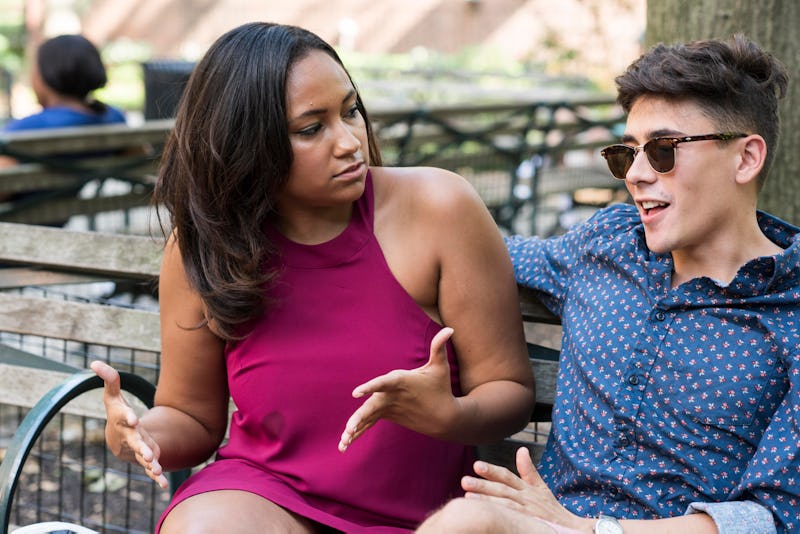 BDG Media, Inc.
Money is a worry for many of us — whether it's a constant source of stress or an occasional one. It doesn't just affect us, but our romantic relationships and families too. And now, there's yet more research confirming that money is the number one cause of relationship stress. The Harris Poll and Ally Bank surveyed more than 1,400 American adults who were all either married or in a serious relationship. Their number one source of relationship stress? Dolla dolla bills, y'all. Or the lack of them. I can't imagine anyone was stressed about having too many dolla dolla bills.
With student loans, expensive housing, and avocados that aren't going to buy themselves, it's no surprise that money can cause stress in a relationship. "Financial problems can cause major problems in relationships," Jonathan Bennett, relationship and dating expert at Double Trust Dating, tells Bustle. "It's very difficult for partners who view money, saving, and spending in fundamentally conflicting ways to manage household finances together."
But while 36 percent of those surveyed said that money was their number one source of relationship stress, there was an interesting twist. Young adults — those ages 18 to 54 — were almost twice as much likely to say that money was their main source of stress. Forty-four percent of the younger age group said money was the worst culprit, compared to only 23 percent of the older age group. Which confirms one thing we already knew: damn you, Baby Boomers, with your yachts and your pre-cut mango. You're way more baller than the rest of us.
Interestingly, there was virtually no difference between those who were married and those who were in serious relationships. They were almost equally likely to say money was the worst cause of stress, coming in at 36 and 38 percent, respectively. Though the number two source of stress did vary, with married Americans saying that health came in at number two and those who were in a serious relationship but not married saying it was family that was causing relationship stress.
Still, money was the largest overall stressor. So, how can you avoid money issues ruining your relationship? Here are some tips to keep in mind.