Here's Your Horoscope For Today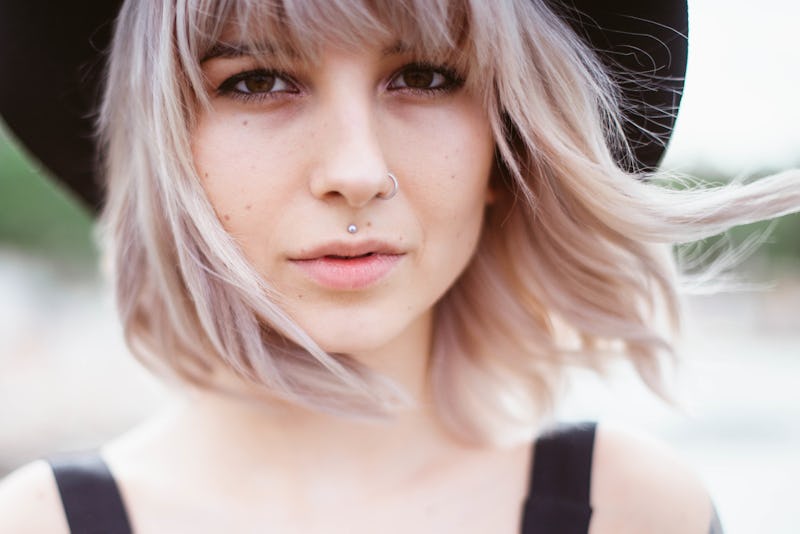 schepniy/Fotolia
We're constantly fascinated by what our zodiac sign says about our lives, whether it's which signs are most compatible or how each sign handles conflict in relationships. That's why Bustle has enlisted Mecca Woods, a New York City-based astrologer of MyLifeCreated.com, to tell us all about how astrology is affecting our lives each day. Today's topic: your daily horoscope for June 15, 2018.
The Moon finishes its stay in intuitive and tender Cancer today, putting the emphasis on nostalgia, family, good food, and emotional nourishment. And with the day starting off with a meeting between the Moon and dreamy Neptune in Pisces, we might also find ourselves in the mood to do something kind on behalf of others. Intuition is also heightened now, which means that it may be a good idea to pay attention to synchronicity or any gut feelings that we may have.
By midday the energy starts to intensify as the Cancer Moon opposes power-hungry Pluto in Capricorn which could dredge up old wounds or power struggles in relationships. The best way to channel this Moon-Pluto energy is to use it towards anything that requires some courage, determination, or purging. By tonight, Mercury in Cancer opposes serious Saturn in Capricorn, which could have us seeing more problems than solutions. The best way to not get bummed out by this energy is to channel it into a serious, heart-to-heart conversation or anything that requires some extra brainpower and focus. A reality check may be needed as well.
Read below to see what the stars mean for your sign today, and check out your June 2018 monthly horoscope.
Aries (March 21 - April 19)
The demands of home, family, and your career may be putting a lot on you today, which means it'll be necessary for you to take some time to yourself and decompress. Your responsibilities can't be avoided, but you can make sure that you're getting the emotional nourishment you need to keep up.
Taurus (April 20 - May 20)
Your thoughts may be extra heavy today. Though instead of worrying about things that you can't control, try focusing on the things that you can. At the same time, don't underestimate the power of talking to a friend or sibling right now. Meanwhile, put your brainpower to use with a challenging task.
Gemini (May 21 - June 20)
When it comes to the money that you're making, are you settling for less than what you're worth? This might be the question that comes up for you today. It's time to start believing in you and your abilities and go after the kind of job that you really want. Money won't be so tight for long.
Cancer (June 21 - July 22)
A relationship with someone (whether professional or romantic) may be weighing on you more than it's supporting you. If so, you may need to have a heart to heart with this person or exercise some boundaries with them today. Remember, you have a say in how things go. Reclaim your power.
Leo (July 23 - Aug. 22)
Your mission today is to try and strike a healthy balance between how much work you do and how much rest you get. If you find yourself feeling sluggish, maybe it's time to make some adjustments in what you're eating or how early you go to bed. Try to take one thing at a time for now.
Virgo (Aug. 23 - Sept. 22)
Your friend or someone you know could be pivotal in helping you get a creative project off the ground. You're more than capable of doing things on your own, but be open to receiving assistance or feedback today. You might get something invaluable from it. Don't underestimate your community.
Libra (Sept. 23 - Oct. 22)
You work so hard and have become quite good at what you do, so why are you second-guessing yourself and the blessings coming your way in terms of your career? If you're worried about how others see you, know all that matters is how you see yourself. You don't need anyone else's validation.
Scorpio (Oct. 23 - Nov. 21)
Your words have great impact now, so make sure you're saying something worthwhile. You might even consider working on the article, blog post, or book you've been wanting to write. Meanwhile, focus on the outcome you want to see opposed to the one you don't. A vision happens with effort.
Sagittarius (Nov. 22 - Dec. 21)
You may be called to examine your relationship between abundance and scarcity today, especially when it comes to love and intimacy. It's not that there's a shortage of cash or suitable partners for you, it's just that you're learning to be more selective with your heart and resources. You deserve.
Capricorn (Dec. 22 - Jan. 19)
Make time for someone that you love today, Cap. You could use the loving energy right now, especially as you've been working so hard and putting extra pressure on yourself. Being in the company of someone that accepts you as you are can provide you with both healing and self-acceptance.
Aquarius (Jan. 20 - Feb. 18)
While you often love to help and extend yourself to others, try not to let guilt be your source of motivation for offering someone assistance today. You don't have to play the hero. If anything, you should be focused on taking better care of yourself and making sure your biz is in order.
Pisces (Feb. 19 - March 20)
If it feels like you no longer fit in with a certain crowd or a group of friends, it's not a bad thing. Overall, you're growing and you need to surround yourself with folks that support that growth. Meanwhile, in terms of your career, it's time to make friends with folks on the level you wish to be on.