Here's Your Daily Horoscope For June 20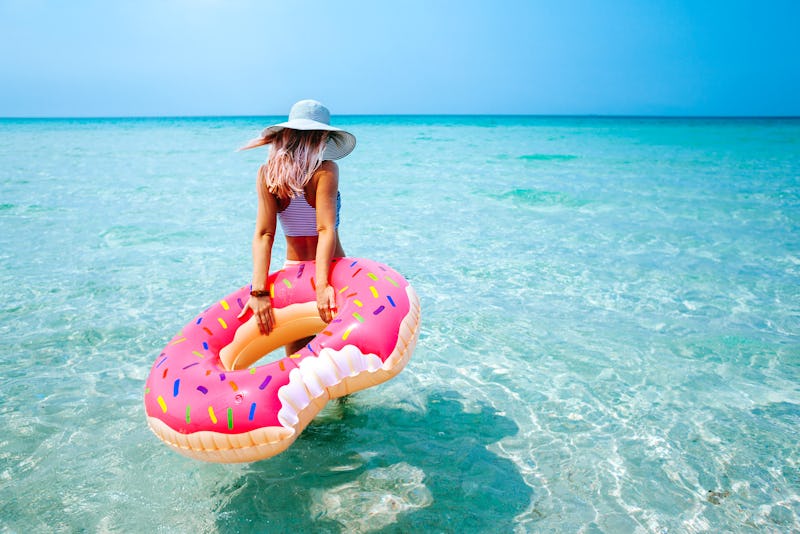 Alena Ozerova/Fotolia
We're constantly fascinated by what our zodiac sign says about our lives, whether it's which signs are most compatible or how each sign handles conflict in relationships. That's why Bustle has enlisted Mecca Woods, a New York City-based astrologer of MyLifeCreated.com, to tell us all about how astrology is affecting our lives each day. Today's topic: your daily horoscope for June 20, 2017.
The day starts off with a bit of a bang as communicative Mercury in Gemini meets up with rebellious Uranus in Aries. With these two together, expect the pace for this morning to move fairly quick, with a high chance of hearing something shocking or surprising. For those of us that have been in a creative rut, this Mercury-Uranus match up could help us with coming up with inspiring and innovative ideas. By mid-morning the Taurus Moon meets up with Mars in Cancer which could have us ready to dig in and fight for the things that we hold near and dear, like home and family.
While having the Moon in Taurus tends to create a laid-back kind of vibe, the connection to Mars can be helpful for finding the energy and initiative to get things done. By the late afternoon, the mood calms down considerably as the Moon makes a connection to dreamy Neptune, which could be good for kicking back, relaxing, or doing something creative.
The Taurus Moon syncs up with Venus in Taurus, which is good for anything that indulges and feeds the senses.
Shortly afterward, the Taurus Moon syncs up with Venus in Taurus, which is good for anything that indulges and feeds the senses. Meanwhile those of us on the West Coast will be welcoming the Summer Solstice, which also marks the beginning of Cancer season. Here's to chill summer vibes!
Read below to see what today's stars mean for your sign.
And remember to tune into Bustle's weekly horoscopes video live on Facebook every other Monday at 5 p.m. EST for a rundown of your weekly horoscope.
Aries (March 21 - April 19)
What do you believe you're worth, Aries? This may be the question of the day for you. There's a financial opportunity practically knocking at your door, but you may miss it if you're too focused on the past or view your life in terms of lack as opposed to abundance. Make sure you're not settling for just anything.
Taurus (April 20 - May 20)
Your friends may call on your help today, which may put you first in line to come to their rescue. Though if you're not in a position to do so, don't feel too guilty as today is a day where it will do you more good to take care of yourself first. A conversation with someone could help you uncover an opportunity.
Gemini (May 21 - June 20)
When it comes to your dream job, where do you see yourself? How much money do you see yourself making? Do you believe that your dream job exists? This may be a few of the questions that concern you today. Though know that when it comes to fulfilling your ambitions, believe anything is possible.
Cancer (June 21 - July 22)
You get by with help from your friends today, especially when it comes to fulfilling something you've been dreaming about. They may be able to provide you with the support and resources you need. You're about to embark on a brand new journey and it helps to have people in your corner. Happy Birthday!
Leo (July 23 - Aug. 22)
You're the showstopper today as you could receive some recognition or some other form of public kudos when it comes to your career and reputation. VIPs are watching you now, highly impressed by what they see. How can you turn this kind of fanfare into an opportunity? Believe in your own power.
Virgo (Aug. 23 - Sept. 22)
When it comes to relationships, it's important for you to have tried and true friends that have your back regardless of whatever may happens. Do you have those kind of friends? If not, it's time to address that. If yes, it's time to allow them to show up for you. In love, make sure your ideal is based in reality.
Libra (Sept. 23 - Oct. 22)
You could be a force to be reckoned with when it comes to your job, though it seems that you may not be feeling entirely fulfilled with what you do for a living. However, you do have the opportunity to go for what you really want today. Whether it's going for a new gig or going your own way. It's time.
Scorpio (Oct. 23 - Nov. 21)
When it comes to fulfilling a vision, your partner (whether romantic or professional) could play a big role in helping you to get ahead. Speaking of romance, today could be a winner for single and attached Scorpios. Whichever status you fall under, today is not for sitting at home on the couch.
Sagittarius (Nov. 22 - Dec. 21)
Your work shines today when you follow a creative or gut instinct. Overall, the theme of today is about involving yourself with work and activities that feed you on a tangible (ca-ching!) and emotional level. Even if you decide to take a break from work today, you should still focus on things that nourish you.
Capricorn (Dec. 22 - Jan. 19)
Today is made of the stuff from a juicy romance novel. Not that things should be syrupy sweet and over the top, but you could find yourself falling head over heels today for a lucky someone. Meanwhile attached Caps may find themselves rekindling the romance in the relationship. Lead with your heart.
Aquarius (Jan. 20 - Feb. 18)
Self-care is the theme for you today, as you take a timeout from the rush and heaviness of the world to pamper and treat yourself. Not that you have to spend a ton of money to do that either as sometimes self-care could just be a good nap or spending time in the company of those that love you most.
Pisces (Feb. 19 - March 20)
Break out your vision board, your journal, or whatever items you use to log your creative ideas because you're on fire today. The genius that you come up with could be something that catapults you into the spotlight or helps to bring in some extra dough. In matters of love, a friend could be your matchmaker.