Zazie Beetz's Afro In 'Deadpool 2' Is A Huge Step Forward In Erasing Natural Hair Stigma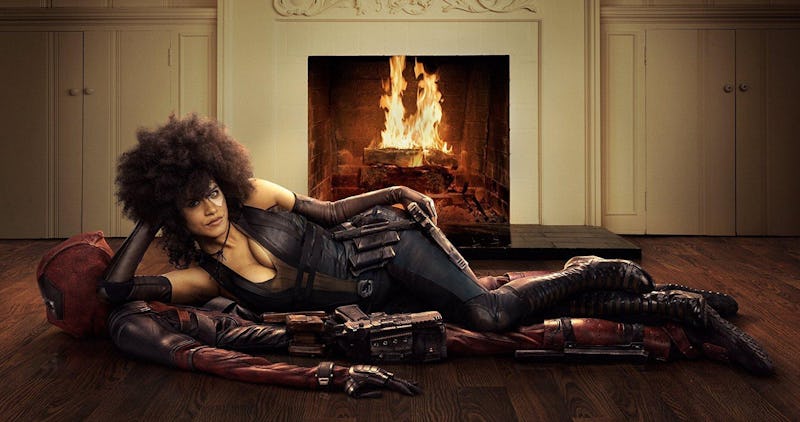 20th Century Fox
As a Black woman with natural hair, I'm proud and excited every time I see another Black woman with an Afro full of luscious life portrayed in the media. Back when I first went natural 12 years ago, there weren't many Black women in pop culture who had natural hair; I can only remember seeing Kelis, Jill Scott, and India Arie rock natural tresses, and the lack of representation was so disappointing. Recently, though, a few celebrities like Gabrielle Union and Solange have shown off their tresses and proudly proclaimed that natural hair is "good hair," and now, there's Zazie Beetz in Deadpool 2, whose Afro in the blockbuster movie is an empowering sight for so many viewers.
For people like myself who've always sought greater "hair diversity" in pop culture, seeing Beetz' Domino rock an Afro texture couldn't be more important. For so long, Black people and people of Afro-descent have been demeaned for having "nappy" wool-like hair, and Afro-textured hair and styles have been given a negative connotation. Dreadlocks have been formally banned (and then allowed) in the United States Army, for example, and countless Black women fear wearing their natural hair on the job because of potential corporate backlash. Things are slowly improving, but the stigma around natural Black hair unfortunately still exists. As such, it makes a big difference when actors embody their naturalism in the mainstream media, like Yara Shahidi (as her Grown-ish character Zoey), Lupita N'yongo, and Lena Waithe.
And now we have Beetz to add to the mix. Domino's on-screen appearance is a big departure from her look in the Marvel comics, which feature the character as a white, punk rock-looking fighter. In an interview with Bustle, Beetz explained how the changes occurred. "I don't look like comic versions, and there was a lot of exploration of we could do. And that was also discussed — to what extent do we stick to the classic version of who she is physically, versus making our own interpretation?" recalled Beetz. "I actually was prepared to go more classically in terms of the marking on her eye and even her hair. I was prepared to cut it and straighten it. But production was super, super interested in having my hair be natural. I'm really happy that they did, and they always pushed for it."
Beetz' version of Domino brings all kinds of Black Girl Magic to the screen, and getting to watch an Afro-sporting woman move through the world and kick butt with ease is a truly wonderful sight. And hopefully, it'll inspire other Black women to take part in the natural hair movement, which started in the 1960s but gained more steam in the past few years. Originally, the Black Power Movement saw the abandonment of perming and straightening Black hair as a way to denounce oppression and recapture roots. Over the years, there's been a revival of the Fulani braids trend, more hair care companies like Pantene Pro-V launching lines for Black hair, and more Black women have come forward to embrace their own healthy locks.
When a woman chooses to wear her hair in its natural state, it's a statement that she's taking ownership of her roots and history, and that she's not changing her looks to meet a racist societal standard about what's deemed attractive or professional. Every day I pik out my hair, I feel more empowered and at peace with who I am as a Black woman, and I take strength from others, like Beetz, who do the same. Watching her in Deadpool 2, a major Hollywood movie seen by millions of people, I get the fuel I need to feel confident and beautiful in my own appearance.
"To bring my texture — and it's pretty natural, it's kind of just more picked out, really — into such a mainstream space, it's amazing and it's super important," said Beetz in her Bustle interview. "I've seen so many people already doing cosplay and stuff like that as Domino, which is so amazing and so special."
Thanks to the natural hair movement and women like Beetz, Eurocentric hair standards are becoming less and less valued. Of course, there are many Black women who prefer their hair in straight styles, and that's totally OK. But for other Black people, the Afro-aesthetic we are seeing in pop culture right now is an inspiring reminder that there is no need to submit to societal constraints. There are so many layers of Blackness, and more authentic displays of Black culture in the media like Beetz's hair in Deadpool 2 better be on the way.
Additional reporting by Sage Young.