Zendaya Revealed She Auditions For "White Girl" Roles As A Way To Create Opportunities For WOC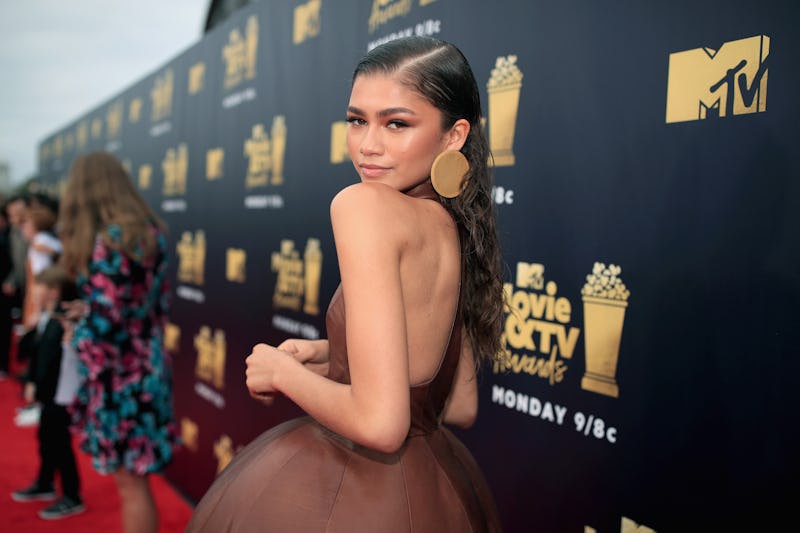 Christopher Polk/Getty Images Entertainment/Getty Images
At only 21-years-old, this former Disney Channel star has proven to be wise beyond her age. In an interview with Marie Claire published on August 6, Zendaya got real about being a black actor in Hollywood, and how she's refusing to let racial biases prevent her from getting the parts that she wants. She's living her best life and carving her own path — and she wants her fans to feel empowered to do the same.
Zendaya's career has evolved in a pretty normal way. Not that her career, in and of itself, is normal — but more so in the way that she's put in the time and climbed the ranks, carefully choosing her next moves. Perhaps you could compare her Disney Channel roles on shows like Shake It Up (she was 14 when the series began) and K.C. Undercover to an internship or entry-level positions. Her big, grown-up break came in the form of Spider-Man: Homecoming, and maybe you could call The Greatest Showman a promotion. But Zendaya didn't get those jobs by waiting for opportunities to come to her — she created them even when the people in power didn't necessarily want to give her a chance because of her ethnicity.
In the beginning of her career, the star told Marie Claire, "There was a lot of not getting the audition that I wanted and often going out for parts that weren't written for a girl who looks like me and just saying, 'Hey, see me anyway,' until the right thing stuck."
Essentially, the way in which Zendaya has and continues to handle casting calls — or, in other words, the way in which she handles applying to jobs — is to get in the room no matter what ethnicity those in power might be looking for. The star explained:
"We've all experienced getting the no's, and that's okay. I always say, 'If you don't get cast, it wasn't yours to begin with.' But there's been a few things. I always tell my theatrical manager, 'Anytime it says they're looking for white girls, send me out. Let me get in the room. Maybe they'll change their minds.' And, honestly, if there's a part that I didn't get or that I really wanted at the time, sh*t always ends up working out."
Zendaya's attitude about going out for parts she might not initially be in the running for is beyond inspiring, and also pretty relatable for anyone who's looking to advance their career, in or out of Hollywood. She's well-aware, though, that her particular mixed-racial background — her mother is white and her father is black — makes her "Hollywood's, I guess you could say, acceptable version of a black girl," as she described to Marie Claire. By auditioning for roles specifically described as "white girls," however, she hopes to help change what that means.
"We're [black actors] vastly too beautiful and too interesting for me to be the only representation of [Hollywood's 'acceptable version of a black girl']. What I'm saying," Zendaya clarified, "it's about creating those opportunities. Sometimes you have to create those paths. And that's with anything: Hollywood, art, whatever."
Sometimes, you just gotta go for it, regardless of whether or not others might think you're right for the job. So, the next time you're applying for a job that may be, in your mind, out of reach, just remember that big Hollywood stars deal with that kind of insecurity, too, and — who knows — taking a risk might end up getting you a Greatest Showman-style promotion of your own.