The 'grown-ish' Finale Resolved Zoey's Guy Troubles In The Most Mature Way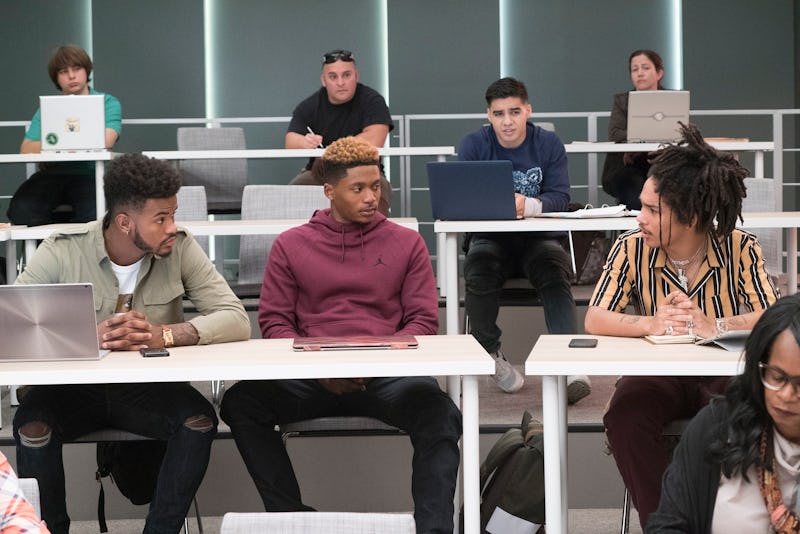 Freeform/Ron Tom
Spoilers ahead for the grown-ish Season 1 finale. In the first ever season finale of grown-ish, Zoey makes a big decision that will likely have a huge impact not only the rest of her college years, but also the rest of her life — and she's well aware of the stakes. Three men, Aaron, Luca and Cash, are all vying for her affections, and she finally does the "grown" thing, and makes a solid choice. So why does Zoey choose to be with Luca on grown-ish?
The decision comes after a lot of soul-searching, influenced by plenty of lobbying from different parties pulling for each guy. Throughout the entire finale, Zoey hears from all of her friends about why she should or should not choose each man. The crew definitely doesn't lack diverse opinions, even if they aren't altogether helpful. Ana wants Zoey to pursue Aaron — he's an activist, passionate about the same things Zoey is, and challenges her to think about things in new and different ways. Ana also deems that Aaron was her "love at first sight," something she should never give up on.
The twins, Jazz and Sky, are very into Cash, who has just told them that he's about to pass on being a number one NBA draft pick if Zoey asks him to stay in college so they can be together. This, according to them, proves just how invested he is in being with her. Finally, Nomi is pulling for Luca, who she just bonded with over some especially fragrant weed. Luca's the only one she really hasn't had any big conflict or drama with, Nomi says. He isn't interested in other people's opinions and he is always true to himself, and he just wants to be with Zoey. In Nomi's eyes, it really is as simple as that.
As her friends squabble, Zoey only becomes more and more confused. It's only when she removes herself from the emergency conversation that she finally begins to find a little bit of clarity. She acknowledges that the things her friends have been saying have at least gotten her to think deeper about what each choice would mean — to "put some things in perspective." And that's necessary — tough decisions can become muddled quickly when you're hit from all sides with opinions from people who just want the best for you. But in the end, you're the one who should make your decisions about your own relationships. And that's exactly what Zoey does.
"Since the day I got in school, I've been doing everything I could to try and figure out the person I'm supposed to be — who I wanted to grow into — and each of these guys had been huge parts in me taking steps forward," Zoey tells the audience. "But here's the thing: I still had a long way to go. That journey was gonna continue no matter who I chose." It seems like Zoey doesn't want to plan for a future that might not happen, or to accommodate a future Zoey who might not necessarily end up wanting what present Zoey thinks she will. She wants to focus on what — and who — her gut tells her to go for right in that moment.
"When I finally stopped trying to figure out what the future might hold — when I realized the only way to make this decision was based on who I was at that moment — the choice suddenly became clear," she says as she knocks on the door, which opens to reveal Luca. Behind him, she sees his finished painting of her, which seems to just reinforce her decision. Even though all three guys could offer her something important, it seems like Zoey is simply more comfortable and drawn to Luca. Being with him always seemed to easier and feel more mellow than the drama that sometimes followed the other guys. So maybe now, Zoey can finally relax.
Her choice is clear, but she does handle the tangle in a mature, direct way. The audience sees her having legit conversations with Cash and Aaron. And though the dialogue isn't heard, Zoey is obviously ending things, and both of these discussions end with a hug. So while her romantic traffic jam was awkward for a while, Zoey resolves it with poise and self-assurance, proving just how much she's learned throughout her first year in school.