'grown-ish' Is Coming Back For Season 2 & That's Just Part Of The Good News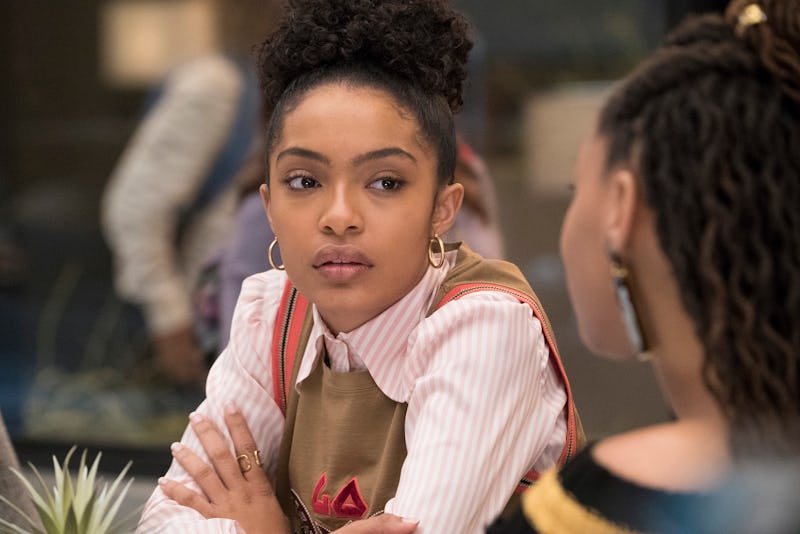 Ron Tom/Freeform
Grown-ish is about to finish its first season on March 28, and the show has already gained plenty of praise from fans and critics alike. The black-ish spinoff has dealt with controversial topics with empathy and wit, addressing the real issues college students face head-on. Variety reported that Freeform renewed grown-ish for a second season back in January, so fans don't have to be concerned about losing their favorite characters after this finale. There's not a set premiere date yet for the new episodes, but it's certainly a good sign that the creative team was given the greenlight months before the first season ended.
UPDATE: According to a tweet from the show's official Twitter account, grown-ish will be back in January of 2019.
EARLIER: There's plenty of suspense leading up to the season's last episode, too. Last week, Zoey learned that both Aaron and Luka like her — and then her ex Cash showed up too. So this week's finale is sure to be interesting. But if Zoey's shown audiences anything this far, it's that her education and career aspirations are her priority over guys. It will be fun to see if Zoey chooses one of the men in the end, but it wouldn't be too surprising if she doesn't pick any of them. Plus, the show has always circled back to Zoey's relationships with her friends, not just the guys she's dating, so it's safe to guess the finale will be more about her platonic relationships than her romantic ones.
grown-ish set a high bar during its first season, tackling topics ranging from the prevalence of drug use on college campuses to a double standard surrounding bisexuality. Yes, the show is a comedy, but one with a strong sense of purpose. After all, these are experiences that college students do have in the United States, so why not depict the higher learning experience accurately? If the upcoming second season is anything like the first, grown-ish will continue to keep things very real.
Emily Arlook, who plays bisexual student Nomi Segal on the show, tells Bustle that it's "really exciting" to play her grown-ish character. "It's been such an honor learning about the LGBTQ+ community. Bi people make up the majority [of that community] and yet they are the most underrepresented in the media, which is wild to me," Arlook says. "To be able to play a character that sheds light on this community is really exciting."
In addition to increasing representation for LGBTQ+ characters, grown-ish has also showcased the experiences of college students who aren't the norm in university-set comedies. Chloe and Halle Bailey's characters, Jazz and Sky, are student athletes who are on university scholarships, but struggle to reconcile their public personas with who they actually are outside the spotlight. And even the show's heroine isn't perfect: Zoey found herself in hot water at her Teen Vogue internship after she shared a photo that included confidential fashion info in the background of her shot. No one has it all together, especially during college, and grown-ish's core group is impossible not to love, even when they make mistakes.
And while there's not a return date for grown-ish's second season yet, there's one detail that should make fans very happy. The second season of grown-ish will include 20 episodes, per Variety — seven more than the first season's 13 episodes. That means more tricky situations, more college courses, more romance, and probably more drinking games. There's something for everyone on grown-ish, whether you're relating to the characters or learning about experiences that might be different from your own. The show is as appealing to adults long past their college days as it is to current co-eds, so it's easy to see why Freeform would want more episodes of the series. It's safe to say fans will be eagerly awaiting the second season, whenever it debuts.