Zooey Deschanel Is Reportedly Pregnant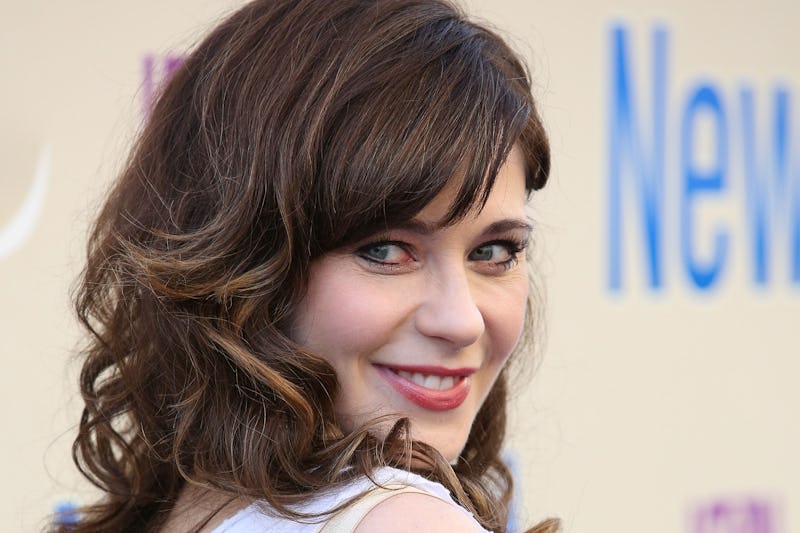 Imeh Akpanudosen/Getty Images Entertainment/Getty Images
Knowing she welcomed a child name Elsie Otter in 2015, my first reaction to hearing that Zooey Deschanel is reportedly expecting her second child is "But which animal will she choose this time?!" Of course, that information will probably not be available for quite some time (hold off on placing your bets on "Giraffe", although I'm sure it will have high odds), but according to Us Weekly, the New Girl star is pregnant with her second kid. Bustle has reached out to a rep for Deschanel, but did not receive a response at the time of publication.
According to Us Weekly, which claims it can "confirm" the news, the actor was "spotted with a baby bump" while filming New Girl on Jan. 25. This would be the second child for Deschanel and her husband, Jacob Pechenik. They welcomed Elsie Otter in the summer of 2015.
As for their daughter's somewhat unusual name, Deschanel told Ellen DeGeneres during an appearance on her talk show that while she and her husband decided to go pretty traditional with the first name, they did choose "Otter" because of the animal. "I love animals so much," she said. "And we love otters because they're so cute, and playful and fun. And they're really smart."
Back in December, Too Fab reported that Deschanel was expecting "according to insiders." At the time, Too Fab reported that some crew and cast members of New Girl were already aware of the news.
We'll have to wait and see if Deschanel and Pechenik confirm the news themselves. In the meantime, start getting your guesses ready for what the name could be. George Sea Lion? Jane Burmese Ferret Badger?