Derek Chauvin Was Just Convicted Of George Floyd's Murder
He was found guilty on all three charges.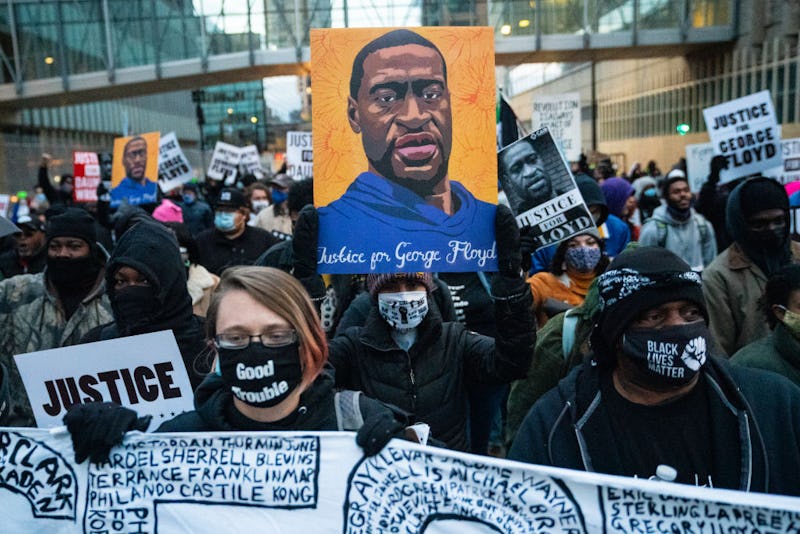 Getty Images/ Jason Armond / Contributor
The verdict to the trial of Derek Chauvin for George Floyd's murder was just reached: The jury declared him guilty on all three charges.
On the afternoon of April 20, Chauvin's verdict was read in the Minneapolis court. This comes after the panel of 12 jurors deliberated for two days on the former police officer's charges of second-degree unintentional murder, third-degree murder, and second-degree manslaughter. The first charge could result in 40 years in prison, while third-degree murder could result in up to 25 years and second-degree manslaughter carries a maximum sentence of 10 years. The prosecution called 38 witnesses over more than two weeks to testify that Chauvin murdered Floyd, whose death was ruled a homicide by the Hennepin County medical examiner. The defense called seven total witnesses over two days before resting its case.
Floyd's murder sparked country-wide protests and was a driving force behind the Black Lives Matter movement that calls for racial justice. Chauvin's charges come at a time of high tensions, especially in Minneapolis — where 20-year-old Daunte Wright was fatally shot by a police officer only a few miles from the courthouse — and Chicago, where a young boy named Adam Toledo was fatally shot by a police officer on March 29.
The only past example of a conviction of a Minneapolis police officer for murder was in the case of Mohamed Noor, a Somali American Muslim, who was sentenced to over 10 years when he fatally shot a white woman, Justine Ruszczyk Damond. The city also awarded her family $20 million.