The UK's £4 Billion Cut To Foreign Aid Causing "Devastation," Say Charities
"While the other G7 countries have stepped up their aid budget, the UK is the only one to have rowed back on its commitments," says an open letter from Oxfam, ActionAid, & more.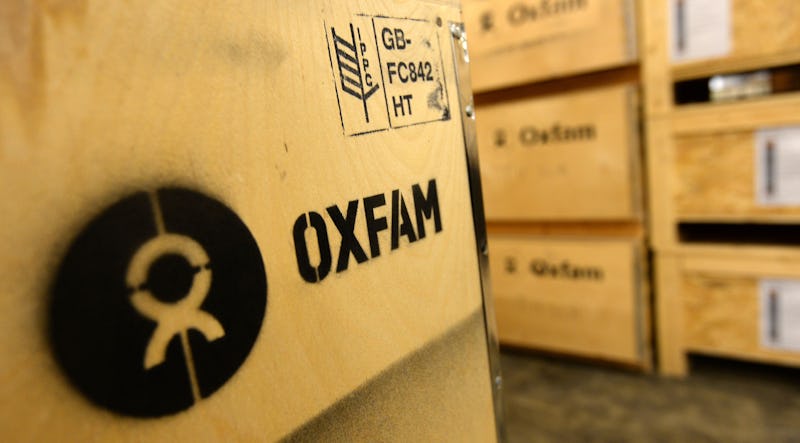 Andrew Matthews - PA Images/PA Images/Getty Images
In 1970, the United Nations introduced a target for countries to spend 0.7% of their Gross National Income (GNI) on international aid. In 2013, the UK reached this target for the first time. In 2019, Britain provided £1.5 billion of humanitarian assistance mostly in Yemen, Syria, and Bangladesh, spending £14.6 billion overall.
However, in November 2020, the government decided that they would "temporarily" reduce their spend to 0.5% due to the coronavirus pandemic. This amounts to roughly £4 billion in cuts.
While the government still aims to provide £10 billion to countries in need of aid in 2021, charities such as Oxfam and ActionAid UK said the cut has already caused "devastation" and there was "no justifiable need" for the policy to be temporarily lifted.
"While the other G7 countries have stepped up their aid budget, the UK is the only one to have rowed back on its commitments," the charities wrote in a joined letter to the Prime Minister, adding that pausing this policy during a pandemic was "a double blow to the world's poorest countries."
Former Prime Minister Theresa May and Conservative rebels are aiming to reverse the decision in the House of Commons this afternoon (June 7), so here's what you need to know ahead of the debate.
What's Happening With The UK's Foreign Aid Cut?
Last year, Chancellor Rishi Sunak said he could not "justify" maintaining the 0.7% budget "at a time of unprecedented crisis" and that the government would return to the internationally agreed level "when the fiscal situation allows." Solicitor General Lucy Frazer added that the UK has "a duty to ensure we protect our citizens here as well as those in the rest of the world."
Prime Minister Boris Johnson reportedly believes that "the aid cuts are politically popular and that the rebels […] are out of touch," the Guardian writes.
In response, Tory backbenchers are speaking out against the government's decision. Former International Development Secretary Andrew Mitchell is leading the rebellion and has said that the UK is the only member of the G7 group of advanced economies cutting aid during the pandemic.
Mitchell, along with other MPs including Theresa May, are in support of a planned new law "to set up an agency designed to come up with innovative policy," which is an amendment to the Advanced Research and Invention Agency (ARIA). This would mean the agency would make up the money lost if the government miss the 0.7% target.
The Global Impact
Senior Conservative backbencher David Davis has suggested the consequences of the cut could be fatal, telling BBC Radio 4's Today programme that millions of children could die as a result. "If you're a small child and you suddenly get dirty water, you get an infection from it and you die, temporary doesn't mean much," he said. "If you're going to kill people with this, which I think is going to be the outcome in many areas, we need to reverse those immediately."
A private letter sent to Nigel Adams, the UK's Foreign Office Minister for Asia, by a group of aid agencies working in Bangladesh said that UK aid cuts of 42% will "leave about 70,000 people without health services and 100,000 without water" in the world's largest refugee settlement.
Overall, the reduction in aid means millions of pounds less "is being spent on supporting girls' education, reproductive health, clean water, HIV/AIDS, the humanitarian crisis in Yemen and Syria, and hundreds of other projects," BBC News notes.
COVID Research
And it's not just foreign aid that's affected by this cut; it's also severely detrimental to vital coronavirus research. Epidemiologist Oliver Pybus, who is part of one of the world's leading teams working on identifying and tracking new COVID variants, has said the latest cuts will affect a surveillance project in Brazil that is tracking new and emerging variants.
"There can't be many more important scientific projects today than this," he told Nature. "We have been working absolutely flat out for 14 months. Everyone is drained and exhausted. It makes me feel that has been unappreciated."
What Can You Do To Help?
If you want to help reverse the decision on foreign aid spending, international humanitarian organisation CARE recommends emailing your MP to ask them to defend UK aid in the House of Commons. The charity offers a simple template that you can fill out to send directly to your local MP, which details the reasons why the proposed cut should be voted against in Parliament. You can fill it out and send an email here.