Twitter Can't Handle The Group Shot Of The G7 Leaders
"The outtakes of the Lorde video look awful."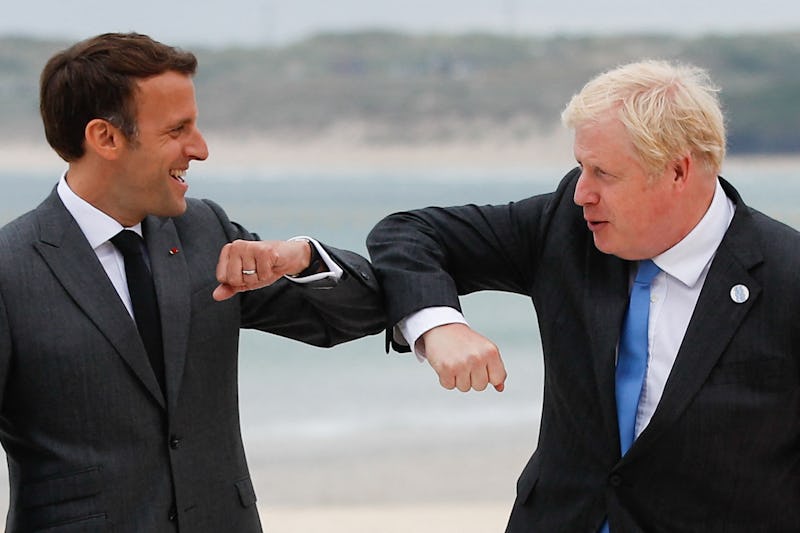 PHIL NOBLE/POOL/AFP via Getty Imag
While the G7 summit in Cornwall may have failed to deliver significant new pledges on climate finance (among other important matters) the gathering of seven influential world leaders has at least achieved meme status. The group photo in particular, but more on that later.
The G7 summit took place on British shores this year, bringing the likes of American President Joe Biden, Canadian PM Justin Trudeau, German Chancellor Angela Merkel, Japanese Prime Minister Yoshihide Suga, and Italian Prime Minister Mario Draghi to Cornwall. On their agenda: the Irish protocol, COVID vaccines, China, and cutting carbon emissions.
While the smiles and elbow bumps may not have provide quite the compromise required on all these subjects, they did give us a fair bit of meme material to work with. (When else can we catch a glimpse of how some of the most powerful people in the world conduct themselves while on a beach?)
There was the father-son body language of a picture posted by the President that first drew attention to proceedings. And then came what an only be described as an incredibly awkward – though, it has to be said, COVID-aware – group shot that really won it.
Other photos have since surfaced showing the world leaders standing shoulder-to-shoulder, watching the red arrow planes fly overhead. The lack of social distancing and the irony of watching a spectacle like that whilst discussing the very necessary work of tackling climate change was not lost on Twitter.
Clearly, the internet is taking this just as seriously as the politicians are taking COVID precautions. So without further ado, here are some of the best memes about the G7.
One tech-savvy user somehow has managed to make the politician's dance, adding to the pop group aesthetic.
The musical finale vs. real-life Sims characters waiting to enter a new crib?
Others think the leader's power stances were reminiscent of the new Marvel film, Eternals, which was also set on a beach.
The return of Bernie...
Or perhaps it's more Britney Spears along with her backing dancers in her "Work B*tch" music video?
But on a more serious note, some people pointed out the importance of world leaders taking Covid as seriously as everyone else, and not just for the press photos. The Guardian has even reported that there have been concerns of Covid cases rising in the area since the conference.