Cori Bush On Running For Congress, Her Family's Greens Recipe, & Food In Ferguson
As she prepares for an Aug. 4 primary election, the St. Louis congressional candidate shares a family recipe.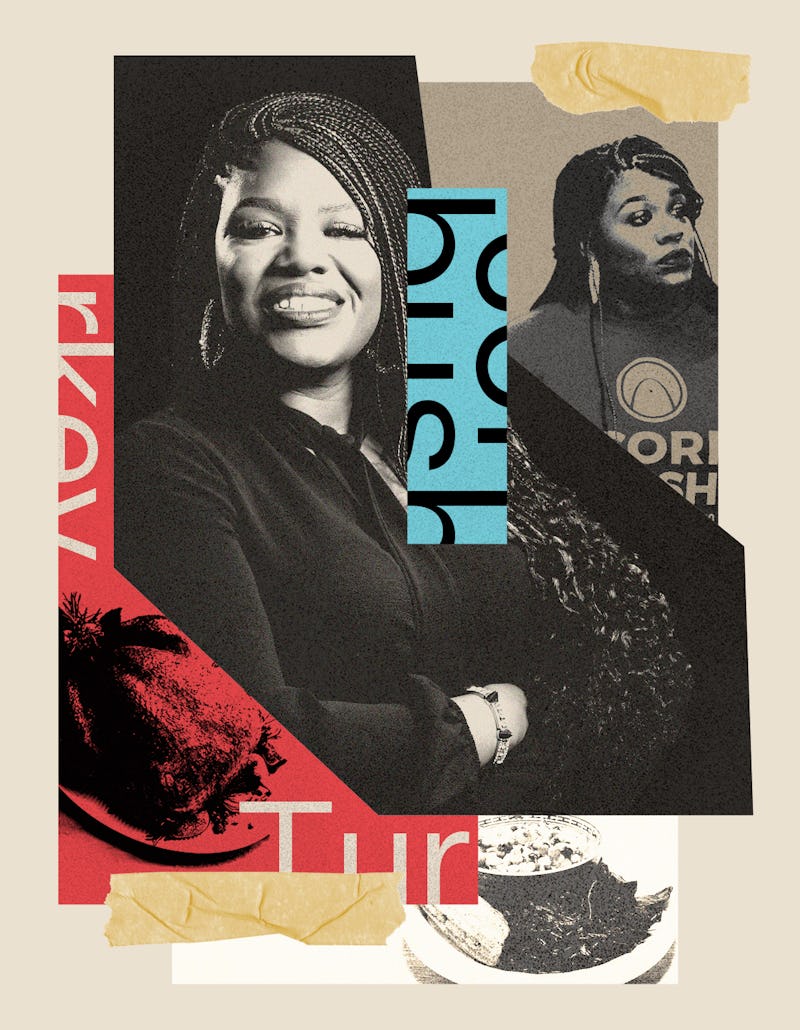 Corey Woodruff Photography, Getty, Margaret Flatley/Bustle
In Eat & Run, Bustle talks to political candidates about their relationships to food, from potluck staples to dishes layered in Havarti and nostalgia. First up is Cori Bush, who's running for Missouri's first congressional district. Scroll down for her family's greens recipe.
As a St. Louis teenager, Cori Bush's dinner table was decorated with soul food staples: roast beef, meatloaf, mashed potatoes, green beans — all courtesy of her mother. Her father, the designated meat cutter, would share ancestral stories about them. Black-eyed peas, he'd tell his three children, were symbols of luck and hope for enslaved people.
In the early '90s, anchoring hope could feel like a wayward mission. In Washington, George H.W. Bush's administration was sending hundreds of thousands of young men to the Persian Gulf. In Los Angeles, police officers were filmed beating Rodney King and later acquitted, leading to five days of protests. But in the heartland, a teenager was joining two separate legacies for which hope was vital: Black cooking, and Black struggle. Two decades later, those paths converged in Ferguson, Missouri, following the 2014 police killing of Michael Brown. Bush was called in to help as a triage nurse, ultimately staying on as an organizer and medical worker. The ordained minister was pepper-sprayed and beaten unconscious. Her own children were 13 and 14 at the time, just a few years shy of Brown's 18.
On August 4, Bush, now 44, is re-challenging 10-term incumbent William Lacy Clay, Jr. in the primary for Missouri's first congressional district. As the district reliably votes Democratic, the primary all but guarantees an Election Day win as well. (In 2018, Bush lost to Clay 56.7% to 36.9%, which was recorded in the Netflix documentary Knock Down The House.) She's running on a platform that includes the Green New Deal, prison and justice reform, and Medicare For All.
She talks to Bustle about food in Ferguson, love languages, and battling the Thanksgiving turkey.
This interview has been edited and condensed for clarity.