Lauren Wesley Wilson Is Making WHCD Weekend More Inclusive
The ColorComm founder talks to Bustle about the second annual Politics & Inclusion dinner.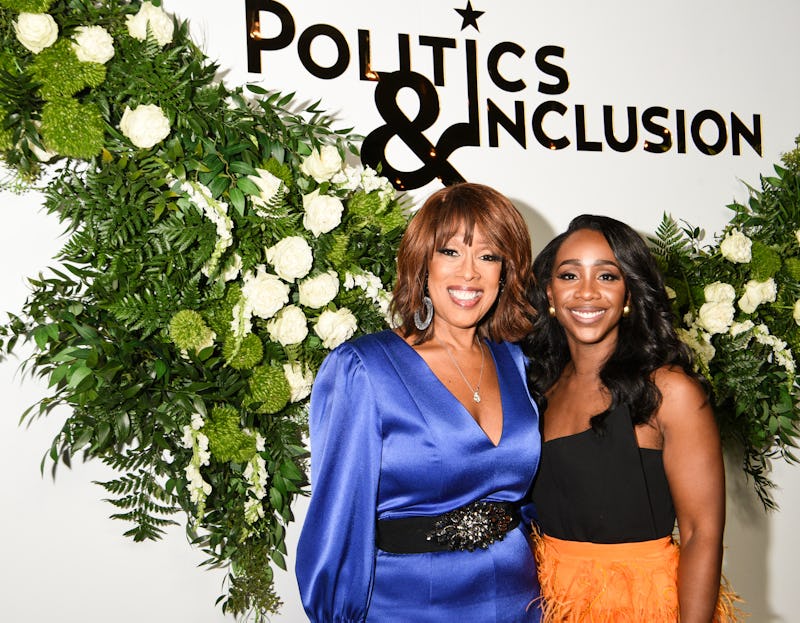 ColorComm Media Group
The night before the 2023 White House Correspondents' Dinner (WHCD), CNN anchor Abby Phillip and ColorComm founder and CEO Lauren Wesley Wilson hosted the second annual Politics & Inclusion Dinner in Washington, D.C. The invitation-only event brought together more than 50 journalists and media professionals for a private dinner at an Obama-approved restaurant, the Michelin-starred Masseria. The April 28 event offered journalists of color an opportunity to commune in a more intimate setting than Saturday's WHCD, which boasts more than 2,000 guests.
"Our focus was to bring together rising stars and established industry leaders who are multicultural, who oftentimes aren't recognized and celebrated during a weekend such as this," Wilson tells Bustle.
In recent years, company diversity has been top-of-mind for many newsrooms. A 2022 Pew Research Center survey of 12,000 journalists found that while most felt their organizations had adequate gender and age diversity, less than a third said their organizations had adequate ethnic or racial diversity. In an effort to build more inclusive staffs, some news organizations, like ProPublica, have begun initiatives to improve equitable hiring practices.
"It's not just about eating a fantastic meal and drinking great champagne," Wilson says of Friday's event. "It's about the outcomes of when you put a group of people together in a room like this."
Traditionally, the WHCD weekend is stacked with industry events: lunches, brunches, and parties on either side of Saturday's dinner. But, according to Wilson, attendance at these events tends to mirror the demographics of the industry itself.
The Grio's April Ryan, Washington Post's Jonathan Capehart, and NBC News' Laura JarrettColorComm Media Group
60 Minutes correspondent Cecilia Vega, MSNBC anchors Alicia Menendez and Yasmin Vossoughian (far right), NBC News' Laura Jarrett, and PBS NewsHour's Amna NawazColorComm Media Group
"Oftentimes, [journalists of color] are not invited to some of the more exclusive brunches," Wilson says, "in part because some of the organizers don't even know that they exist. That's one of the biggest reasons we're bringing group together. It's not a diverse weekend."
Framed by a garland of greenery and white flowers, media leaders like Alicia Menendez and Cecilia Vega posed with colleagues for photos to mark the occasion. Inspired by the event's mission, Vega wore a beaded necklace depicting Mexican artist Frida Kahlo. "Perfect occasion to pull out the Frida necklace," the 60 Minutes correspondent wrote on Instagram.
In contrast to the gloomy, gray weather outside, event co-founder Abby Phillip wore an orange fringe maxi skirt. Her outfit, styled by Germanee Gerald, featured all Black designers.
Comedian Roy Wood Jr., the headliner for this year's correspondents' dinner, was also in attendance, along with Gayle King.
"To be able to collaborate, to be able to connect, to be able to do business together, to be able to hear and learn about information about jobs — I mean, that's really what this is all about," Wilson says.