For Pepper Teigen, A Kitchen & Cookbook Of Her Own
The former restaurateur steps out of the Instagram video frame, and into the culinary spotlight.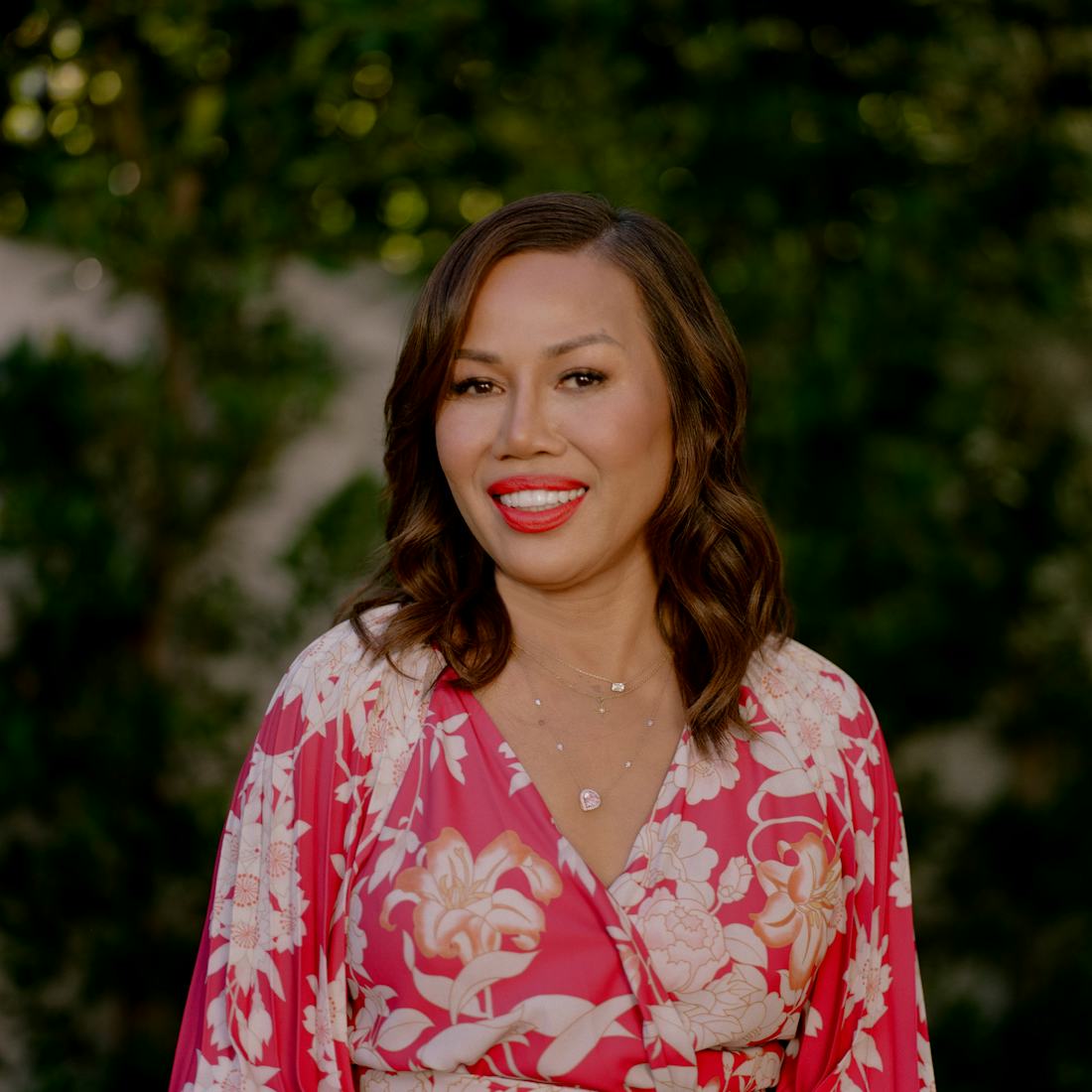 Tracy Nguyen
It's 11:20 a.m. on a Friday, and Vilailuck Teigen is cooking. Or at least scuttling around her Beverly Hills kitchen, taking stock of the ingredients she needs to use before their quickly approaching expiration dates. "I'm just going to have to use it or toss today," she explains, turning her laptop camera to show a not-insignificant pile of foodstuffs.
For an amateur, making up a meal on the fly might be intimidating, but Teigen, who goes by Pepper, has had decades to hone her skills in the kitchen, from her childhood in Thailand, where she'd wake at 2 a.m. to help her family prepare and sell street food, to now, as grandmother to Chrissy Teigen and John Legend's kids, Luna and Miles. It's a familiar story, that of a skilled home chef who relishes the chance to pass her culinary skills, not to mention her cultural heritage, on to subsequent generations — but unlike so many others, Pepper, 59, is getting another act.
This month, she released The Pepper Thai Cookbook: Family Recipes From Everyone's Favorite Thai Mom, which collects some of her favorite dishes, many of which are distinctive to her native region of Isaan, Thailand, such as som tum, or pad thai, which is the calling card for the country's street food. "It's like my soul food," Pepper stresses, adding that food in Isaan is "sour, spicy, salty, everything, all in one."
But the dishes in The Pepper Thai Cookbook are also wholly Pepper's. When she arrived in America around the age of 20, freshly married to Chrissy's dad, Ron Teigen, she realized that many staples in Thai cuisine simply weren't available stateside, so she improvised. Home chefs will find plenty of suggested substitutions on the book's ingredient lists. (If, for example, they can't find dried bird's eye chiles for her Sweet-Spicy Chile Salt With Guava, a roasted chile powder will do.) Alongside each recipe, she also includes "a history" — explaining, for example, how the Broccoli Beef Stir-Fry was one of Luna's first solid foods.
The book also features a few of Pepper's takes on American dishes, like a ham-laden scalloped potatoes (she promises it's a "big hit").
Her American recipes come by way of Idaho and Washington state, where she settled with her young family in the '80s in a double-wide trailer. In Washington, she and Ron ran a small-town tavern, Porky's, and Pepper learned to cook American food for her customers and two daughters, Tina and Chrissy. It's where she earned her nickname, after restaurant patrons tried some chili flake-heavy dishes, which she'd made for herself, and found themselves "screaming." (After decades of marriage, Pepper and Ron finalized their divorce last year.)
Talking about her daughters' childhoods, she smiles again; her eyes light up, and her warmth is palpable even through the computer screen. "I would bring a big tray of pad thai to Chrissy's school. Just try to make people like me, I guess," she says of the time. It is hard to imagine anyone not liking Pepper.
As the mother of a celebrity with a growing culinary empire of her own, she's found herself increasingly in the spotlight. Pepper is a frequent guest on Chrissy's Instagram, and has her own corner of the Cravings by Chrissy Teigen website. She's parlayed this exposure into a following of her own, some 440,000 Instagram followers strong. But unlike her daughter, who temporarily left Twitter after years of online harassment, Pepper seems to enjoy sharing so much of herself — perhaps especially because she "didn't know it was going to get this big."
Next up, Pepper is working on a TV show, the details of which remain under wraps, and possibly opening a restaurant with Chrissy. She can't speak much to the latter, though, as "[Chrissy] doesn't let me know so much because, you know, my mouth," she laughs, flashing a mischievous, lipstick-lined smile.
Though she didn't set out to have it all, she's found success both in and out of the home; indeed, for Pepper, as for her youngest daughter, there's a thin line between family and career.
As we wind down our call — Pepper's got to get cooking — she offers me a surprisingly personal goodbye: "Love you, bye-bye." Surely, it was out of habit, a verbal reflex born from the many times she's ended calls with her family. But if Pepper was offering any real love, I'll gladly take it — she has plenty to spare.
Photographer: Tracy Nguyen
Bookings: Special Projects