15 Podiatrist-Recommended Foot Care Products That Make Heels More Bearable
Straight from the experts.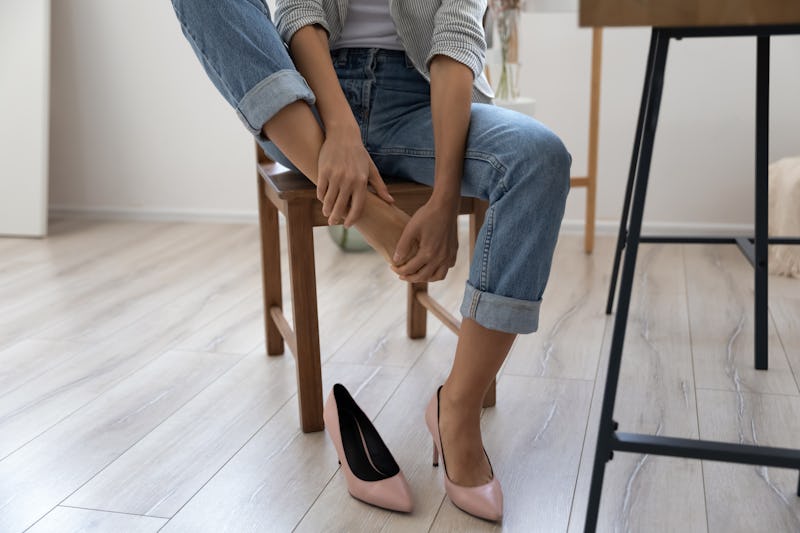 Shutterstock
Heels are fabulous. But the sad truth is they can really hurt and cause calluses, blisters, and other uncomfortable skin issues, thus making them a chore once you decide to wear them. There are many reasons why something so aesthetically pleasing can hurt so bad.
"The position of the foot in a high heel is one that shifts the body weight forward compressing the ball of the foot and lower back," New York City-based podiatrist Dr. Emily Splichal tells Bustle. "As the height of the heel increases, so does the stress on the joints."
Dr. Brad Schaeffer, board-certified foot surgeon at Sole Podiatry NYC and star of TLC's My Feet Are Killing Me, adds that sometimes you're not choosing the right pair of heels for your feet (they're either too tight, too big, not wide enough, too high of a heel, etc.), which will inevitably lead to foot pain.
But you don't have to forgo a life of heels forever if you love the way you look in them. These are easy high heel hacks that don't require you to sacrifice style for comfort. Splichal recommends staying below three inches in heel height, especially if you wear high heels often. Schaeffer agrees and says that the higher the heel, the more strain they will put on your feet. Therefore, three inches is a comfortable height for most, especially those who are new to walking in heels. "I always say, if you can't walk in the shoes, don't buy them," he says.
You can also vary heel height during the week. Schlipal says switching from heels one day to flats the next minimizes the stress. Schaeffer emphasizes the importance of choosing the correct shoe size. He explains that there should be a bit of extra wiggle room in the front (he suggests between a quarter inch and half an inch of space) so that your toes don't scrunch together. He also mentions that one foot is usually slightly larger than the other, so choose the size of the larger foot when picking heels for optimal comfort.
The last tip they give to making high heels wearable are using trusty foot care products. From creams, to sprays, to cushion gels — both Schaeffer and Splichal shared all the products they recommend to keep pain and blisters at bay. See what they picked below.