Pur~lisse's New Collab Helps Women With Cancer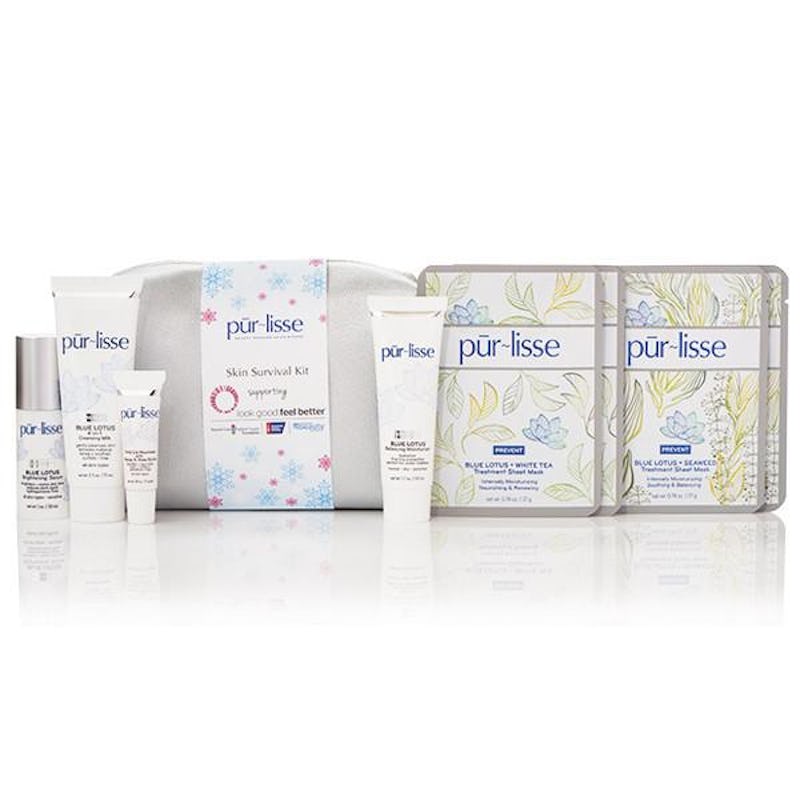 As beauty lovers, we can all attest to the fact that there's something about your hair and makeup done, and knowing you look #flawless, that just makes you feel like you're ready to take on the world. Pur~lisse is working to give women battling cancer an opportunity to feel empowered in that same way with their Pur~lisse Skin Survival Kit.
Not only do women with cancer have to deal with the whole "fighting for their lives" aspect of the disease, but on top of that they have to deal with the hair loss and skin changes that happen during chemo. "It's like adding insult to injury," one survivor told me last month when asked about the prospect of losing her hair during treatment. To help women regain some of their confidence during treatment (even though they are all badass, superwoman-style fighters) Pur Lisse has partnered with charity organization Look Good Feel Better to create their Limited Edition Skin Survival Kit.
Look Good, Feel Better provides complimentary beauty lessons to women battling cancer to teach them how to manage their changing skin, hair and makeup needs. "Our work makes the lives of women battling cancer a little bit easier," says Louanne Roark, the Executive Director of Look Good, Feel Better. The program offers beauty advice from industry experts online and through workshops, and is meant to help women with cancer reclaim their confidence and literally look good and feel better.
The Skin Survivor Kit, which launched Nov. 15, features six Pur~lisse products including the Blue Lotus 4-in-1 Cleansing Milk, Blue Lotus Brightening Serum, Blue Lotus Balancing Moisturizer, a Daily Lip Nourisher with Mango & Shea Butter, two Blue Lotus + Seaweed Treatment Sheet Masks and two Blue Lotus + White Tea Treatment Sheet Masks. The kit retails for $75 (even though it's technically a $200 value) and 100 percent of the proceeds from every sale will go directly to the Look Good, Feel Better Program. The kit will be available through February 2017 on Purlisse.com.
Skin Survival Kit Supporting Look Good, Feel Better, $75, Purlisse.com
If we've learned anything over the course of this year (and this past week, in particular) it's that us women need to stick together. We need to work to empower one another, and Pur~lisse is showing us a really, really easy way to do just that.
Give your mom/sister/BFF a holiday gift that gives back, and also happens to include some seriously amazing products. If you're a real beauty junkie and want to share the love even more this season, consider volunteering with Look Good Feel Better. After all, what could be better than doing hair and makeup for a good cause?!
Images: LookGoodFeelBetter/Instagram; Courtesy of Brand