6 'Ugly' 2000s Fashion Trends Making A Comeback
From trucker hats to layered vests.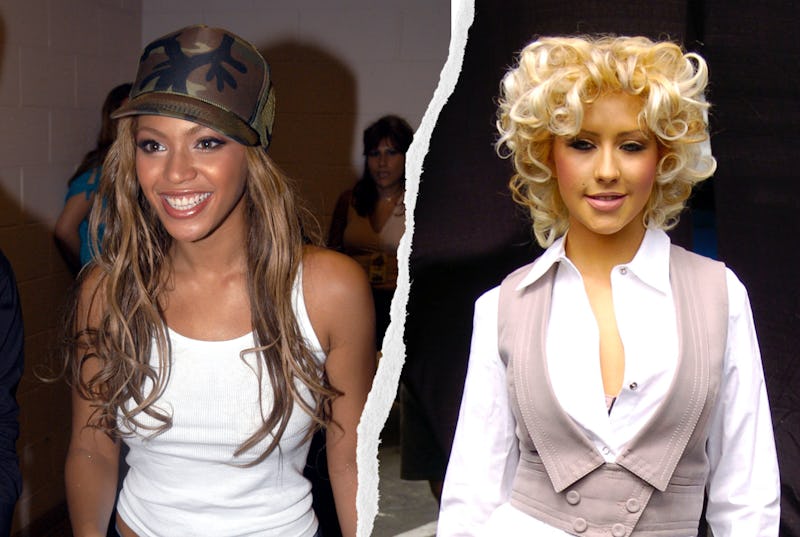 Getty Images
The 2000s were chock full of cringe-worthy trends that you never thought would re-surface. And like every era in fashion, they're now enjoying another trip around the sun. Which 'ugly' 2000s fashion trends are back, you ask? Think trucker hats, thong sandals, and shiny pants á la Britney Spears, Beyoncé, Mary Kate and Ashley Olsen, and Paris Hilton.
It's like de ja vu seeing some of the 2000s trends back in the style lexicon that fashion enthusiasts once declared were polarizing. But the modern iteration of these trends are embracing the 'ugly' aesthetic. Consider the sweater vests that it-girls like Kendall Jenner and Bella Hadid have been sporting. Take a look at a pair of shiny pants loved by Lizzo. Or spend some time eyeing the clogs that look so effortlessly cool on Chloë Sevigny.
As much as you thought you would never say it, it's time to give these looks another try. Ahead, find the top 6 'ugly' fashion trends from the 2000s that are back with aplomb. And follow the below tips to style them the 2021 way.
Bustle Shop is Bustle's shoppable guide to editor-approved buys in fashion, beauty, wellness, and lifestyle. We may receive a portion of sales if you purchase a product through a link in this article.
Bustle Shop brings you the editor-approved buys we can't get enough of and think you'll adore, too. Best of all, you can shop all of the products above directly on this page without visiting multiple retailers. Simply click on an item to learn more, choose your size or favorite color (if applicable), and then hit "add to cart." When you're done, you can click over to your cart in the top right corner of your screen to purchase all your stellar selects at once. How easy is that?
Questions about shipping, returns, or your order in general? Click here for more information.
Explore more of Bustle Shop (and our fashion, beauty, and lifestyle must-haves) here.