The 10 Best Birkenstock Alternatives On Amazon
Wallet-friendly shoes with iconic comfort.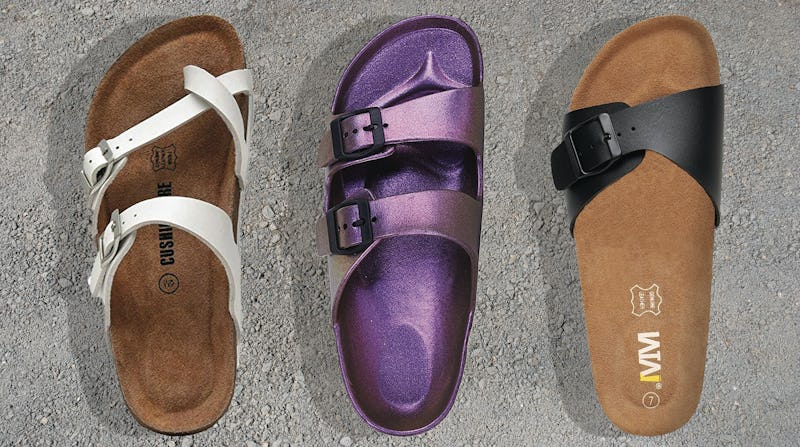 Bustle / Amazon
A hippie-chic icon, Birkenstocks are renowned for their earthy aesthetics and absurdly long-wearing comfort. Made from high-quality materials with a sustainable slant, they have earned legions of fans, but they also come with a substantial price tag. Fortunately, affordable alternatives exist for budget-conscious shoppers or anyone who wants a few different sandals to keep in rotation. The best Birkenstock alternatives combine a contoured footbed in materials that look and feel suspiciously like the real thing — and hundreds and, in some cases, even thousands of Amazon reviewers have given them their stamp of approval.
Comfortable Shoes Come First
To find a good Birkenstock alternative, it helps to know what defines the original. Birkenstocks are, first and foremost, a comfort brand. As such, the most important part of the shoe is their anatomically correct footbed design. Features like a deep heel cup and raised toe bar coupled with not one but two types of arch support — both directly under the instep and along the side walls — provide alignment and security. You'll find most of these features on any Birkenstock alternative worth its salt, although the arch support might be a tiny bit shallower or you might find everything but a toe bar, for example.
Look For Leather And Cork Materials
The classic Birkenstock style, of course, features a thick layer of cork with leather and suede (sandal or clog is up to you). Many sandals on the list below include a faux leather upper but have footbeds that are lined with suede, so double-check the materials if animal products are a concern for you. That said, Birkenstock has expanded some of its most famous designs, like the cult classics Arizona and Gizeh, to include versions in EVA foam that are waterproof and vegan-friendly — and wildly popular in their own right. You'll find some great EVA options below, and one of them is even scented.
Shop The Best Birkenstock Alternatives
In a hurry? These are the best Birkenstock alternatives.
No matter which style you prefer, there's a shoe here for you. And these Birkenstock alternatives will make even the most discerning fan do a double-take.
This article was originally published on